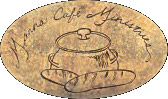 Clarksville, TN – Clarksville Online recently had the opportunity to chat with Manna Café Ministries founder Kenny York at the Manna Café Ministries Mobile Café on Thursday, August 30th at the Clarksville Montgomery County School Board Office, located on Gracey Avenue as they served 378 meals to community residents.
Maurice Vaughn and the crew From Better Homes & Gardens Hometown Connection Real Estate was on hand helping to feed the hungry in our community. Vaughn and his team had brought their mobile grill out and had cooked up a number of succulent pork tenderloins.
"We have been doing this every three months all this year for Manna Café Ministries. We will come cook one time maybe hot dogs and hamburgers, this time we cooked pork loins," said Vaughn. "It gives us the opportunity to help others, gives us a time to come together as a group and synergize our group and help the community. We really do are from a heart."
When I got the chance to sit down with York I asked him how things and been going for himself a Manna Café Ministries, he replied, "Busy as you can see from everything going on here tonight, and this is our fifth Thursday; and towards in the month we always get even busier."

Manna Café Ministries has seen an increase in the number of people that they been serving over the last year, "Our numbers are up. We already served as many meals and distributed as much food as we did all of last year, so we will probably have 100% increase from last year to this year. Those are some big numbers."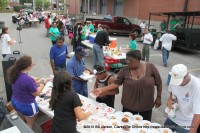 The numbers are daunting as York pointed out, "Someone pointed out to me last night that will easily serve 12,000 meals this year, that is almost as big as some of our our surrounding counties; Stewart County for instance is about 13,000 people. That's how many people were serving just to keep it in perspective. And it's pretty eye-opening."
They are not letting that get in the way. "We are providing up to four meals a week now. Tuesday night, Thursday night, two on Saturday mornings, along with our food box distributions.We helped 1,300 families last month, which is a new record for us. It seems like were always setting those new records, and it we will probably be setting one tonight as well in the number of plates that we are serving," he said.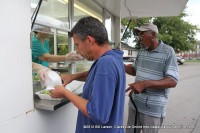 He continued, "I see people coming through our doors, who up to year or two years ago, would never have dreamed that they would be standing in a soup line, or getting a box from a food pantry. We see that a lot. I'm seeing more more people whose food stamps are running out, or their unemployment is running out, and they are trying to make ends meet any way that they can."
When asked how does Manna Café Ministries do it, York responded, "I asked myself that question every day. It is by faith that we get up every morning and go, and there's always food. It is easy to get focused on the negative, the poverty, and other problems. You see the people that we have helped, and if you think about it 2-1/2 years ago, before we started these people were not getting the help at all To the extent that they are today. There there were operations in place, but they were not able to handle this kind of volume."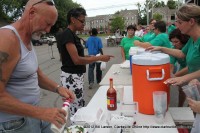 York credited their success to a faith in God, and the support of the community, but as he said sometimes it's tough, "Luckily God keeps providing and the food is there! But sometimes you go out to the warehouse and you kind of wonder where the food is going come from this time. Every time we do advertising more people find out where we are, and that's good. We don't want nobody gone hungry."
Manna Café Ministries is looking to expand the services a third would offer through partnerships with various area businesses. "We are partnering with Align M.D., who are providing a free clinic for us on Thursdays. We also partnering with friends of the shelter, so some of our clients are able to get their animals spayed or neutered through that program. Everybody loves the dogs or cats. It doesn't matter what their economic level is, so this is just another way that we are able to help the people that we serve."
One other long-range goals include opening a shelter as well, "that is something we are looking into to see how that we can approach doing it Manna style; we don't do anything in the traditional way. So we'll figure out how to make it fit with us."
Photo Gallery
Pirate Fest and Chili Cookoff
York pointed out an upcoming event they have going on in October, a Pirate Fest and Chili Cookoff on Strawberry Alley in Historic Downtown Clarksville. "We got a lot of stuff going up, for example in October were doing a Pirate Fest and Chili Cookoff downtown as a fundraiser. We are looking for teams to participate and for people to come down and just enjoy some good chili. That's just one of the things that we're doing to raise the money to help people in our area."
Manna Café Ministries couldn't do it without you!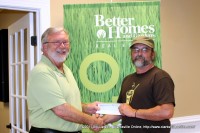 "I want to thank Clarksville and the support that were getting!" said York. "Manna Café Ministries runs 90% on donations, very little of of our funding comes from the City of Clarksville, and none from the federal government other than the USDA food that we get to distribute; So the funding comes from people in the local community."
Vaugn added in, "We can all give more than we do and there's a lot more in our community that need our help and deserve our help. Times and been hard in the last two years and we have been very blessed as a community and that's the time to share those blessings with those in our community who need our help!"
York spoke with gratitude as he thanked those who helped Manna Café Ministries with their important mission. "And I want to thank Clarksville for stepping up! I said all along if Clarksville knmew that the need was here that the people would step up and provide for that with the doing."
And now you really do know, so will you step up to the plate?
How Can You Help Manna Café Ministries in Their Mission?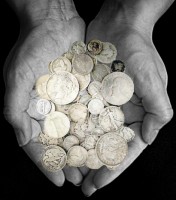 York said, "You can go to our website where we have a volunteer page, and a donor page. This is also food drive season. If your organization or club wants to do a food drive for Manna Café Ministries, We would love to see that happen."
But any organization can never have enough financial donations said York, "The monetary donation is the thing that's hard to come by. We have a friends of Manna page go on and give $10 per month, there's no gift is too small or too large for we do."
Youk pointed out that Manna Café Ministries puts your dollars to use when they need to be, out on the street helping people. "We do big numbers with a small team and we make every dollar count," said York. "There's not a lot of overhead, and there's very little salary involved so big percentage of those dollars donated go to buy food."
We like coming out to the school board because we get a lot of families who come. We are we're close to the projects here and so we get a lot of families. We're happy about that. The whole goal is prevention. It's a lot easier to help someone stay off the streets and it is to get them straightened out once they get out on the streets.
Do you need help?
First off there is absolutely no shame in asking for, or getting additional help; when that help is really needed!
Manna Café Ministries holds their Mobile Cafés at the Vacation Motel in New Providence from 5:00pm through 7:00pm on Tuesdays, at the Clarksville Montgomery County School System Offices at 621 Gracey Avenue on Thursdays, and breakfast is served at both locations starting at 8:30 AM on Saturday.
The Manna Café Ministries Food Distribution Warehouse is open from 10:00am through 4:00pm on Monday, Wednesday, and Fridays at 1319 East Franklin Street.
In conjunction with the second harvest food Bank Manna Café Ministries distributes thousands of pounds of groceries to hundreds of families via mobile pantries these take place periodically and are always held on Saturdays at various locations throughout the city. You can check the calendar page on the website to find out when the next food pantry is scheduled. All that is required to receive assistance is the need for groceries and a valid ID.
Guest Speaker Carlos Serrano
The Guest Speaker on Thursday night was Carlo Serrano from Extreme Ministries. Carlos is also the host of the Spirit of Clarksville program on WJZM 1400 AM.