Event Will Help Commemorate Tennessee State Parks' 75th Anniversary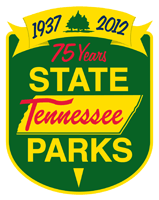 Gallatin, TN – The year 2012 marks Tennessee State Parks' 75th Anniversary, and to help commemorate this important milestone, Bledsoe Creek State Park will host a special music festival on Saturday, September 8th, beginning at 11:00am through 6:00pm. This event is free and open to the public.

"We are very excited to celebrate Tennessee State Parks' 75th Anniversary this year," said Park Manager Wayne Bomar. "The music festival is a great time to gather with friends, enjoy a day of music and it is the perfect opportunity to thank the Friends of Bledsoe Creek State Park for all their hard work and support."

Featuring a repertoire of contemporary, gospel and folk, musical guests will include Garcia and Scott; Rick and Penny Roark of Union Hill; Day Seven; and Flatbroke – a band whose roster includes several of Tennessee State Parks' own park rangers and staff.  There will be a variety of concessions available to guests, along with a fund-raising auction and a special commemorative birthday cake.  Proceeds from the event will benefit the Friends of Bledsoe Creek and the park's ongoing programming and special events.

The Tennessee State Parks system was established through legislation in 1937, and those laws – with modifications and additions over the years – remain the framework for park operations today. As in most states, Tennessee began in cooperation with federal programs that instigated individual parks. Later, Depression era recovery programs gave a boost to the idea and the possibility of creating parks. The Civilian Conservation Corps and Works Progress Administration worked on land conservation, but also delved further into the actual planning and construction of what would become the first of 54 Tennessee State Parks.

Today, there is a state park within an hour's drive of just about anywhere in Tennessee. A 2009 University of Tennessee study highlights the positive economic impacts that state parks provide local communities, particularly in rural areas of the state. The study found that for every dollar spent on trips to Tennessee State Parks, an additional $1.11 of economic activity was generated throughout the state. When the direct and indirect expenditures were combined, the impact of Tennessee State Parks to the state's economy was $1.5 billion in total industry output, supporting more than 18,600 jobs.

"Our vision statement highlights the inherent value of our natural environment, along with the value of the many physical reminders of Tennessee's past," added Deputy Commissioner Brock Hill. "Tennessee's state parks have played such an important role in our history, and they play a critical role in our health and quality of life, which will benefit Tennesseans well into the future."

Tennessee's state parks deliver a rich fabric of natural landscapes, wild places, preserved ecologies, outdoor recreational opportunities and protected historic scenes and resources – together representing the heritage of Tennessee in the landscape.

Tennessee's 54 state parks and 82 state natural areas offer diverse natural, recreational and cultural experiences for individuals, families or business and professional groups. State park features range from pristine natural areas to 18-hole championship golf courses.

For a free brochure about Tennessee State Parks, call toll free at 1.888.867.2757. For upcoming events in connection with the 75th Anniversary of Tennessee State Parks, please visit the state parks website at www.tnstateparks.com.

In commemoration of the 75th Anniversary of Tennessee State Parks, the Tennessee Department of Environment and Conservation launched an innovative new microsite at www.tnstateparks75.com. Established in partnership with the Tennessee Department of Tourist Development, the microsite displays Tennessee State Parks' rich heritage and showcases the many outdoor adventures awaiting state park visitors through rich media and dynamic content.

Located off of Highway 25 in Sumner County, this 164-acre park is situated on the Bledsoe Creek embayment of the U.S. Corps of Engineers Old Hickory Reservoir near the old 1780s settlement of Cairo.

For more information about the park and its activities, visit www.tnstateparks.com/bledsoecreek or call 615.452.3706.



Sections
Events
Topics
Bledsoe Creek State Park, Brock Hill, Cairo, Civilian Conservation Corps, Festival, Folk Music, Friends of Bledsoe Creek State Park, Gallatin-TN, Gospel Music, live music, Sumner County, Tennessee Department of Environment and Conservation, Tennessee Department of Tourist Development, Tennessee State Parks and Natural Areas, U.S. Corps of Engineers Old Hickory Reservoir, University of Tennessee