APSU Sports: Austin Peay Volleyball

Tuscaloosa, AL – Austin Peay State University's volleyball team put on a show of offensive efficiency and routed East Tennessee in three sets (25-9, 25-10, 26-24) in its opening contest of the Hampton Inn Bama Bash, Friday, at Foster Auditorium.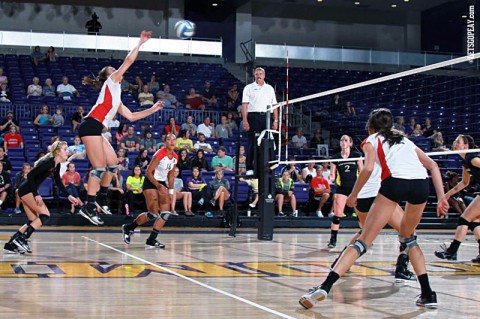 Austin Peay (3-8) led wire-to-wire in the first two sets. The Lady Govs committed only one error against 15 kills in the opening set and posted a staggering .560 attack percentage. The second set was even cleaner with no errors and 11 kills for a .379 attack percentage.
East Tennessee (9-3) could not crack the Austin Peay defense in the first two sets. The Bucs were held to eight kills and six errors (.069 attack percentage) in the opening set. They fared even worse in the second set, committing 10 errors and scoring only six kills for a minus-.111 attack percentage.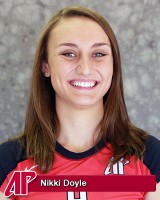 Fans got their money's worth in the third set as East Tennessee bounced back to threaten Austin Peay. The set featured 10 ties and three lead changes and saw the Bucs build a six-point, 20-14, lead. The Lady Govs roared back with six straight points, including a trio of kills by senior outside hitter Nikki Doyle, to tie the set, 20-20. Austin Peay saw one match-point opportunity denied but East Tennessee could not stave off a second chance as it committed a match-ending error.
Austin Peay posted a season best .355 attack percentage in the contest, scoring 41 kills while committing only eight attack errors. The Lady Govs defense also steeped up, with five blocks and 48 digs in the three-set affair.
"We did what we set out to do against East Tennessee," said Lady Govs head coach Taylor Mott. "We block and played defense. Our intensity was high and we didn't quit when we fell behind in the third set."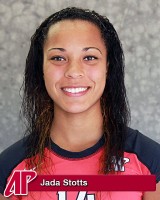 Doyle led Austin Peay with 14 kills and a .419 attack percentage. Sophomore Jada Stotts got off to a slow start but recovered to post 11 kills and a .417 attack percentage.
Megan Devine led East Tennessee with nine kills but also committed nine errors. The Bucs finished the match with only 27 kills and committed 22 errors for a .048 attack percentage.
Austin Peay returns to action with a 7:00pm contest tonight against host Alabama which won a three-set decision in its opening match against Lamar.
Box Score
Austin Peay Lady Govs
East Tennessee vs Austin Peay
(Sept 7th, 2012 at Tuscaloosa, AL)
East Tennessee
ATTACK
SET
SERVE
SRV
DEF
BLOCK
GEN
##
Player
SP
K
E
TA
PCT
A
SA
SE
RE
DIG
BS
BA
BE
BHE
Points

2

WILLIAMS, Kayla

2

2

0

4

.500

12

0

0

0

4

0

1

0

2

2.5

3

DEVINE, Megan

3

9

9

43

.000

0

0

0

0

7

0

1

0

0

9.5

5

WILEY, Khadijah

3

0

2

3

-.667

0

0

0

1

0

1

0

0

0

1.0

7

GESELL, Bethany

3

7

2

13

.385

0

0

3

0

1

0

0

0

0

7.0

9

HARDY, Meredith

3

4

3

16

.062

0

0

1

0

2

0

1

0

0

4.5

10

RICE, Ivey

3

5

6

22

-.045

0

0

1

0

8

0

1

0

0

5.5

1

RUTLEDGE, Jamie

3

0

0

0

.000

9

0

0

0

3

0

0

0

0

0.0

11

SCHAFER, Jessica

1

0

0

1

.000

1

0

0

0

0

0

2

0

0

1.0

12

MUEY, Katie

3

0

0

2

.000

2

1

0

3

7

0

0

0

0

1.0

13

SHAIN, Ashleigh

3

0

0

1

.000

0

0

0

0

1

0

0

0

0

0.0

Totals

3

27

22

105

.048

24

1

5

4

33

1

6

0

2

32.0

TOTAL TEAM BLOCKS: 4.0
TEAM ATTACK BY SET
Set
K
E
TA
Pct
Sideout
Pct

1

8

6

29

.069

5-24

20%

2

6

10

36

-.111

9-25

36%

3

13

6

40

.175

12-25

47%

26-74

35%

SET SCORES
1
2
3
TEAM RECORDS

East Tennessee

(0)

9

10

24

8-3

Austin Peay

(3)

25

25

26

3-8
Austin Peay
ATTACK
SET
SERVE
SRV
DEF
BLOCK
GEN
##
Player
SP
K
E
TA
PCT
A
SA
SE
RE
DIG
BS
BA
BE
BHE
Points

1

FIELDS, Cami

3

1

0

1

1.000

31

0

1

0

8

0

1

0

1

1.5

5

SAIN, Alex

3

3

1

6

.333

0

0

0

0

9

0

1

0

0

3.5

8

LANDON, Liz

3

3

4

15

-.067

1

0

1

0

2

0

3

0

0

4.5

9

DOYLE, Nikki

3

14

1

31

.419

1

1

1

0

10

1

2

0

0

17.0

12

HENDERSON, Lauren

3

9

1

15

.533

1

3

2

0

4

0

0

0

0

12.0

14

STOTTS, Jada

3

11

1

24

.417

0

0

0

0

9

0

1

0

0

11.5

3

ADAMS, April

3

0

0

0

.000

2

0

0

0

6

0

0

0

0

0.0

10

STROTHER, Samantha

1

0

0

1

.000

0

0

0

0

0

0

0

0

0

0.0

TEAM

1

Totals

3

41

8

93

.355

36

4

5

1

48

1

8

0

1

50.0

TOTAL TEAM BLOCKS: 5.0
TEAM ATTACK BY SET
Set
K
E
TA
Pct
Sideout
Pct

1

15

1

25

.560

6-10

60%

2

11

0

29

.379

9-10

89%

3

15

7

39

.205

13-25

51%

28-45

62%

Site: Tuscaloosa, Ala. (Foster Auditorium)
Date: Sep 07, 2012 Attend: Time:
Referees: David Duferne, Kevin Wendelboe


| | | | | |
| --- | --- | --- | --- | --- |
| | 1 | 2 | 3 | Total |
| Tie scores | 0 | 0 | 10 | 10 |
| Lead changes | 0 | 0 | 3 | 3 |