APSU Sports: Austin Peay Soccer

Oxford, OH – Austin Peay State University women's soccer team couldn't get the offense in gear at Miami (Ohio), Friday, falling to the Redhawks 4-0 at Miami Soccer Field.
The Lady Govs were under the gun in the early stages of this match. Miami (Ohio) outshot the Lady Govs 13-3 in the opening half; the Lady Govs have been outshot by opponents 52-38 in the opening 45 minutes of games this season.
An unfortunate error in the first half put Austin Peay behind. A collision between keeper Haylee Shoaff and a defender resulted in an own goal in the 41st minute.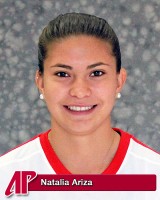 "We had an unfortunate situation in the first half," said head coach Kelley Guth. "The collision resulted in an own goal and we just never recovered."
Katee Wensinger started the second-half scoring for Miami (Ohio). She rebounded a Jess Kodiak shot and put it away to double the score in the 54th minute.
Kayla Zakrzewski (67th minute) and Kelly Sullivan (79th minute) wrapped up the scoring for the Redhawks.
Shoaff battled heroically in net, facing 20 total shots and making seven saves.
"We didn't perform well today," Guth said. "They executed very well but we just didn't make plays when we needed to."
The Lady Govs were unable to match Miami (Ohio)'s offensive output. Austin Peay attempted 10 shots and put five on net, but couldn't beat the Redhawk defense for a goal. Junior Natalia Ariza and sophomore Claire Pultz each attempted three shots; Pultz put two on goal, while one of Ariza's found the mark. Pultz put both her attempts on net in the final 10 minutes of the match.
A long break awaits the Lady Govs, who do not play again for a week. Austin Peay begins a three-match homestand at 7:00pm, Friday, September 14th against South Alabama.