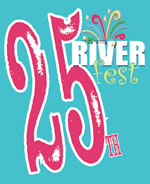 Clarksville, TN – Due to an incoming line severe thunderstorms, the first night of Riverfest was cut short, the festival closed at 10:00pm about an hour earlier than expected in order to allow people time to get away before the storms hit.
The Journey Tribute Band Chain Reaction was on the Budweiser Stage, and lead singer Ryan Christopher showed a lot of class when he decided that the band would limit their performance to the more popular Journey songs in order to get as many of them in as possible because their performance might be cut short.
This decision proved wise as in the middle of their performance the stage manager slipped them a note informing them of the decision to institute the 10:00pm shutdown time. More on the first day of the 2012 Riverfest Celebration will be posted at 6:00am on Saturday morning.
About Bill Larson
Sections
News
Topics
Budweiser Stage, Chain Reaction, Clarksville TN, Journey, Riverfest, Riverfest 2012, Ryan Christopher