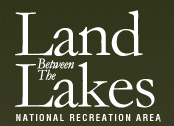 Golden Pond, KY – Celebrate the wonders of the Elk and Bison Prairie on Saturday, September 15th, from 10:00am to 4:00pm at the Golden Pond Visitor Center in Land Between The Lakes (LBL) National Recreation Area.
"Bring your family and friends out for this once-a-year opportunity to hear an elk bugle, learn how people used prairie plants and animals, and just enjoy a beautiful September day," said Curtis Fowler, Range Technician at LBL.
The Golden Pond Visitor Center is hosting the free Elk & Bison Prairie Celebration to showcase the beauty, wildlife, and history of the prairie during its most active time of year.  The Elk & Bison Prairie's Bugle Corps, "Friends of LBL" interpretive staff, local historians, and Forest Service personnel will provide hands-on displays about the animals and plants living in the prairie.  Festival foods will be available for purchase at the Golden Pond Visitor Center.
There will be an on-going historical hunting presentation by Rob Smith with the atlatl. An atlatl is an enhanced spear thrower. Try your hand at the atlatl against the prehistoric bison! Learn about the benefits of native prairie plants. Children can learn about the prairie through activities and crafts.
All visitors will learn about the animals that live in the prairie from the smallest reptiles to song birds and mammals that call prairie habitat their home.  The Bugle Corps will offer van tours of the prairie on the half-hour. These van tours provide a great opportunity for people on motorcycles.  Due to safety precautions, motorcycles are not allowed in the prairie.
If you're interested in volunteering at the Elk & Bison Prairie think about becoming a Bugle Corps member. The Bugle Corps volunteers monitor safety and help educate Elk & Bison Prairie visitors.  To become a volunteer, call 270.924.2007.
Come Outside and Play at Land Between The Lakes National Recreation Area. Managed by the Forest Service, U.S. Department of Agriculture, Land Between The Lakes provides outdoor recreation, lake access, and environmental education for the public to enjoy.
Visitors are encouraged to review LBL's official website at www.lbl.org often for Calendar of Events, updates on programs and policies, safety information, maps, temporary trail and road closures, and additional LBL information, or call 800.LBL.7077 or 270.924.2000.
Follow LBL on www.Twitter.com/LBLScreechOwl or www.Twitter.com/LandBtwnLakes.