APSU Sports: Austin Peay Volleyball

Tuscaloosa, AL – Austin Peay State University's volleyball team wrapped up its stay at the Hampton Inn Bama Bash with a three-set victory (25-8, 25-18, 25-15) against Alabama State, Saturday, at Foster Auditorium.

Austin Peay (5-9) led the first and third sets wire-to-wire. The Lady Govs secured a 25-8 first-set win with seven kills – four coming from senior outside hitter Nikki Doyle – and three service aces. The Lady Govs needed 11 kills to post a 25-15 third-set victory, including five from sophomore outside hitter Jada Stotts.

Alabama State (0-11) tested Austin Peay in the second set, forcing seven ties and two lead changes. However, the last of those ties came at 7-7 and Austin Peay used a 7-2 run to break the set open. The Lady Govs closed the set with a 9-4 run to secure the 25-18 win.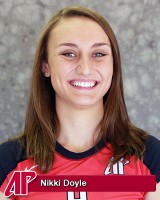 "I believe the pieces are starting to come together," said Lady Govs head coach Taylor Mott. "We played hard on every point this weekend. This is the team I want to show up every time."
Doyle led Austin Peay's offense with nine kills while Stotts and junior middle blocker Lauren Henderson each added eight kills. The Lady Govs needed 34 kills in the win and posted a .394 attack percentage.
Amber Bennett led Alabama State with eight kills. The Hornets finished with 27 kills and a .111 attack percentage.
Stotts and sophomore setter Cami Fields were named to the all-tournament team. Stotts scored 57 kills in four tournament matches and posted a .347 attack percentage. Fields finished with 140 assists (10.77 assists per set) and the Lady Govs posted a .312 team attack percentage behind her setting performance.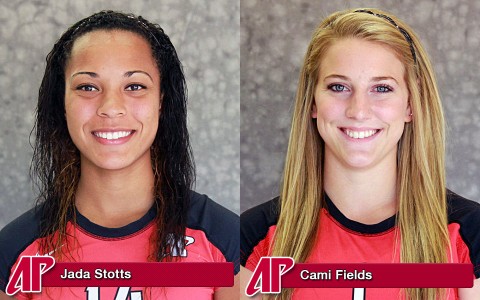 Austin Peay returns to Tennessee and will wrap up a season-opening 15-match roadtrip with a 7:00pm, Tuesday contest at Middle Tennessee.
Box Score
Austin Peay Lady Govs
Austin Peay vs Alabama State
(Sept 8th, 2012 at Tuscaloosa, AL)
Austin Peay
ATTACK
SET
SERVE
SRV
DEF
BLOCK
GEN
##
Player
SP
K
E
TA
PCT
A
SA
SE
RE
DIG
BS
BA
BE
BHE
Points

1

FIELDS, Cami

3

1

0

3

.333

28

1

0

0

4

0

0

0

0

2.0

5

SAIN, Alex

2

0

1

3

-.333

0

0

0

0

3

0

0

0

0

0.0

8

LANDON, Liz

1

1

1

2

.000

0

0

0

0

1

0

1

0

0

1.5

9

DOYLE, Nikki

3

9

1

14

.571

1

1

0

0

3

0

1

0

0

10.5

12

HENDERSON, Lauren

3

8

1

16

.438

0

3

0

0

1

0

0

0

0

11.0

14

STOTTS, Jada

3

8

3

18

.278

0

2

1

1

9

0

0

0

1

10.0

2

HULL, Calyn

1

2

0

3

.667

0

0

0

0

2

0

0

0

0

2.0

3

ADAMS, April

3

1

0

1

1.000

0

0

0

0

4

0

0

0

0

1.0

7

MARSELLIS, Aubrey

1

0

0

0

.000

1

0

0

0

0

0

0

0

1

0.0

10

STROTHER, Samantha

1

0

0

1

.000

0

0

0

0

0

0

0

0

0

0.0

15

PLYBON, Hillary

2

4

1

5

.600

0

1

1

0

1

1

0

1

0

6.0

Totals

3

34

8

66

.394

30

8

2

1

28

1

2

1

2

44.0

TOTAL TEAM BLOCKS: 2.0
TEAM ATTACK BY SET
Set
K
E
TA
Pct
Sideout
Pct

1

7

2

14

.357

7-9

77%

2

16

4

31

.387

13-18

72%

3

11

2

21

.429

12-16

75%

32-43

74%

SET SCORES
1
2
3
TEAM RECORDS

Austin Peay

(3)

25

25

25

5-9

Alabama State

(0)

8

18

15

0-11
Alabama State
ATTACK
SET
SERVE
SRV
DEF
BLOCK
GEN
##
Player
SP
K
E
TA
PCT
A
SA
SE
RE
DIG
BS
BA
BE
BHE
Points

4

Beasley, Brooke

3

0

2

3

-.667

24

0

2

0

1

0

0

0

1

0.0

7

Thompson, Erika

3

0

0

0

.000

0

0

2

3

2

0

0

0

0

0.0

8

Marshall, Myla

3

3

2

8

.125

0

0

0

0

0

0

0

0

0

3.0

11

Madison, Khryssnee

3

5

3

13

.154

0

0

0

0

1

0

1

0

0

5.5

16

Smith, Rachel

3

4

6

18

-.111

1

0

1

1

4

0

0

0

1

4.0

20

Ellington, Latoya

2

2

1

4

.250

0

0

0

0

0

1

0

0

0

3.0

2

Hill, Ravenn

2

0

0

0

.000

0

0

0

0

1

0

0

0

0

0.0

3

Woods, Ashley

2

0

0

0

.000

0

0

0

0

0

0

0

0

0

0.0

12

Bennett, Amber

3

8

1

14

.500

0

0

3

0

0

0

1

0

0

8.5

14

Robinson, Anniiya

3

1

0

2

.500

0

1

0

1

8

0

0

0

0

2.0

15

Griz, Luiz

3

0

0

2

.000

1

0

0

3

3

0

0

0

1

0.0

17

Scott, Chelsey

2

2

0

6

.333

0

0

0

0

0

0

0

2

0

2.0

18

Chock, Kirstin

3

2

3

11

-.091

0

0

0

0

0

0

0

0

0

2.0

Totals

3

27

18

81

.111

26

1

8

8

20

1

2

2

3

30.0

TOTAL TEAM BLOCKS: 2.0
TEAM ATTACK BY SET
Set
K
E
TA
Pct
Sideout
Pct

1

6

9

27

-.111

6-24

25%

2

12

4

29

.276

13-25

51%

3

9

5

25

.160

11-24

45%

30-73

41%

Site: Tuscaloosa, Ala. (Foster Auditorium)
Date: Sep 08, 2012 Attend: Time: 1:00
Referees: David Duferne, Kevin Wendelboe


| | | | | |
| --- | --- | --- | --- | --- |
| | 1 | 2 | 3 | Total |
| Tie scores | 0 | 7 | 1 | 8 |
| Lead changes | 0 | 2 | 0 | 2 |
Sections
Sports
Topics
Alabama State, Amber Bennett, APSU, APSU Athletics, APSU Sports, APSU Volleyball, APSU Women's Volleyball, Austin Peay State University, Cami Fields, Foster Auditorium, Hampton Inn Bama Bash, Hornets, Jada Stotts, Lady Govs, Lauren Henderosn, Middle Tennessee, Nikki doyle, Taylor Mott, Tuscalossa AL