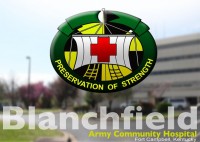 Fort Campbell, KY – Walter "Junior" Blanchfield and his wife Sadie, both of Winchester, VA, along with their daughter Tammi Desimone of Frederick, MD traveled to Fort Campbell, KY September 5th to celebrate the 30th anniversary of the hospital named for Junior's great-aunt.
The hospital was officially named in honor of Col. Florence A. Blanchfield September 17th, 1982.
The Blanchfield family donated Col. Blanchfield's remaining medals, including the Florence Nightingale Medal from the International Red Cross, numerous newspaper clippings and photos. One of the photos shows General Dwight D. Eisenhower commissioning her as a Lieutenant Colonel in 1947. Blanchfield was the first woman in the Army to receive a permanent officer commission with the same pay and benefits as male officers.
Col. Florence A. Blanchfield was the 7th Chief of the Army Nurse Corps from July 1st, 1943 until September 30th, 1947. Blanchfield was known as the "Soldier's nurse" and the little colonel, who stood only five feet one inch tall, was one of the most influential nurses in military history. She served as an Army nurse during World War I and as the Army Nurse Corps chief during World War II. While Blanchfield was chief, the Army Nurse Corps reached its all-time peak strength of 57,000 nurses.
The Blanchfield family said that, after a family discussion, they felt Col. Blanchfield's memorabilia belonged with the hospital, alongside other items that are already on display. "It is a wonderful feeling to have them in their rightful place" Desimone said.
Col. Paul R. Cordts', Blanchfield Army Community Hospital commander, said that his team is honored to receive Col. Blanchfield's awards and other memorabilia. "We owe a debt of gratitude for everything that she (Col. Blanchfield) has done," said Cordts.