Clarksville, TN – The man shot September 6th, 2012 in front of the daycare on Chapel Street has been charged after losing his job and trying to supplement his income.
Clarksville Police received a complaint of drugs at 18A Summit Heights. They went to the address and were given permission to enter the residence. Upon entry, they found a felony amount of drugs–3.6 grams of cocaine and 72 grams of marijuana.
Cederick Outlaw, who was the man shot in front of the daycare on Chapel Street on September 6th, admitted the drugs were his.

During the investigation, it was revealed to Agent Joey Williamson that since Outlaw was new to his job and on probation and would not be able to work for four weeks after being shot, he was fired. In order to supplement his income after being fire, Outlaw was selling drugs.
Cederick Outlaw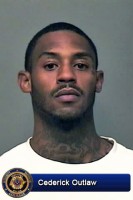 Name: Cederick Outlaw (B/M)
DOB: 3/10/87
Given Address: 3446 Quicksilver Drive, Clarksville, TN
Arresting Officer: Joseph Williamson
Charged With: Possession for Resale of Cocaine and Marijuana and Unlawful Drug Paraphernalia
Booked Into: Montgomery County Jail
Bond: $10,250.
Sections
News
Topics
Bond, Cederick Outlaw, Chapel Street, Clarksville Police Department, Clarksville TN, Cocaine, CPD, Drugs, Joseph Williamson, Marijuana, Montgomery County jail, Possession for Resale, Quicksilver Drive, Summit Heights, Unlawful Drug Paraphernalia