Clarksville, TN –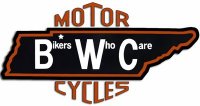 The Bikers Who Care will host their 31st Annual Leslie W. Watson Toy Run and Benefit Party this weekend, September 14th-16th, at the Clarksville Speedway (1600 Needmore Road).
The weekend will include nightly bands, Street Bike Drags, Bike Show, Tatoo Contest, and Bikini Contests. Camping is allowed, and there will be plenty of vendors as well as food and drink.
Friday night's musical festivities will begin at 6:30pm with Chuck Emery and Friends as the opening act. Last Night's Whiskey will follow at 8:00pm; Hillbilly Casino at 9:30pm, and the last act will begin at 11:30pm with Guitar Rick.
Saturday afternoon music will start at 4:00pm with The Blasters. Bobby Keel, Kenny Baggett and Friends will follow at 5:15pm Myth will play at 6:30pm, followed by Hot Lanta (Allman Brothers Tribute) at 8:00pm. Geneva comes on stage at 9:30pm and the last act, Gypsy, follows at 11:30pm Allen's Fireworks will also be putting on a fireworks display on Saturday evening.
Admission to the party is $25.00 in advance or $30.00 at the Gate. All proceeds benefit Camp Rainbow and Bikers Who Care Children's Charities.
The Toy Run
The Toy Run will begin lining up at the Clarksville Speedway before noon on Saturday, and will leave the speedway at 1pm sharp. Once it leaves the speedway it will proceed up Needmore Road to Tiny Town Road, down Trenton Road to the 101st Airborne Division Parkway, then take Warfield Boulevard to Ted Crozier Boulevard and New Dunlop Lane. It will enter Governor's Square Mall via the back entrance to the Belk Parking Lot.
You will be allowed free entry to the Speedway for the Toy Run Lineup if you are on a Motorcycle with a Toy; Party Admission will be charged if you come Friday, Early Saturday or After the Toy Run
Poster
http://www.scribd.com/doc/105890874/Bikers-Who-Care-2012-Toy-Run-Flier
Map