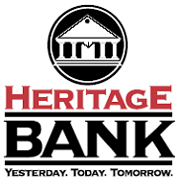 Clarksville, TN – John Peck, President and CEO of Heritage Bank, Keith Bennett, Market President, and Carla Allison, Office Manager at the Main Street location in Clarksville, are proud to congratulate the August 31st, 2012 Heritage Bank Player of the Week, #11 Nolan Blake.
Congratulations to Senior Punter, Nolan Blake on an outstanding Special Teams effort against Nashville Christian High School. Blake had 4 punts for an average of 47 yards per kick while pinning Nashville Christian inside their own 5 yard line on 3 of the 4 kicks. Blake allowed the Cougars to win the field position battle and helped spur his team on to a 29 to 14 victory over Nashville Christian.
Head Coach Todd Hood and Carla Allison presented the Player of the Week award to Nolan on Tuesday, September 4th to honor him on a job well done. "We are proud to recognize Clarksville Academy student athletes on their successes" commented Allison.
Each week Heritage Bank acknowledges a player of the week, picked by the Clarksville Academy coaching staff, by presenting them with a football highlighting the date of the game and the name of the opposing team.
Heritage Bank's Main Street office displays a football in the lobby that each Player of the Week signs. At the end of the season, the football will be presented back to the coaches for display at Clarksville Academy High School.
Heritage Bank conducts neighborhood banking operations in the Kentucky cities of Hopkinsville, Elkton, Cadiz, Murray, Benton, Calvert City, Fulton and Pleasant View, Ashland City, Kingston Springs, Erin and Clarksville in Tennessee. The company is publicly traded on the NASDAQ under the holding company of HopFed BanCorp, Inc. (HFBC). The bank currently records assets of more than 1 billion.