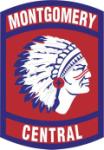 Cunningham, TN – On Saturday, September 15th, 14 area High School Marching Bands made their way to Montgomery Central High School Stadium for the 2nd Annual Indian Nation Marching Invitational. The weather was perfect as the bands strutted their stuff in front of the filled stadium.
"There was a lot of work done by our Band Boosters to prepare a quality competition." stated Montgomery Central High School Principal Christy R. Houston. "We hope everyone enjoyed the experience."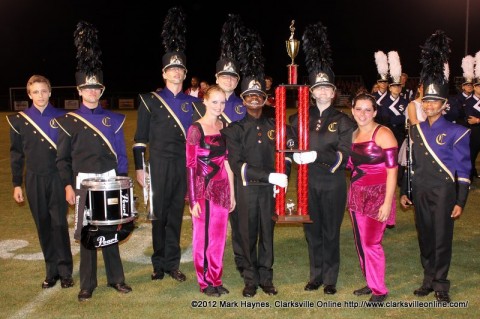 The competition was broken down into three groups; Small Class, Medium Class and Large Class. The band score is based on the average of the three band judges' scores. The scoring for Grand Champion was 70% Band Score, 15% Percussion Score, 10% Color Guard Score and 5% Field Commander Score.
After the competing bands were done, Montgomery Central's Marching Indians put on an exhibition for the crowd. The evening was capped off by Austin Peay State University's Governors Own Marching Band.
The Grand Champion of the 2nd Annual Indian Nation Marching Invitational with a score of 88.6 was the Clarksville High School Marching Wildcats. The results by class and other awards are listed below.
Competing Bands in Order of Appearance
Scotts Hill High School
Northwest High School
Stewart County High School
Kenwood High School
Sycamore High School
Northeast High School
Lebanon High School
West Creek High School
Rossview High School
Creekwood High School
Clarksville High School
Judges for the Competition
Judges
Music
Gary Merrits
Visual
Jeff Beckman
General Effect
LaVar Jernigan
Percussion
Bart Dixon
Color Guard
Kara Smith
Field Commander
Kelly Medford
Critique
Tom Tapscott
Critique
John Schnettler
2012 Indian Nation Marching Invitational Results
Small Class
#
Band
Band Score
Rating
Overall Score
1
Northwest
63.0
(2) Excellent
65.950
2
Scotts Hill
64.7
(2) Excellent
64.650
Medium Class
#
Band
Band Score
Rating
Overall Score
1
Sycamore
90.0
(1) Superior
87.150
2
Stewart County
86.0
(1) Superior
82.350
3
Northeast
84.3
(2) Excellent
80.700
4
Kenwood
80.7
(2) Excellent
77.950
Large Class
#
Band
Band Score
Rating
Overall Score
1
Clarksville
91.7
(1) Superior
88.600
2
Lebanon
87.2
(1) Superior
87.925
3
Creekwood
85.3
(1) Superior
84.550
4
Rossview
83.5
(2) Excellent
82.175
5
West Creek
76.7
(2) Exellent
75.150
Awards
Awards
Best percussion Small Class
Northwest
Best percussion Medium Class
Sycamore
Best percussion Large Class
Lebanon
Best color guard Small Class
Northwest
Best color guard Medium Class
Sycamore
Best color guard Large Class
Lebanon
Best field commander Small Class
Northwest
Best field commander Medium Class
Kenwood
Best field commander Large Class
Rossview
Overall Percussion
Lebanon
Overall Color Guard
Lebanon
Overall Field Commander
Rossview
Photo Gallery
Scotts Hill High School
Northwest High School
Stewart County High School
Kenwood High School
Sycamore High School
Northeast High School
Lebanon High School
West Creek High School
Rossview High School
Creekwood High School
Clarksville High School
Montgomery Central High School
Austin Peay State University's Governors Own Marching Band