On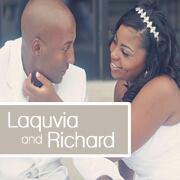 September 15th, 2012 the Pinnacle "Down Under" was filled with laughter and tears of joy in celebration of the union between Laquvia Johnson and LEAP Founder Richard "Reason" Garrett.
Local comedian Deztin "DJ" Pryor entertained the guests while the couple took some newly wed photo's followed by the duo wowing family and friends with a surprise first dance that began with the traditional slow dance evolving into a choreographed hip hop routine to a mix of various songs.
"While being married has its personal benefits, I believe marriages ordained by God have a divine purpose. Our family's mission is to serve the Lord by loving Him with all our hearts and loving our neighbors as our lives bring forth an abundance of fruit that plants seeds in the lives of youth that will bless generations to come" commented Richard
The couple would like to thank everyone for sharing the special the occasion and also for all the love and support shown over the years. They ask for continued prayer as they set out on their lifelong journey together.