APSU Sports: Austin Peay Volleyball

Clarksville, TN – Austin Peay State University's volleyball team returned to its regular home and opened it with a victory, downing Tennessee Tech in four sets (25-19, 25-27, 25-18, 25-17) in an Ohio Valley Conference contest at the Dunn Center.
Austin Peay (7-10, 1-1 OVC West) had little trouble with Tennessee Tech when its offense was running well, easily scoring victories in the first, third and fourth sets. The Lady Govs opened the match with an impressive 20-kill performance in the first frame. They added 13 and 14-kill efforts in the third and fourth sets while hitting .281 and .273 respectively each time.
Tennessee Tech (2-12, 0-2 OVC East) put forth a steely defensive effort in the second set, recording five of its 12 blocks in the set. The Golden Eagles defense caused the Lady Govs to record 11 of its 27 attack errors in the match in the second set. Still, it took a 7-2 set-ending run by Tennessee Tech to take a 27-25 win.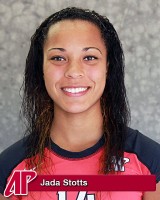 Sophomore Jada Stotts led Austin Peay with 18 kills, but also was charged with 13 attack errors and was held to a .104 attack percentage. She was picked up by senior Nikki Doyle and sophomore Liz Landon who had 13 kills each.  Senior Alex Sain also was impressive with 10 kills and 13 digs.
Natalie Penrod led Tennessee Tech with 14 kills. Kelsey Gray added nine kills and finished with a .500 attack percentage.
Austin Peay begins a four-match OVC road trip with a 7:00pm, Tuesday contest at Murray State.
Note: Austin Peay played its first match at the Dunn Center this season… the Lady Govs opened their home schedule at the Memorial Health Building, Friday, after a power outage at the Dunn Center.
Box Score
Austin Peay Lady Govs
Tennessee Tech vs Austin Peay
(September 22nd, 2012 at Clarksville, TN)
Tennessee Tech
ATTACK
SET
SERVE
SRV
DEF
BLOCK
GEN
##
Player
SP
K
E
TA
PCT
A
SA
SE
RE
DIG
BS
BA
BE
BHE
Points

3

PENROD, Natalie

4

14

5

43

.209

0

1

0

2

3

0

1

1

0

15.5

5

CONTI, Ellen

2

2

3

10

-.100

0

0

1

1

3

0

1

0

0

2.5

7

DVORKEN, Katrina

4

2

2

9

.000

0

0

0

0

0

1

5

0

0

5.5

8

KEYES, Madison

4

4

2

15

.133

1

0

0

0

0

0

5

1

0

6.5

9

GRAY, Kelsey

4

9

0

18

.500

0

1

1

1

3

1

3

1

0

12.5

10

COMPERRY, Madison

4

0

0

0

.000

19

0

3

0

3

0

1

0

1

0.5

2

SMITH, Courtney

4

0

0

1

.000

0

0

0

1

24

0

0

0

0

0.0

6

HANCOCK, Ashleigh

4

0

0

0

.000

21

1

2

0

2

0

0

0

0

1.0

13

LEWIS, Audrey

3

6

6

18

.000

0

0

0

1

10

0

1

1

0

6.5

29

DODD, Cody

4

4

2

12

.167

0

0

0

0

2

0

3

0

0

5.5

TEAM

1

Totals

4

41

20

126

.167

41

3

7

7

50

2

20

4

1

56.0

TOTAL TEAM BLOCKS: 12.0
TEAM ATTACK BY SET
Set
K
E
TA
Pct
Sideout
Pct

1

11

2

31

.290

13-24

54%

2

10

5

36

.139

16-26

61%

3

12

6

29

.207

13-24

54%

4

8

7

30

.033

13-25

51%

55-99

55%

SET SCORES
1
2
3
4
TEAM RECORDS

Tennessee Tech

(1)

19

27

18

17

2-12, 0-2 OVC

Austin Peay

(3)

25

25

25

25

7-10, 1-1 OVC
Austin Peay
ATTACK
SET
SERVE
SRV
DEF
BLOCK
GEN
##
Player
SP
K
E
TA
PCT
A
SA
SE
RE
DIG
BS
BA
BE
BHE
Points

1

FIELDS, Cami

4

0

0

1

.000

53

1

1

0

4

1

3

0

0

3.5

5

SAIN, Alex

4

10

2

15

.533

2

0

0

0

13

0

0

1

0

10.0

8

LANDON, Liz

4

13

4

24

.375

1

1

0

0

5

0

2

1

0

15.0

9

DOYLE, Nikki

4

13

5

38

.211

2

1

0

2

15

1

0

1

0

15.0

12

HENDERSON, Lauren

4

7

3

20

.200

0

3

5

0

3

0

3

0

0

11.5

14

STOTTS, Jada

4

18

13

48

.104

1

1

3

1

13

0

2

1

0

20.0

2

HULL, Calyn

2

0

0

0

.000

0

0

0

0

2

0

0

1

0

0.0

3

ADAMS, April

3

0

0

0

.000

0

0

0

0

7

0

0

0

0

0.0

10

STROTHER, Samantha

1

0

0

0

.000

0

0

0

0

0

0

0

0

0

0.0

15

PLYBON, Hillary

1

1

0

2

.500

0

0

1

0

0

0

0

0

0

1.0

Totals

4

62

27

148

.236

59

7

10

3

62

2

10

5

0

76.0

TOTAL TEAM BLOCKS: 7.0
TEAM ATTACK BY SET
Set
K
E
TA
Pct
Sideout
Pct

1

20

7

40

.325

14-20

69%

2

15

11

43

.093

15-26

57%

3

13

4

32

.281

14-19

73%

4

14

5

33

.273

13-17

76%

56-82

68%

Site: Clarksville, TN (Dunn Center)
Date: Sep 22, 2012 Attend: 208 Time: 2:47
Referees: James Lawson, Tyler Adams


| | | | | | |
| --- | --- | --- | --- | --- | --- |
| | 1 | 2 | 3 | 4 | Total |
| Tie scores | 3 | 4 | 1 | 8 | 16 |
| Lead changes | 1 | 1 | 1 | 5 | 8 |