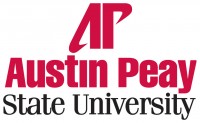 Clarksville, TN – For the first time in its 81-year history, a staff member of Austin Peay State University's student newspaper, The All State, has been named a finalist for college media's top prize.
Christy Walker, editorial cartoonist for the newspaper, was named a finalist for an individual Pacemaker award, presented annually to the country's top college journalists and college media outlets.
Walker, a junior art education major, was named a finalist for her depiction of Clarksville Mayor Kim McMillan holding a cross with other religious icons. The cartoon, originally published August 29th, 2011, in The All State, accompanied an editorial about McMillan's monthly meetings with the Clarksville Area Ministerial Association inside city hall.
"I am unbelievably proud that my cartooning has not only garnered The All State and APSU local recognition, but it has now put it out there on a national level," Walker said.
Walker's success is not new. She earned a second-place award for her cartoons at the 2012 Southeastern Journalism Conference.
"It is a great feeling to know that I'm contributing to the university by doing that which I love the most in the world — drawing," she said.
The Pacemaker is widely regarded as the top honor for collegiate journalists. It is presented annually by the Associated Collegiate Press and College Media Association at its joint national conference. Overall and individual Pacemakers from 2011 will be handed out in late October in Chicago, IL.
"Just to be mentioned in the same sentence as the Pacemaker would be a highlight of any college career," Jake Lowary, coordinator of Student Publications at APSU, said. "For Christy to be named a finalist is a tremendous honor, and I can't stress that enough. We are all so proud of her and what she has accomplished."
The All State publishes each Wednesday during the academic year and is circulated on APSU's main campus and at its satellite campus at Fort Campbell, KY.
Readers can also find it online at www.theallstate.org.