APSU Sports: Austin Peay Men's Golf

Simpsonville, KY – Austin Peay State University men's golf team play was like the weather in the first round-frosty-but the Governors warmed up during the afternoon in the opening day of the Cardinal Collegiate, being hosted by Louisville at the par-72, 7,036-yard Cardinal Club.
The Governors shot an 8-over 296 in the opening round only to rebound with a 4-under 284 in the second 18 holes. As a result, the Governors sit in fourth place at the first 36 holes at 580. The tourney's start was delayed more than an hour due to frost on the course.
Bowling Green leads the way at 8-under 568 followed by host Louisville. Fellow Ohio Valley Conference member Murray State is two shots ahead of the Govs at 578. Arkansas-Little Rock is in fifth at 583 followed by Eastern Kentucky at 584. A fourth OVC member, Morehead State is in 13th place at 605.
"We struggled a bit in the morning, other than Dustin (Korte)," APSU coach Kirk Kayden said. "Dustin had a 70, but we didn't do a good job of backing him up.
"In the afternoon we played much better; we shot 4-under and we made a lot of good shots. We played consistent good golf and caught up quite a bit. We were so close to having a really good round, but this was our first time since last spring where we played 36 holes in a day-I think we lost a little focus late."
Korte, the Govs' lone senior, continued his strong early fall play, shooting 70-69 for two-round 5-under 139. He is tied for second place individually, just two shots off the pace. He had eight birdies with only three bogeys on the day.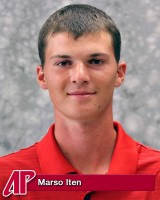 "Dustin really had a good day," Kayden said. "He had a lot of nice birdies. He managed the golf course really well.
"When you have a player with a chance of winning going into the final 18 holes, that tells you how well he is playing. It is always good to have a senior leading the way.
"When you think about how well he has played these first two tournaments, he really has had just one bad hole at True Blue (Plantation) or he would have had a Top 10 there."
Junior Marco Iten shook off a first-round 3-over 75 to shoot a 2-under 70 in the day's afternoon round. Hampered by a double bogey in the first round, Iten had a trio of birdies in the afternoon round.
Redshirt freshman Korey Smith continued his solid play with two-round 4-over 76 to come back with an even-par 72 in the second 18 holes.
Junior Anthony Bradley, the reigning OVC medalist, struggled in the morning with a 78 but came back to fire a 1-over 73 in the afternoon. Starting on No. 14, Bradley had his score at one-under in the afternoon until a bogey at No. 10.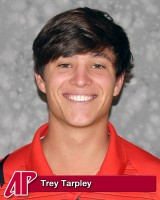 Junior Trey Tarpley was the only Gov to struggle in afternoon. After firing a 75 in the morning, he slipped to a 78 on the final 18.
Freshman Austin Kramer, playing as an individual in his first college tournament, shot a 155 on the day, shooting 79 in the morning before coming back with a 76 in the afternoon.
'We showed some real mental toughness in the afternoon round," Kayden said. "It would be nice to see us get back to even par (Tuesday). We are capable of going under that-it is certainly doable-if we play good, consistent golf."
Cardinal Intercollegiate
| | | | | |
| --- | --- | --- | --- | --- |
| Finish | School – Players | Round 1 | Round 2 | Totals |
| 4 | Austin Peay State University | 296 | 284 | 580 |
| T 2 | Dustin Korte (1) | 70 | 69 | 139 |
| T 20 | Marco Iten (3) | 75 | 70 | 145 |
| T 38 | Korey Smith (4) | 76 | 72 | 148 |
| T 53 | Anthony Bradley (2) | 78 | 73 | 151 |
| T 62 | Trey Tarpley (5) | 75 | 78 | 153 |
| | | | | |
| T 70 | Austin Kramer | 79 | 76 | 155 |