Austin Peay Lady Govs Volleyball led by Nikki Doyle beat Murray State Racers in four sets
Written by Cody Bush
APSU Sports Information

Murray, KY – Senior outside hitter Nikki Doyle led all hitters with 17 kills and Austin Peay State University's volleyball team won a four-set (25-21, 25-20, 19-25, 25-23) Ohio Valley Conference decision against Murray State, Tuesday night at Racer Arena.
Austin Peay (8-10, 2-1 OVC West) showed signs it was regaining its form of two weeks ago, but still couldn't put all the pieces consistently. The Lady Govs controlled the opening two sets but saw its defense falter as Murray State (3-9, 1-2 OVC West) won the third set. Austin Peay was able to complete the win with a come-from-behind effort in the fourth set.
"I was happy with our performance in the first two sets," said Austin Peay head coach Taylor Mott. "We were able to control the action both offensively and defensively. However, we didn't come out with the same intensity in the third set and Murray State took advantage. While we were able to win we still have a ways to go."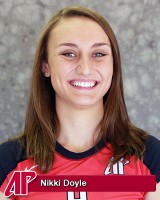 Austin Peay fell behind early in the opening set but used a 6-1 scoring run to turn a 3-1 deficit into a 7-4 lead. The Lady Govs later used a 7-1 run to break open the set with an 18-11 lead and didn't look back. The stats told an impressive story as APSU scored 15 kills but posted an impressive seven blocks to help secure the win.
Murray State controlled the first part of the second set after breaking out to a 4-1 lead. Austin Peay turned the tide with an 11-3 run that was helped significantly by Murray State attack errors. After gaining an 18-13 lead with that run, the Lady Govs had to withstand one more Racers run that cut the lead to two points but held on for the win.
Austin Peay sought to turn the tables in the third set, but its offense sputtered after opening with a 7-5 lead. Murray State used an 8-1 run to build a 13-8 advantage. The Lady Govs would close back within one point, 17-16, but could not close the gap.
The fourth set was more of a see-saw affair with 14 ties and seven lead changes. It would take a 4-1 Austin Peay run to secure the set with sophomore outside hitter Jada Stotts supplying a pair of kills to secure the win.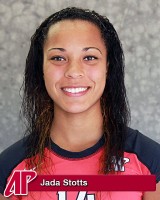 Doyle's 17-kill performance came with a .222 attack percentage. Stotts added 15 kills at a .306 attack pace. Sophomore middle blocker Liz Landon added 12 kills and a team-best five blocks.
Olden led Murray State with 15 kills, but it was Lelm who caused the most trouble with an errorless 12-kill performance (.632 attack percentage). The Racers won the offensive battle by a 60-57 margin, but could not overcome APSU's more efficient .299 to .226 attack percentage advantage.
Austin Peay continues its four-match road trip with a 1:00pm (CT), Saturday contest at Eastern Kentucky.
Box Score
Austin Peay Lady Govs
Austin Peay vs Murray State
(September 25th, 2012 at Murray, KY)
Austin Peay
ATTACK
SET
SERVE
SRV
DEF
BLOCK
GEN
##
Player
SP
K
E
TA
PCT
A
SA
SE
RE
DIG
BS
BA
BE
BHE
Points

1

FIELDS, Cami

4

1

0

2

.500

46

0

0

0

6

0

2

0

0

2.0

5

SAIN, Alex

4

5

1

14

.286

1

0

1

0

5

0

4

0

0

7.0

8

LANDON, Liz

4

12

2

22

.455

2

0

0

0

3

0

5

0

0

14.5

9

DOYLE, Nikki

4

17

7

45

.222

3

1

0

2

8

0

2

0

0

19.0

12

HENDERSON, Lauren

4

2

2

8

.000

0

0

2

0

2

0

3

1

0

3.5

14

STOTTS, Jada

4

15

4

36

.306

1

1

2

3

11

0

1

0

0

16.5

2

HULL, Calyn

1

0

0

0

.000

0

0

0

0

0

0

0

1

0

0.0

3

ADAMS, April

4

0

0

0

.000

0

0

0

0

4

0

0

0

0

0.0

15

PLYBON, Hillary

1

5

1

7

.571

0

0

1

0

0

0

1

0

0

5.5

TEAM

2

Totals

4

57

17

134

.299

53

2

6

7

39

0

18

2

0

68.0

TOTAL TEAM BLOCKS: 9.0
TEAM ATTACK BY SET
Set
K
E
TA
Pct
Sideout
Pct

1

15

5

40

.250

15-23

65%

2

14

4

24

.417

14-20

69%

3

9

3

32

.188

12-25

47%

4

19

5

38

.368

16-23

69%

57-91

62%

SET SCORES
1
2
3
4
TEAM RECORDS

Austin Peay

(3)

25

25

19

25

8-10, 2-1 OVC

Murray State

(1)

21

20

25

23

3-9, 1-2 OVC
Murray State
ATTACK
SET
SERVE
SRV
DEF
BLOCK
GEN
##
Player
SP
K
E
TA
PCT
A
SA
SE
RE
DIG
BS
BA
BE
BHE
Points

1

Alyssa Lelm

4

12

0

19

.632

0

0

0

0

1

1

2

0

0

14.0

6

Taylor Olden

4

15

7

36

.222

0

3

3

0

2

0

2

0

0

19.0

10

Emily Schmahl

4

9

7

25

.080

0

0

0

0

0

0

1

0

0

9.5

11

Lydia Orf

4

2

0

2

1.000

0

1

0

1

16

0

0

0

0

3.0

12

Lia Havili

4

0

2

4

-.500

54

1

0

0

5

0

0

0

0

1.0

19

Beth Mahurin

2

4

7

14

-.214

0

0

0

0

0

0

0

0

0

4.0

2

Katlyn Hudson

4

0

0

0

.000

0

0

0

0

13

0

0

0

0

0.0

4

Sam Bedard

4

0

0

0

.000

0

1

1

0

4

0

0

0

0

1.0

7

Jodie Klein

4

0

0

0

.000

1

1

2

1

7

0

0

0

0

1.0

8

Kristen Besselsen

2

2

1

4

.250

0

0

0

0

1

1

1

0

0

3.5

14

Wendi Zickfield

1

4

2

8

.250

0

0

0

0

1

0

0

0

0

4.0

31

Michelle Lazorchak

4

12

3

25

.360

0

0

0

0

1

1

1

1

0

13.5

Totals

4

60

29

137

.226

55

7

6

2

51

3

7

1

0

73.5

TOTAL TEAM BLOCKS: 6.5
TEAM ATTACK BY SET
Set
K
E
TA
Pct
Sideout
Pct

1

16

11

42

.119

14-24

58%

2

12

9

30

.100

14-25

56%

3

19

6

36

.361

12-19

63%

4

13

3

29

.345

16-25

63%

56-93

60%

Site: Murray, Ky. (Racer Arena)
Date: Sep 25, 2012 Attend: 192 Time: 1:53
Referees: Keith Hutchinson, Rick Bolton


| | | | | | |
| --- | --- | --- | --- | --- | --- |
| | 1 | 2 | 3 | 4 | Total |
| Tie scores | 1 | 1 | 5 | 14 | 21 |
| Lead changes | 1 | 1 | 2 | 7 | 11 |