Clarksville, TN – On September 24th, 2012 Clarksville Police responded to a shooting in the Barkwood Drive Area. Officers found that the shooting was over an argument about a two year old taking a balloon from a house that was going to be shown by a realtor. The suspects fled the area.
On September 25th, 2012, around 3:45pm, James Antonio Bagwell turned himself in to the Montgomery County Jail.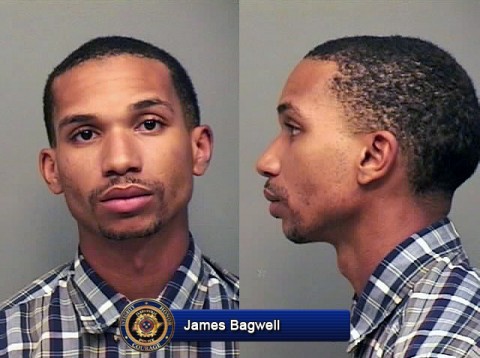 Police also charged a 16 year old juvenile in connection with the shooting with Criminal Responsibility for Solicitation of a Felony. He is being held at a juvenile detention facility.
The investigation is ongoing and more arrests and charges are expected.  The lead is Detective Jennifer Szczerbiak.
Anyone with information about the Barkwood Drive shooting is asked to call the TIPSLINE, 931.645.8477.
For more on the story, see: Clarksville Police report Confrontation over a Balloon leads to Shots Fired
James Bagwell
Name: James Antonio Bagwell (B/M)
DOB: 5/10/90
Given Address: 304 Barkwood Drive, Clarksville, TN
Arresting Officer: Marcidas Oliver
Charged With: Attempted Criminal Homicide
Booked Into: Montgomery County Jail
Bond: $500,000.