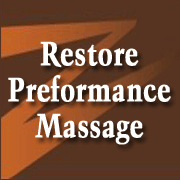 Clarksville, TN – Russ Shemberger, a licensed massage therapist at Restore Performance Massage on Madison Street in Clarksville, placed second overall and won his age group (45-49) at the Run Through the Forest 5K held Saturday, September 22nd at Pennyrile Forest State Resort Park in Dawson Springs, KY.
A veteran triathlete, Shemberger recently finished the triathlon season and is now training for the Bowling Green Half-Marathon in Bowling Green, KY, along with a number of 5K races.
As a licensed massage therapist, Shemberger leads Restore Performance Massage – aka RPM Massage – in sports massage treatment, therapeutic, Swedish and deep tissue massage.
RPM Massage is open from 10:00am-6:00pm, Monday and Wednesday, 8:00am-4:00pm, Tuesday and Thursday, and from 8:00am-noon, Friday. To make an appointment, call 931.647.3692.
RPM Massage also can be found on Facebook: http://www.facebook.com/rpmmassage [1]