Clarksville, TN – On Thursday, September 20th, 2012, Clarksville Mayor Kim McMillan was presented the Hope Award from the Mid South Chapter of the National Multiple Sclerosis Society.
"The Hope Award is our highest honor for someone who goes above and beyond by supporting our mission," said Stacy Mulder, president of the Mid South Chapter of the National Multiple Sclerosis Society.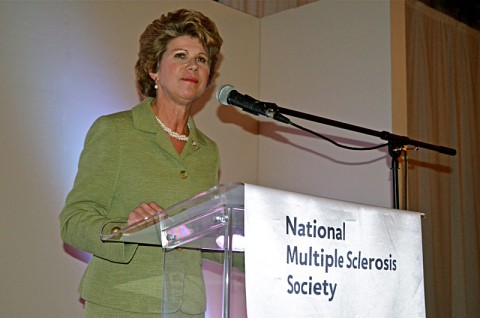 Mayor McMillan was presented the award by former Governor Phil Bredesen who talked about Kim's tenacity in tackling any job before her – including fighting Multiple Sclerosis. Clarksville businessman and renowned humanitarian Jack Turner and Speaker Emeritus Jimmy Naifeh served as Co-Chairs of the event. In addition to a crowd of friends from Clarksville, the Mayor's family was in attendance as was House Speaker Beth Harwell, former First Lady Andrea Conte, Representative Craig Fitzhugh, and colleagues from across the State.
Kim was about six months into her new role as Mayor of Clarksville when she was diagnosed. "I decided early on that I wasn't going to let this get in the way of my life or my service to the citizens of Clarksville," she said. That kind of determination and attitude is just a part of her character as was confirmed by comments made by Mr. Turner, Speaker Naifeh, Governor Bredesen and her parents (via video) during the award presentation.
"When I was first diagnosed with MS, some people advised me to keep it quiet. I immediately disregarded that advice. One of the important things to realize is that no one really knows how long they've been dealing with the disease even after they've been diagnosed. I'd been living with symptoms for a long time before really knew what I was dealing with and it hadn't stopped me from doing anything I wanted to. The other thing I wanted to call attention to is that there are 400,000 people in the United States who have been diagnosed with MS and they continue to live productive, involved, exciting lives. I want to offer any support I can to those people and their families. Yes, we are living with a chronic disease but the point is that we ARE living!" Mayor McMillan said.
According to the Multiple Sclerosis Society, every hour in the United States, someone is newly diagnosed with MS, an unpredictable, often disabling disease of the central nervous system. Symptoms range from numbness and tingling to blindness and paralysis. The advancement, severity and specific symptoms of MS in any one person cannot yet be predicted, but advances in research and treatment are occurring at a very rapid pace.
"We are getting closer and closer to a cure for MS," Mayor McMillan said. "The FDA is considering new treatment and other options to treat and, hopefully, eventually cure the disease. I'm thrilled and humbled to receive the Hope Award and very grateful to so many friends who supported me. But I want everyone to understand, this award isn't about me. This is about those hundreds of thousands of people who are living with this disease every day, the people who support and assist them in countless ways and the researchers and doctors who are working tirelessly to find a cure. This is called the 'Hope Award' but I am more than hopeful that there will be a cure. I'm very optimistic that we will find it soon," she said.
The Hope Award dinner event raised more than $60,000 which will be used to provide client services in Tennessee and parts of Georgia, Arkansas and Mississippi and to continue national research to find the cause and cure of MS.