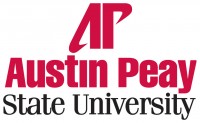 Clarksville, TN – Two years ago, Dr. Osvaldo DiPaolo, Austin Peay State University assistant professor of languages and literature, decided the University needed a Spanish language journal that catered to Hispanic literature.
He thought it would be a hard sell since APSU had a relatively small Spanish program, so he suggested creating an online-only journal to keep costs down.

In the fall of 2011, the first issue of Polifonía appeared online at
www.apsu.edu/polifonia.
The website was professional looking and contained several peer-reviewed essays, but in the academic world, an online journal can easily be ignored.
"Then Dr. David Guest (chair of the APSU Department of Languages and Literature) suggested that we see if we can get it in print," DiPaolo said. "My eyes got big, and I said, 'OK.'"
Dr. Dixie Webb, the dean of the APSU College of Arts and Letters, provided DiPaolo with a budget for the journal, and last week, 100 copies of Polifonía, Volume 2, arrived on campus.
"It's a dream come true," DiPaolo said. "We've had such support from the department and the college."
DiPaolo serves as the journal's editor and his colleague, Dr. Nadina Olmedo, from Campbellsville University, is as the associate editor. Polifonía's editorial board includes two APSU faculty members – Dr. Miguel Ruíz Avilés and Dr. Culley Carson-Grefe – along with professors from the University of Birmingham, England, the Universidad Nacional de la Patagonia, Argentina, the Universidad de Granada, Spain, the Universidad Veracruzana, Mexico, the University of Kentucky and the University of Wisconsin.
For this new issue, which focuses on gothic elements in Hispanic literature and film, the editors invited guest experts from Hungary, Mexico and Spain to help choose the 10 best essays out of dozens of submissions. When scholars from around the world read those essays for their own research, they'll find the APSU logo on the front of each journal.
That recognition, DiPaolo said, is important for the growth of the Spanish program.
"The whole intention was to get our name out," he said. "It makes us look better from the outside, and it can bring potential students who are interested. Our goal is to have a master's degree in Spanish, and I think that by having something like this will bring us up to that level. Students will have the opportunity to work with the journal and the selection process, and get an idea what the profession is like."
An online edition of the journal is still available, which Dr. John Nicholson, APSU assistant professor of computer science, helped DiPaolo develop.