Clarksville, TN – On Thursday, September 27th 2012 Austin Peay State University played host to the fourth annual Peay Reads guest speaker Wes Moore.
His book "The Other Wes Moore" is about himself and another kid who were both named Wes Moore, who were born blocks apart within a year of each other. They both grew up fatherless, in similar Baltimore neighborhoods, and had difficult childhoods; both hung out on street corners with their crews; both ran into trouble with the police.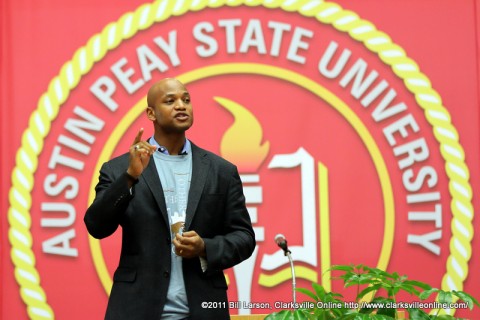 The ultimate question is how with such similar backgrounds, did one grow up to be a Rhodes Scholar, decorated veteran, White House Fellow, and business leader, while the other ended up a convicted murderer serving out a life sentence?
Here is Wes Moore in his own words…
The Peay Reads program is designed to help new students who are beginning their college careers at Austin Peay State University to develop the tools that will enable their success in their academic careers, by helping students to open their mind to new ideas and teaching them how to think critically about the issues facing our society.
The program featured a variety of events during the month of September, which included a kickoff presentation which featured Brian Johnson, the Assistant Provost for Austin Peay State University; student essays or creative expression  contest; two book discussions; a panel discussion; a meet and greet with the author; a special reception at Archwood; and a banquet for the essay contest winners. The month closed out with the keynote address by Wes Moore.
If you didn't make it to Wes Moore's reading the following video will give you an idea of what you missed.
During his keynote address Moore was animated and engaging. As he spoke to the students, he wove the tale of his life and that of the other Wes Moore, making them even more real for the attendees. He encourage the students to make a difference with their lives, because if their life circumstances had been different perhaps their lives might ended up more like that of the the other Wes Moore.
Following the program Moore took the time to visit with the kids, sign autographs, and pose for pictures with hundreds of the students who attended his presentation.
At the end of the evening I had a moment with Wes Moore and he reflected on his visit to Austin Peay State University, "It's been amazing! It's been so humbling just seeing not just the reaction of the students, but seeing the service projects and how the students are really taking this responsibility of higher education seriously. Its been incredibly humbling!"
Peay Read Essay, Creative Expression contest Winners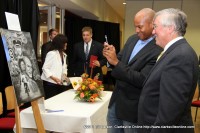 The winners of this year's Peay Read Essay, Creative Expression Contest are Jack Anhalt, Rebecca Baker, Hayley Beard, Samantha Ebright, Julie Flowers, Chelsi Hardester, Gwendolyn Marie Hay, Courtney Hill, Danielle Hunter, Zanah Kent, Brandi Laurent, Jacqueline Lewis, Joshua Mayberry, Zach Puckett and Dennis Roman. All are either freshmen or transfer students during the 2012-13 academic year.
They were honored at a Banquet where their presentations were presented. A book of the submissions is being made for publication next year, and Wes Moore was presented with one of the very first copies.
This was the first year that Creative Expressions (poems, art, video) were accepted, and the overall winner was a painting of Wes Moore by created by Dennis Roman.
Photo Gallery