Clarksville, TN – On October 2nd, 2012, around 9:15pm, Clarksville Police Officers were called to a McClardy Drive residence for a burglary in progress.
An 18 year old female arrived home and saw a bluish green car by her mailbox with a man standing outside of the vehicle smoking a cigarette. As she pulled into her driveway, she could see all the lights on in the house and the back and garage doors were open. She also could see two men inside of residence.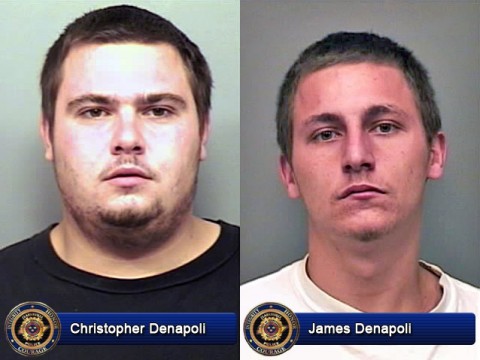 She continued toward the house and went inside at which time one of the men pushed her with a handgun, knocking her down and then all three men fled from the scene. Police were called and dispatchers disseminated vehicle and suspects' descriptions to responding officers.
Officer Chris Cunningham spotted a vehicle matching the description of the suspect vehicle and initiated a traffic stop. The vehicle, which had two occupants inside, abruptly stopped in the middle of the road and the driver bailed out, later determined to be James Denapoli, and fled into the wood line.
The passenger tried to exit the vehicle but was unable to get out because the door would not open from the inside. The suspect detained was a 17 year old juvenile, and was positively identified as the man who was outside of the residence when the 18 year old woman arrived at her house. He was transported to the detective division to be interviewed.
In the meantime, other officers and a K-9 flooded the area looking for the other suspects, but were unable to locate them.
Detective Brian Tenry took over the investigation quickly determined the identity of the two other suspects inside of the residence as the Denapoli, Christopher and James.
The juvenile was charged with Aggravated Burglary and transported to a juvenile detention facility.
Detective Tenry has also secured Aggravated Burglary and Aggravated Assault warrants for Christopher Michael Denapoli, 23, (W/M) and James Alberto Denapoli, 21,(W/M) who already had a Petition to Revoke warrant on file, both with a last known address of 601 Mann Circle.
Police are currently looking for both suspects.
It was also determined during the course of the investigation that one of suspects may have been acquainted with the 18 year old during high school.
The property stolen, which was primarily jewelry, was not recovered.
Christopher Denapoli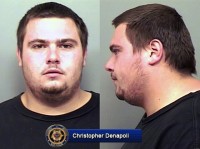 Name: Christopher Michael Denapoli (W/M)
Age: 23
Last Known Address: 601 Mann Circle, Clarksville, TN
Wanted For: Aggravated Burglary and Aggravated Assault
James Denapoli
Name: James Alberto Denapoli, 21,(W/M)
Age: 21
Last Known Address: 601 Mann Circle, Clarksville, TN
Wanted For: Aggravated Burglary and Aggravated Assault