APSU Sports: Austin Peay Volleyball

Martin, TN – Austin Peay State University overcame a slow start to post an impressive three-set victory (25-23, 25-16, 25-21) against UT Martin in Ohio Valley conference action, Saturday, at Skyhawk Fieldhouse.
Austin Peay (9-12, 3-3 OVC West) head coach Taylor Mott wasn't happy with her team's performance at Southeast Missouri and made a couple of lineup changes for Saturday's contest.
Sophomore Liz Landon moved into the libero role while sophomore Hillary Plybon moved back into the starting six as middle blocker as the Lady Govs continue to search for the right combination in the front row.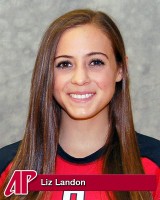 "Liz was great and made a big difference at libero," said Mott. "She helped solidify our passing and that showed. Cami (Fields) was instrumental in running our offense and the better passing effort certainly helped. We executed much better today all around."
The Lady Govs had to first overcome a sluggish start in the opening set. The effects of an early wake-up call and drive from Cape Girardeau, MO, to Martin for the 11:00am start showed as Austin Peay had to battle a feisty UT Martin squad through 15 ties and seven lead changes before securing the 25-23 victory.
The second and third sets were much more one sided as Austin Peay trailed only briefly early in each set. The Lady Govs scored 17 kills in a dominating 25-16 second set win as the defense held the Skyhawks to a .000 attack percentage (7 kills and 7 errors).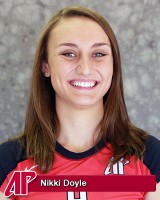 UT Martin's offense couldn't get on a roll in the third set with 11 kills and a .104 attack percentage and Austin Peay posted a 25-21 win to end the match.
Senior outside hitter Nikki Doyle and sophomore outside hitter Jada Stotts each recorded 12 kills to lead Austin Peay. Plybon responded to the starting nod with 10 kills and a .556 attack percentage.
Emily Keaton led UT Martin with 11 kills.  Amanda Crask had five kills and a team-best .308 attack percentage.
Austin Peay returns home to begin a three-match homestand with a 7:00pm, Wednesday non-conference contest against Middle Tennessee.
Box Score
Austin Peay vs UT Martin
(Oct 6th, 2012 at Martin, TN)
Austin Peay
ATTACK
SET
SERVE
SRV
DEF
BLOCK
GEN
##
Player
SP
K
E
TA
PCT
A
SA
SE
RE
DIG
BS
BA
BE
BHE
Points

1

FIELDS, Cami

3

0

0

1

.000

38

1

0

0

10

0

1

0

3

1.5

5

SAIN, Alex

3

4

1

10

.300

1

0

0

0

17

0

1

1

1

4.5

9

DOYLE, Nikki

3

12

2

37

.270

2

0

3

2

9

0

3

2

0

13.5

12

HENDERSON, Lauren

3

7

3

18

.222

0

1

1

1

1

0

3

0

0

9.5

14

STOTTS, Jada

3

12

4

30

.267

0

0

2

1

11

0

2

1

0

13.0

15

PLYBON, Hillary

3

10

0

18

.556

1

1

2

0

4

0

4

0

0

13.0

7

MARSELLIS, Aubrey

1

0

0

0

.000

0

0

0

0

0

0

0

0

0

0.0

8

LANDON, Liz

3

0

0

0

.000

1

0

0

0

3

0

0

0

0

0.0

Totals

3

45

10

114

.307

43

3

8

4

55

0

14

4

4

55.0

TOTAL TEAM BLOCKS: 7.0
TEAM ATTACK BY SET
Set
K
E
TA
Pct
Sideout
Pct

1

14

4

30

.333

14-23

60%

2

17

3

33

.424

11-17

64%

3

14

3

51

.216

15-21

71%

40-61

65%

SET SCORES
1
2
3
TEAM RECORDS

Austin Peay

(3)

25

25

25

9-12 (3-3 OVC)

UT Martin

(0)

23

16

21

7-13 (3-3 OVC)
UT Martin
ATTACK
SET
SERVE
SRV
DEF
BLOCK
GEN
##
Player
SP
K
E
TA
PCT
A
SA
SE
RE
DIG
BS
BA
BE
BHE
Points

1

HAZELWOOD, Lynsey

3

5

4

20

.050

1

0

1

0

2

0

1

1

1

5.5

3

KEATON, Emily

3

11

2

35

.257

1

2

0

1

2

0

0

0

0

13.0

4

BOWLES, Chelsea

3

0

0

0

.000

1

1

0

1

6

0

0

0

0

1.0

6

HOSKINS, Shelby

3

3

4

16

-.062

0

0

0

0

7

1

1

3

0

4.5

14

CRASK, Amanda

3

5

1

13

.308

23

0

1

0

6

1

1

1

3

6.5

17

HARTER, Jackie

3

6

4

19

.105

0

0

0

0

0

1

1

1

0

7.5

10

ELSWICK, Kasey

3

0

0

2

.000

4

0

0

1

25

0

0

0

1

0.0

11

WHIMPEY, Allie

3

1

2

6

-.167

0

0

0

0

0

0

0

0

0

1.0

12

SIMONS, Taylor

1

2

0

2

1.000

0

0

0

0

2

0

0

0

0

2.0

24

ZIMMERMAN, Dallas

1

1

2

6

-.167

0

1

0

0

0

0

0

0

0

2.0

Totals

3

34

19

119

.126

30

4

2

3

50

3

4

6

5

43.0

TOTAL TEAM BLOCKS: 5.0
TEAM ATTACK BY SET
Set
K
E
TA
Pct
Sideout
Pct

1

16

6

34

.294

14-25

56%

2

7

7

37

.000

10-24

41%

3

11

6

48

.104

15-25

60%

39-74

52%

Site: Martin, Tenn. (Skyhawk Fieldhouse)
Date: Oct 06, 2012 Attend: 151 Time: 1:16
Referees: Tim Neels, Rick Bolton


| | | | | |
| --- | --- | --- | --- | --- |
| | 1 | 2 | 3 | Total |
| Tie scores | 15 | 2 | 3 | 20 |
| Lead changes | 7 | 1 | 1 | 9 |