Clarksville, TN – On Sunday, September 30, a large crowd of Clarksville Christian School (CCS) faculty and staff, board members, students and their families, and members of the community gathered to watch as the earth was broken, marking the beginning of Phase II for Clarksville Christian School.
The capital campaign to fund Phase II is entitled Something Special, and the facility will include a gym, dressing rooms, cafeteria, six new classrooms, a state-of-the-art science lab, music area, and theater stage.  The growth will allow the school to expand the number of students that can be served.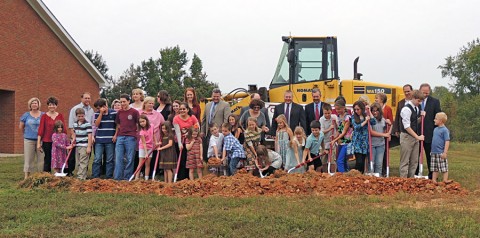 Board Member and Chair of the Development Committee, Chris Travis, opened the event with a prayer, and was followed by Board Chair Roger Nell, who reflected upon the growth of CCS, and his excitement as the school moves ahead in this new phase.  Upper School Principal Amanda Binkley spoke of her own Christian education, and the blessing that CCS is to the families that it serves.
Student Government Association President Kelly Anne James is excited about things to come. She believes this new facility will offer brand new opportunities for CCS students. "This building will give us more room and access to resources that will enhance our education and the athletics department.  As a basketball player, I am thrilled to see the new gymnasium because it will not only be used by the basketball team, but will also give a larger space for physical education classes and school gatherings."
Clarksville Christian School Parent Action Committee (PAC) President Ricky Cumberland was in attendance for the groundbreaking.  Cumberland's son Dawson, is in his third year at CCS, and is active in Student Government, golf, and basketball.
Cumberland states, "Clarksville Christian School has provided a wonderful foundation for families who choose to raise their children in a warm, loving, faith-based environment.  This second phase builds on that foundation.  With the addition of a gymnasium, theater, cafeteria, science labs, and music area, Clarksville Christian School will truly become 'something special'.
About Clarksville Christian School
Founded in 2007, Clarksville Christian School's goal is to foster and maintain an educational and Christian environment wherein God is glorified in every respect academically, socially, and morally according to the teachings of the Bible.  In fulfilling this mission, Clarksville Christian School is dedicated to glorifying God and affirming only the Bible as His infallible, authoritative, and inspired word.
Clarksville Christian School fulfills this mission by teaching daily Bible classes, inspiring academic excellence in each student according to his or her ability, promoting physical fitness, and directing each student into his or her personal development of the body, mind, spirit, and a maturing, closer relationship with God.
Additionally, the traits of self-esteem, responsibility, tolerance, self-reliance, respect, courtesy, leadership, appreciation, pride in school and country, good judgment, and integrity are emphasized.  CCS encourages active parent and family involvement in the Christian education of their children.