The Public is Invited to a Free Reception on Friday, October 19th
Dickson, TN – The Renaissance Center is excited to present five new and impressive art exhibits that explore man's relationship with nature, good and bad, simple and complicated.
Visitors to The Renaissance Center can't miss Alan LeQuire's impressive "Dream Forest" exhibit in the Rotunda, featuring nine 12-foot high interpretive human torsos assembled as a tree-like forest. Visitors can also walk amongst the colossal sculptures and read the poetic "dreams" inscribed on the pieces.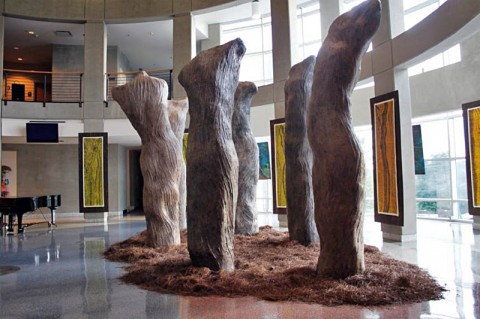 All five of the new exhibits opened in early September and will be displayed through October 31st. The new exhibits include: Alan LeQuire's "Dream Forest", in the Rotunda; Sydney Reichman's sculptures in the Fine Arts Gallery; Nancy Hilgert's "Nature, Wood and Stone" Original Drawings in the North Wing Gallery; Teresa Van Hatten-Granath's "Pristine to Extreme: Plastic in Our Oceans" in the East Wing Gallery; and InTEENsity's 3rd Annual Photography & Art Competition Exhibit in the Upstairs Gallery. All art exhibits at The Renaissance Center are free and open during center hours, Monday – Saturday, 8:00am–9:00pm.
A free reception is planned for all five of the new exhibits on Friday, October 19th, 5:00pm–7:00pm and will include food and refreshments. Entertainment for the reception will be supplied by The Renaissance Center Strings Quartet featuring Mary Johnson, the TRC Strings Program Director, with Fara White, Jessica White and Leigha Matthews. The entertainment will also feature vocals by Veronica Webb, a music student who wowed audiences at the recent WannaBeatles concert.
Alan LeQuire
Renowned sculptor Alan LeQuire is best known for his colossal sculptures, "Athena Parthnos", located at The Parthenon in Nashville's Centennial Park, the largest indoor sculpture in the western hemisphere and "Musica", located at the circle on Music Row, one of the largest bronze figure groups in the world. "Dream Forest", on display in The Renaissance Center's Rotunda, continues the colossal scale with nine 12-foot tall, interpretive human torsos, sculpted in plaster and assembled together with tree-like stature.
In addition, LeQuire and author Madison Bell gathered people's dreams and edited them into narrative, poetic forms, which were embedded in the sculptures as part of the final surface texture. The result is a dream forest that viewers can walk amongst, read and experience from all views.
"This is his biggest, most significant work that comes out of his inner life," Bell says, "Dream Forest is showing how our relationship with the natural world is the core of what makes us human."
The exhibit includes a showing on the Rotunda screens and digital frames of a time-lapse of LeQuire creating the "Dream Forest" sculptures and a PBS/NPT episode of "Creative License" featuring Alan LeQuire, produced by TRC
Media/The Renaissance Center and the Tennessee Arts Council.
Many of LeQuire's works, portrait sculptures and low-edition bronzes, are in institutions, including Vanderbilt University, the Country Music Hall of Fame and Jack Daniel Distillery and private collections around the country. Recently LeQuire has begun touring his exhibit, "Cultural Heroes", colossal portrait heads of cultural icons Bessie Smith, Leadbelly, Paul Robeson, Billie Holiday, Marian
Sydney Reichman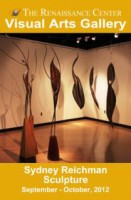 Sculptor Sydney Reichman is one of Tennessee's most distinguished artists having worked for over 40 years as a studio artist in the mediums of metal, painting and sculptural clay. She currently creates mixed media wall pieces and copper sculptures drawing from her vast vocabulary of sculpting techniques. Using copper, bronze and brass that is heated with fire, brazed, painted, sculpted and carved, she constructs exciting "poetic narratives" by combining her sculptural elements with ground and painted aluminum "canvases" and wood block.
Reichman says she is deeply inspired by the rural, natural world, and that her studio and reclaimed, re-greened valley and "hand–built" home are her life's "work-in-process" – a sculptural garden of metal, wood, and water.
She reflects, "As a visual artist and land steward, I have absorbed the experience of deeply caring for this wild, woodland world, into a language of symbols and images that I hope will bridge and relate our connection to the enchantment and magic that still exists on our breathtaking and fragile earth."
Sydney Reichman's sculpture exhibit in the Fine Arts Gallery also includes original poetry. She is also featured in an episode of the PBS/NPT series "Creative License", produced by TRC Media/The Renaissance Center and the Tennessee Arts Council.
Nancy S. Hilgert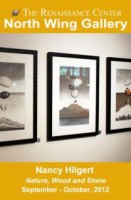 "Nature, Wood and Stone" Original Drawings by Nancy S. Hilgert, is a collection of pieces from the artist's two significant bodies of work. "Ocean Things", a series inspired by the Northern California and Oregon coasts, are mixed drawing media renderings of land and ocean elements including polished lava rock and other found sea objects.
"The Smokies Series" has been in process since the early '80's, and the two have been winning local, regional and national awards. Both series have evolved from mixed graphite on a variety of papers to layering graphite with colored and charcoal pencils on tinted pastel paper, and layers of torn and rendered papers. Many of these original drawings are also available as high-quality giclée prints.
Nancy is the Founder of Women Artists of Middle Tennessee, and is also a juried member of the National Association of Women Artists, Inc., NY, the Arts Council of Williamson County, and Xanadu Studio of Scottsdale, Arizona. The artist's work can be found in private and corporate collections nationwide, including the Tennessee Artisan Market at The Renaissance Center.
Teresa Van Hatten-Granath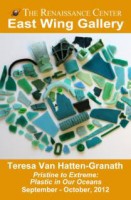 Teresa Van Hatten-Granath's exhibit, "Pristine to Extreme: Plastic in Our Oceans" is a unique collection of photographs and found objects that the Belmont University Associate Professor of Art collected during separate trips along the Pacific coast of Chile and along the California coastline.
She found that the waters of Chile and the Chilean Fjords were nearly pristine, while those of California were clogged with trash and debris, including plastic washed across the globe. The exhibition is a documentation of both experiences and includes a hands-on display of the found plastic.
Teresa's work has been exhibited in juried, group and one-artist exhibitions throughout the country. Teresa is also the Founder of Green Bag Lady, an eco-friendly art project started in 2008. Teresa and her team of volunteer "Bagettes" make fabric bags out of donated material and give them away for FREE in exchange for a promise to use them instead of paper or plastic. To date they have given away over 15,000 bags all over the world. To find out more go to www.greenbaglady.org.
3rd Annual InTEENsity Photography & Art Competition Exhibit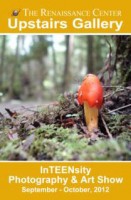 The 3rd Annual InTEENsity Photography & Art Competition Exhibit features works by area students in both public and home schools. Past years have focused on just photography entries but now also include art. Jurors for the show are Jennifer Porter (Photography) and Susan Allsbrooks (Art).
"We appreciate The Renaissance Center giving our teens the opportunity to "get their feet wet" in the world of art. It is an amazing life experience for those teens that wish to pursue a career in the arts. It also gives those teens that haven't chosen their path yet a glimpse into the field of art." – Amy Rich, InTEENsity Director.
The goal of the teen social group is to provide students with a safe environment and opportunities to experience enriching experiences including talent shows, theatre, art and social activities.
About the Renaissance Center
The Renaissance Center is a state-of-the-art facility for fine arts, performing arts, media production, technology and education located about 35 miles from downtown Nashville in Dickson, Tennessee. The Renaissance Center includes several art galleries, the Gaslight Dinner Theatre, the Renaissance Players Community Theatre, the Tennessee Artisan Market and the CyberSphere Digital Theater.
Support for the arts programs are from the Tennessee Arts Commission and the National Endowment for the Arts.