Written by Sgt. Mike Monroe
2nd Brigade Combat Team PAO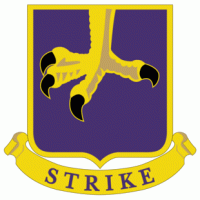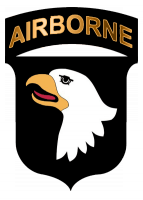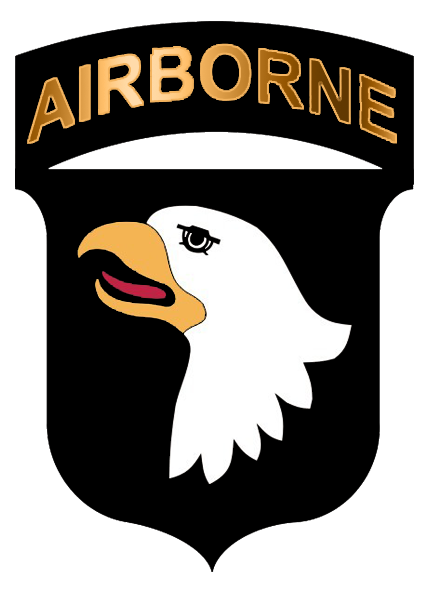 Fort Campbell, KY – Physical fitness is a major part of the Army lifestyle and missions overseas as well as ones stateside, depend on the fitness of Soldiers to succeed.
The 2nd Brigade Combat Team, 101st Airborne Division (Air Assault), recognizes this and challenges their Soldiers' physical capabilities through a series of events known as the Iron Strike Challenge.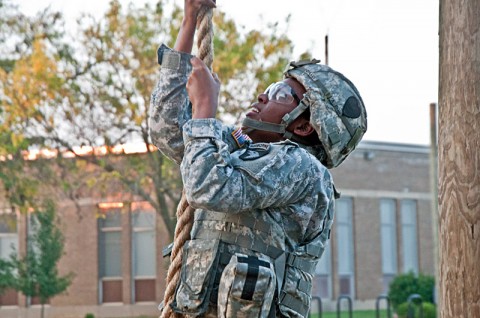 Most recently, October 4th at Fort Campbell's Strike Field, the members of Strike's Headquarters and Headquarters Company, competed in the team-based activity that pitted four teams against each other in a timed matchup testing every muscle group of those participating.
"It was very challenging for me," said 1st Sgt. Johnny Carter, HHC first sergeant, native of Alabama and a member of the winning Iron Strike Challenge team. "It was a fast paced and it dealt with muscle strength, endurance, cardio and it mixed everything together. It was very challenging."
In full combat gear, the teams navigated their way through obstacles consisting of six total events to include diving sprints, a rope climb, two full five-gallon water jug carry, a six-foot wall climb, a four five-gallon water jug laden tactical litter drag and a total of two and a half miles of running in-between events. The team that completed all events with the quickest time determined the overall winning team and gave bragging rights within the company.
"I was very proud of how this company did," said Carter after the event. "We had four teams show up, it was a very close race and I think the team that won did so by a few seconds. It definitely wasn't a blow out."
The monthly competition gives Soldiers the chance to team-up with or to compete against their leadership in a physically demanding but friendly competition that helps build a closer unit. The event also allows leadership to demonstrate their capabilities in front of their subordinates.
"It was motivating to see first sergeant and the executive officer doing the same things that we were," said Cpl. Kimberly Cherry, a topographical analyst with HHC from New York and another member of the challenge's winning team. "It really pushes you to work harder and to push yourself just a little bit more when you see your leadership also giving their all."
All participants were awarded with strong combat focused physical training, but the winners of the Iron Strike Challenge received a four-day pass for their efforts to go along with their bragging rights.
"It was a great challenge and it really helps to build teamwork when you are pushing to win," said Cherry. "The Iron Strike Challenge tests your limits mentally, physically and is a great way to gauge your physical fitness. I recommend this for all units here in the division."
Photo Gallery