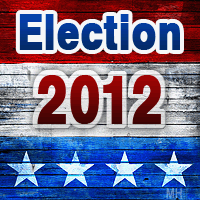 Clarksville, TN – You do have a choice…

Don't let all this talk about Tennessee State Representative Joe Pitts being "unopposed" get you down. There is hope!  Mike Warner does not have the out of area (and out of state)  big money Representative Pitts has according to followthemoney.com.

Mike Warner does not have the favor of the media granting him publicity when he sneezes. In fact until this is published NO media coverage what so ever has been granted. That means Mike Warner is NOT part of the machine telling you how to vote or how to run your life. Mike Warner has NOT been paid off by industries or political organizations to buy his favor nor will he in the future.

Mike Warner will represent YOU the voters.

Mike Warner is a 20 year resident of Clarksville, TN.
A Vietnam Era and Desert Storm Veteran.  Attended Austin Peay State University.  Mike has 145 Semester Hours to his credit.  He has served this community as a Realtor and small business owner / manager.

More telling is what Mike Warner does without getting paid for his community.  Since Mike Warner's first years in Clarksville he has served, with no pay, providing emergency communications during the 1994 Ice Storm and 1999 Tornado.  He has served in his church in the building committee, as Deacon, server, as well as part of it's loaves and fishes ministry team.

Mike Warner continues to train and serve the community with the Montgomery County "Community Emergency Response Team", the most active CERT team in the state.

Community service is not new to Mike Warner.  It has been a life long commitment since his early teen years as a volunteer at Angel View Crippled Children's Hospital in Desert Hot Springs, CA.  Red Cross volunteer in various communities since about 1972.  Amateur Radio Emergency Service, Navy MARS (Military Affiliated Radio Service), Army MARS in Desert Storm where, before the internet or cell phones, arranged funding, provided training and communications expertise for the 1st Armored Division's 2nd Brigade and it's Battalions free radio voice "phone patch" and electronic messages between soldiers and dependents in Germany and the United States from Saudi Arabia and Iraq.

Mike Warner is in this race because he believes Tennessee and America needs people who know what it means to put their life on the line for their country and our way of life.  We have many difficult decisions before us in the near future and we cannot afford business as usual any longer.  We cannot afford legislators who milk all they can out of tax payers for their own or special interests.

That is why Mike Warner, if elected, will not accept per diem ($173.00/day) paid to legislators when he in fact sleeps in his own bed.  He will not accept in addition to that mileage paid to commute between Clarksville and Nashville, because you as a Clarksville resident do not get paid that money when you make the same commute.  Yes what they are doing is legal, but only because the legislators themselves wrote the law.

Mike Warner believes legislators carving out privileges for themselves not afforded to average citizens should be a crime.  If you agree, why vote for any legislator living in Montgomery County who accepts per diem?  Why would you not let your friends and neighbors know they have alternatives, including Mike Warner for Tennessee State House District 67.
Write-in, vote for candidates, like Mike Warner, who seek to be servants of the people.  Candidates  having proven character and courage of conviction to do the right thing even under pressure.
Get out your voter registration card.  Are you in Tennessee House Representative District 67?  Scan the QR Code here or print the card below for your wallet.  You are allowed to carry a sample ballot or campaign information with you into the voting booth as long as you don't show it around to other voters.
For more information on Mike Warner go to his website:  www.TNHouse67.com
Right Click the image below to print instructions: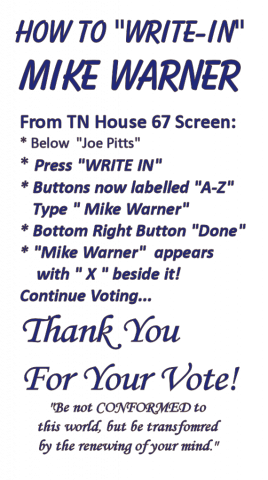 About Elect Mike Warner On The Ballot 2014
Mike Warner Candidate ON THE BALLOT in NOVEMBER:
Tennessee House District 67
The ONLY:
Conservative; Constitutionist; Pro-Life Activist; Veteran;
NON-ESTABLISHMENT candidate in this race.

No Republicans are in this race!  Like 45 of 116 other Tennessee General Assembly races in 2014 you would have only choice would have been the incumbent.  A Democrat.  I was a Republican for 40 years.  My aunt worked for Ronald Reagan in California.  I ran as a write-in for this office in 2012 because the GOP would not put up a candidate.  This year I am on the ballot as the CONSTITUTION PARTY candidate.  My largest donor to date is the 7th District Tea Party Coalition.

Help support a Vietnam Era / Desert Storm Veteran
to be your TN House Rep.

We meet on the LAST Thursday of each Month at 

6:30PM, Shoney's, 791 N. 2nd Street, Clarksville, TN  (Concealed Carry Welcome!)

Mike is one of a number of  elected GOP leadership in this area to have resigned their position and their Republican Party membership over the progressive direction and continued support of candidates damaging to this republic.

For Additional information and activities for Montgomery County Constitution Party of Tennessee visit these links:
New Constitution Party of Tennessee Website
Montgomery County Constitution Party of Tennessee Activities & Meetups.
Facebook
Tea Party Community

In support "Yes on 1" Tennessee's Amendment allowing Tennessee legislators to write laws regarding Abortion in Tennessee.

Mike Warner served in  the U.S. Coast Guard during the Vietnam Era, and the U.S. Army until after Desert Storm. He ran as a write in candidate in the 2012 Tennessee House of Representatives campaign for District 67.

Currently Mike serves as an active volunteer to several local community organizations.

Editor's Note: Articles by this author contains the view points of Mike Warner and/or the Montgomery County Constitution Party of Tennessee, and may not represent the views of Clarksville Online, our staff, Contributors, or Advertisers.

Web Site: http://ElectMikeWarner.com
Email:
Sections
News, Politics

Topics
APSU, Austin Peay State University, Christian, Clarksville TN, Community, Desert Storm, Joe Pitts, Mike Warner, Montgomery County, Republican, Tennessee State House of Representatives District 67, Tennessee State Representative, Veteran, vietnam