Facility has received several USDA grants, created jobs and trained hundreds

Clarksville, TN – It's not just pie in the sky. A commercially equipped kitchen in Montgomery County is using baked goods to help small and emerging rural businesses grow and create jobs and income.
Operated jointly by University of Tennessee Extension and Tennessee State University Extension, the kitchen has benefited from several USDA grants, and on Friday, Oct. 19, U.S. Agriculture Secretary Tom Vilsack visited the facility and checked out some of the products created by local culinary entrepreneurs. Vilsack stopped by following a roundtable discussion with Tennessee producers to discuss the resiliency and productivity of American agriculture and the importance of passing comprehensive food, farm and jobs legislation.
[youtube]http://www.youtube.com/watch?v=m31gh2VV_zU[/youtube]
Along with Martha Pile, UT Extension family and consumer sciences agent and manager of the kitchen, seven users of the kitchen were on hand during the Secretary's visit. Secretary Vilsack commented on how the kitchen was contributing to the local food movement and how it assisted local businesses. "These entrepreneurs have a dream and a product that's important to them. Several of them had lost employment opportunities and they use it as an opportunity to become their own boss. The kitchen gives them the capacity and ability to get started," he said. "It's exciting to see what the university is doing and how much help they're providing."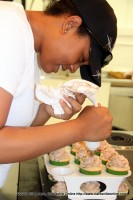 Two entrepreneurs were actually using the kitchen during the visit: Jean Bragg of Jean's Breadbasket & More, and Tiffany Abbott, owner of Any Sweet Reason. Bragg was baking her signature pumpkin bread and Abbott was decorating a batch of fresh peach cobbler cupcakes.
Bragg's recipe for pumpkin bread is more than 100 years old, but her business is just getting started. She's been using the kitchen for about two months. "If it hadn't been for the domestic kitchen and UT Extension, I would never have been able to start this business. I didn't have the financial backing to get started, but I met Martha through a friend, and was able to use the equipment to get going," she said.
Any Sweet Reason has been in business for two years and owner Tiffany Abbott, a veteran and now a military spouse, sells her creations at the local farmers market. She makes all sorts of cookies and confections and caters parties. "I have two dogs that are my baby boys, and there's no way I could get rid of them to produce in my house. So luckily Ms. Pile told me about the kitchen, and I immediately took advantage of it," she said. "I certainly hope to expand the business. It's fun and I really enjoy it."
Other successful entrepreneurs who have utilized the kitchen include pie makers Papa C Pies operated by Gary and Chad Collier of Franklin and Old Fashioned Fried Pies operated by Jenny Chandler and Brenda Presson of Ashland City. Pappas' Peppers, which bottles pepper oils for cooking and baking and Natural Choices Botanica, which packages and sells legacy tea blends, have also started successful businesses in the Montgomery County kitchen.
The kitchen is part of Extension's Sustainable Tennessee program. Sustainable Tennessee is intended to help citizens create local income through the expansion of entrepreneurial skills. In the case of the Montgomery County Extension Commercial Kitchen, the goal is to enhance marketable culinary skills. Pile says the kitchen is open to anyone who completes food safety training. "Once an entrepreneur completes food safety training, he or she is allowed access to the kitchen to create custom culinary products packaged for resale to the public."
Eighteen entrepreneurs have used the kitchen, and two of them have been so successful that they now operate their own commercial kitchens. Pile says an additional 12 entrepreneurs are currently undergoing food safety training or have recently received certification to use the kitchen. She estimates the current income generated by participants collectively values more than $200,000 annually.
The kitchen has been in operation approximately nine years and was outfitted with funding from Montgomery County government and USDA SARE and Rural Development grants. Pile says it's a shining example of wise use of existing resources. "When county Extension personnel were compelled to occupy an old school building after a tornado destroyed our office space, we recognized the value of the school cafeteria's existing stainless steel sinks and countertops. We were able to outfit the kitchen for commercial use through grant opportunities," she said.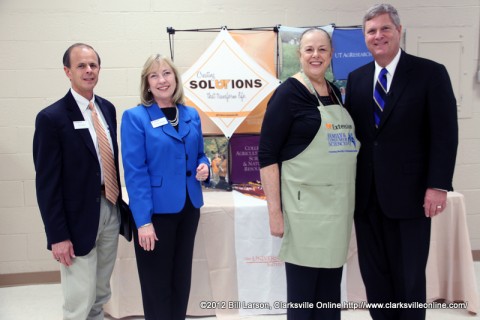 On hand to greet Secretary Vilsack were Dr. Tim Cross, dean of UT Extension, and Dr. Shirley Hastings, associate dean and head of the Department of Family and Consumer Sciences. Both were more than pleased to have Secretary Vilsack experience the fruits of USDA's investments.
"Our Extension educational programs are funded through a partnership with USDA, the State of Tennessee, and our county governments. This visit by Secretary Vilsack is great evidence of USDA's commitment to serving Tennesseans through research-based information delivered by our Extension agents and specialists. We're very pleased that Secretary Vilsack has taken the time to see first-hand how our education helps food-based entrepreneurs develop their products and grow their businesses," said Cross.
The kitchen has also been used for food safety training for more than 165 people on the use of commercial equipment and regulations for starting your own food-processing business. An additional 230 people (youth and adults) have participated in safe food preparation and preservation classes (canning and drying) held at the facility. Hastings notes that the training ongoing at the facility combined with the commercial uses makes the kitchen a valuable asset to the county and region. "It's an example of Extension's efforts to increase the quality of life and economic viability of rural communities," she said.
Pile says kitchen users often participate in regional "Gatherings," which are community-based groups of entrepreneurs helping each other succeed in business. Extension organized the Gatherings as well as a local Winter Market, which operates after the local farmers markets close for the season. Karla Kean, TSU Extension agent in Montgomery County is among the regional organizers of the Gathering and the Winter Market.
UT Extension provides a gateway to the University of Tennessee as the outreach unit of the Institute of Agriculture. With an office in every Tennessee county, UT Extension delivers educational programs and research-based information to citizens throughout the state. In cooperation with Tennessee State University, UT Extension works with farmers, families, youth and communities to improve lives by addressing problems and issues at the local, state and national levels.
Photo Gallery