APSU Sports: Austin Peay Men's Golf

Hopkinsville, KY – Austin Peay State University men's golf team will wrap up its fall schedule when it serves as host to the F&M Bank APSU Intercollegiate, Monday and Tuesday, at the Links at Novadell.
This is the 14th annual event, although one year (2007) the tournament was rained out. The Governors are the tourney's defending champions and have won the title seven times. This is also the eighth year the tournament has been held at Novadell, a par-72, 7,132-yard layout.
The 14-team  (APSU will play two teams) field will include nine Ohio Valley Conference teams, with only Eastern Illinois and Jacksonville State being absent.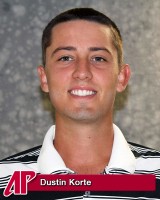 The Governors are coming into the final fall tourney with momentum. After rallying to win the Bearcat Invitational, October 8th-9th, the Governors nearly repeated the comeback story at WKU Kenny Perry Invitational. After trailing by 16 strokes after 36 holes, the Govs held the lead heading into the final three holes before settling for a third-place finish on the challenging Club at Olde Stone course.
"We are coming off a pretty mentally draining week," APSU coach Kirk Kayden said. "But they are really looking forward to the home tournament. We got that (WKU tourney) cleared from our head.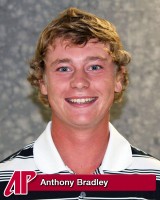 "We have played well the last few weeks. We have a first and a third coming in so we have some momentum going. We have several OVC teams coming in so it will be a good test to see where we are against the majority of the league, some of whom we have not seen this year."
The Govs "A" team will include senior Dustin Korte, juniors Anthony Bradley and Marco Iten, redshirt freshman Korey Smith and freshman Austin Kramer.
The "B" team includes junior Trey Tarpley and sophomore Tucker Wallace, both who represented the Govs at least year's OVC tournament. In addition, freshman Chris Baker, who has played in multiple events this fall, will be on that team along with junior Alasdair MacLennan and redshirt freshman Cleve Guinn.
That has heightened the Governors preparation and competitiveness in practice this week.
"It will be good for those guys who have not played much to play in a tournament to see how they stack up against the field and our starting five," Kayden said. "We have not had this (two teams) for five or six years. The last time (2006) the group we called the Red team had a really good finish and we are expecting the same.
"We believe we have solid players one through 10. It should be fun and competitive. Everyone is really looking forward to playing. I could tell at practice Thursday the guys were trying to get things done to be ready for Monday morning."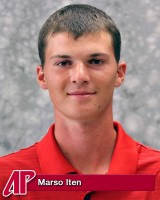 Bradley has been on a roll of late. He tied for first at Bearcat Invitational and then finished third at WKU's event.
"Anthony is swinging well right now," Kayden said. "He is hitting a lot of fairways and greens. He is putting pretty well. He has put himself in position to leading several of those events so far.
Meanwhile, Iten, the defending F&M Bank medalist, tied for 10th at Western Kentucky as did Korte, who bounced back from an opening-round 82 at WKU to help lead the Govs final-day rally. This will be Korte's final F&M Bank tourney.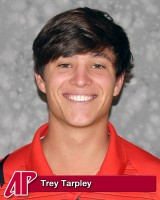 "Marco has been grinding," Kayden said. "He really has improved his golf swing this year versus last year.  When his putting on, look out…he can very good.
"Dustin really figured it out on the last day. It is so unlike him to be missing a lot of fairways on the first day, but he corrected it and really got it going again on that last day.
"But all these guys right now are worried more so about us winning as a team-that is their first goal."