APSU Sports: Austin Peay Volleyball

Nashville, TN – An off-night attacking the ball proved costly as Austin Peay State University's volleyball team dropped a four-set (25-22, 21-25, 24-26, 16-25) Ohio Valley Conference decision against Belmont, Tuesday, at Curb Events Center.
Austin Peay (13-14, 6-5 OVC West) began the match with a come-from-behind victory. Trailing 18-13 in the opening set, the Lady Govs would close with a 12-4 run. Senior Nikki Doyle and sophomore Jada Stotts combined for five consecutive kills to get APSU to set point, which Doyle would secure with her seventh kill of the frame.
Belmont (11-14, 7-4 OVC East) bounced back to level the match with a 25-21 victory in the second set. The Bruins recorded 15 kills and hit .250 in the set while Austin Peay's offense could not find its stride, posting only nine kills and a .118 attack percentage.
Neither team could gain a significant lead in the third set which featured 15 ties and six lead changes. Austin Peay would not lead after holding an 11-10 advantage and recovered from a three-point deficit to force a series of ties late in the set. The Lady Govs would force the final tie at 24-24 on a Doyle kill, but could not break through as the Bruins scored a point on a Allison McCoy kill then won the set on a block by Alex Martin and Jen Myer.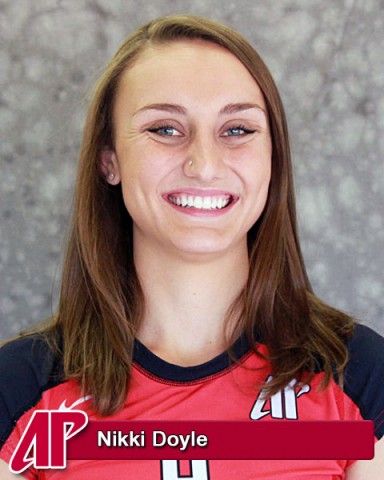 Belmont built on that momentum and dominated the fourth set, winning in wire-to-wire fashion. However, the Lady Govs sealed their fate with four consecutive attack errors to end the match.
"We committed too many errors at critical points in the match," said Lady Govs head coach Taylor Mott. "We have to make better decisions when the match is on the line."
Doyle led Austin Peay with a 20-kill performance, her fourth consecutive 20-kill outing, while posting a .347 attack percentage. Stotts added 10 kills, but was held to a .083 attack percentage.
Jen Myer led Belmont with a match-best 21 kills and a .326 attack percentage. McCoy added 12 kills and Martin chipped in 11 kills and four blocks.
Austin Peay concludes its four-match road trip with a noon, Saturday contest at Tennessee State.