Tennessee Titans (3-4) vs. Indianapolis Colts (3-3)
Sunday, Oct. 28th, 2012 • Noon CT • LP Field • Nashville, TN • TV: CBS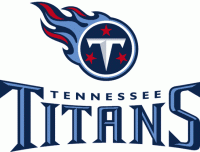 Nashville, TN – The Tennessee Titans (3-4) look for their third consecutive win this week as they host the AFC South rival Indianapolis Colts (3-3). Kickoff at LP Field (capacity 69,143) is scheduled for noon CT on Sunday, October 28th.
This week's game will be televised regionally on CBS, including Nashville affiliate WTVF NewsChannel 5. Bill Macatee will handle play-by-play duties while Steve Tasker provides analysis.
The Titans Radio Network, including Nashville flagship 104.5 The Zone, will broadcast the game across the Mid-South with the "Voice of the Titans" Mike Keith, color commentator Frank Wycheck, sideline reporter Cody Allison and gameday host Larry Stone.
The game can be heard locally on 1400am WJZM.
The Titans earned their second win in a row last week by defeating the Buffalo Bills in a dramatic 35-34 finish. Matt Hasselbeck, starting at quarterback for the third straight week due to Jake Locker's left (non-throwing) shoulder injury, completed a 15-yard touchdown pass to Nate Washington with a minute to play in regulation to deliver the win.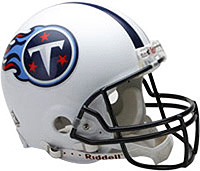 Also in the win, running back Chris Johnson enjoyed one of the finest performances of his five-year career, rushing for 195 yards and a pair of touchdowns on 18 carries (10.8 avg.), including an 83-yard touchdown run. It was Johnson's fourth career touchdown of 80 yards or longer—the most in NFL history. His 195 yards made up the third-highest total of his career and tied for 11th in Oilers/Titans history.
Hasselbeck was an efficient 22-of-33 for 205 yards and did not throw an interception. He engineered the 22nd game-winning drive of his career and the second in as many weeks.
As a team, the Titans converted on nine of 14 third downs (64 percent) and were perfect with four touchdowns on four trips inside the red zone. They were plus-two in turnover differential, turning a pair of takeaways into 14 points. Derrick Morgan's fumble recovery (forced by Kamerion Wimbley) led to Jamie Harper's second one-yard touchdown run of the day, and Jason McCourty's late-game interception sparked the game-winning touchdown drive.
The Colts
The Colts are embarking on a new era in 2012 following significant changes during the offseason.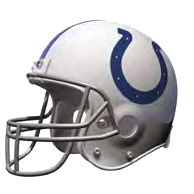 In January, Ryan Grigson, the former director of college scouting and player personnel with the Philadelphia Eagles, was hired as the new general manager, and Chuck Pagano, previously the defensive coordinator for the Baltimore Ravens, was brought in as the new head coach to replace Jim Caldwell. Pagano's defense employs a 3-4 scheme rather than the 4-3 system Indianapolis has run in the past.
On March 7th, quarterback Peyton Manning was released by the Colts after spending 14 seasons with the club. Then, in late April, the Colts used the first overall pick in the 2012 NFL Draft on Stanford signal caller Andrew Luck.
Indianapolis was dealt a significant hardship less than a month into the season. On October 1st, it was announced that Pagano would be kept from his duties for several weeks to undergo treatment for leukemia. In his stead, offensive coordinator Bruce Arians is serving as the interim head coach.
Through six games of his rookie season, Luck has completed 134 of 250 passes for 1,674 yards, seven touchdowns and seven interceptions. Last week against the Cleveland Browns, he rushed for two scores to help give the Colts a 17-13 win.
Titans Foundation Coat Drive
Prior to the game, fans are encouraged to participate in the annual Titans Foundation Coat Drive. New and used coats can be dropped off at one of several collection sites around LP Field.
The donated coats subsequently will be delivered to Middle Tennessee non-profit agencies.
Titans-Colts Series At A Glance
Overall series (regular & postseason): Colts lead 21-14
Regular season series: Colts lead 21-13
Postseason series: Titans lead 1-0
Total points: Titans 672, Colts 870
Current streak: One win by Colts
Titans at home vs. Colts: 7-8
Titans on road vs. Colts: 7-13 (including 1-0 in playoffs)
Longest winning streak by Titans: 3 (twice, last 1999-02)
Longest losing streak by Titans: 7 (2003-06)
Titans vs. Colts at LP Field: 4-6
Last time at LP Field: Colts 10 at TITANS 27 (10/30/11)
Titans vs. Colts at Lucas Oil Stadium: 0-4
Last time at Lucas Oil Stadium: Titans 13 at COLTS 27 (12/18/11)
First time: COLTS 24 at Oilers 20 (10/11/70)
Mike Munchak's record vs. Colts: 1-1
Bruce Arians' record vs. Titans: 0-0*
Mike Munchak's record vs. Bruce Arians: 0-0*
* Bruce Arians is the current interim head coach in place of Chuck Pagano.
A Titans Victory Would
Give the Titans an all-time record of 68-40 in regular season games at LP Field, including a 3-1 mark in 2012.
Improve Mike Munchak's career record as a head coach to 13-11.
Give Jake Locker a 2-3 career record as a starting quarterback, or give Matt Hasselbeck an 81-70 starting record in the regular season.
What To Look For This Week
K Rob Bironas (199 career field goals) needs to make one field goal to join Al Del Greco as the only players in franchise history to reach 200 career field goals.
K Rob Bironas
(226 consecutive PATs) needs three consecutive extra points to tie and four consecutive to break Al Del Greco's franchise record of 229 consecutive PATs without a miss.
WR Kenny Britt needs 60 receiving yards to reach 2,000 for his career.
QB Matt Hasselbeck (199 career touchdown passes) needs one touchdown pass to reach 200 for his career. He would become the 32nd player in NFL history and the fourth active player (Peyton Manning, Tom Brady, Drew Brees) to reach the mark.
RB Chris Johnson can record the 31st 100-yard rushing game of his career and his second in as many weeks.
T Michael Roos can notch his 120th consecutive start.
T David Stewart can play and start in his 100th career regular season game.
WR Nate Washington can extend his streak of consecutive games with at least one reception to 70 (56 games with the Titans).
WR Damian Williams needs 24 receiving yards to reach 1,000 for his career.
Titans-Colts Series History
This week's game will mark the 36th all-time meeting between the Titans and Colts. The Colts lead the series 21-14.
Most recently, the Colts earned their first win of the 2011 season with a 27-13 defeat of the Titans at Lucas Oil Stadium on December 18th. The day was highlighted by Donald Brown's 161 rushing yards, including an 80-yard touchdown for the Colts.
Earlier in 2011 at LP Field, the Titans ended a long losing streak to the Colts. On October 30th, the Titans defense recorded two interceptions, and wide receiver Nate Washington scored two touchdowns en route to a 27-10 victory.
From 2006 to 2008, the Titans went on a run of three wins in four contests against the Colts, but starting with the 2008 regular season finale, the Colts took five consecutive games.
In 2002, the first year the Titans and Colts met as opponents in the newly-formed AFC South, the Titans won both games on their way to claiming the first AFC South title. The Colts then won seven consecutive meetings, taking both games in the 2003, 2004 and 2005 seasons and the first meeting in 2006. Indianapolis claimed the division crown every year from 2003-06, until the Titans re-acquired it in 2008.
The Titans and Colts have met only once in the postseason, a 19-16 Titans victory in a Divisional Playoff game in the RCA Dome on January 16th, 1999. Eddie George rushed for 162 yards, including a 68-yard touchdown run to help lead Tennessee during its run to Super Bowl XXXIV.
The teams first clashed in 1970 following the AFL-NFL merger. The then-Baltimore Colts defeated the then-Houston Oilers 24-20 during the Colts' run to a Super Bowl V Championship.
The Last Meeting
Tennessee Titans 13 at Indianapolis Colts 27
Sunday, December 18th, 2011
Lucas Oil Stadium, Indianapolis, IN
| | | | | | |
| --- | --- | --- | --- | --- | --- |
| | 1 | 2 | 3 | 4 | Final |
| Tennessee Titans | 0 | 6 | 0 | 7 | 13 |
| Indianapolis Colts | 3 | 0 | 14 | 10 | 27 |
The Colts earned their first win of the 2011 season with a 27-13 victory over the Titans at Lucas Oil Stadium. The loss dropped the Titans' record to 7-7.
Running back Donald Brown rushed for 161 yards on 16 carries for the Colts, including an 80-yard touchdown run with 3:26 remaining in the fourth quarter.
Brown's touchdown proved to be the final score of the game, but the Titans nearly pulled within a touchdown with less than two minutes remaining. Rookie quarterback Jake Locker, who replaced Matt Hasselbeck earlier in the fourth quarter, directed the offense to the Indianapolis six-yard line. But on fourth-and-four, Locker's pass to Lavelle Hawkins in the end zone fell incomplete. The Titans were forced to watch Colts quarterback Dan Orlovsky kneel to run out the game's final minute.
It ended what was for much of the day a struggle for both teams offensively. Each club punted seven times, and at halftime, each club had four first downs and 106 total yards. While Brown excelled, Indianapolis stymied the Tennessee rushing attack. The Titans were held to 66 total rushing yards, including 55 yards on 15 carries by running back Chris Johnson.
Also crucial in the loss were three turnovers by the Titans. They lost one fumble, and Hasselbeck was victimized by two interceptions, one of which was returned for a touchdown.
There was no scoring by either team until the final play of the first quarter, when Adam Vinatieri booted a 47-yard field goal for the Colts. The Titans got on the scoreboard and took the lead in the second quarter with Rob Bironas field goals of 53 and 21 yards.
The Colts scored 17 unanswered points to start the second half. Early in the third quarter, a 37-yard punt and 15-yard unsportsmanlike conduct penalty by the Titans gave the Colts the ball at the Tennessee 43-yard line. Seven plays later, Orlovsky found Reggie Wayne in the end zone for an 18-yard touchdown to give the Colts a 10-6 lead.
It took little time for the Colts to extend their advantage. On a pass intended for Johnson, Hasselbeck was intercepted by cornerback Jacob Lacey, who raced 32 yards to the end zone.
Following Vinatieri's 40-yard field goal, which put the Colts ahead by 14 points with 12:53 remaining in the fourth quarter, the Titans briefly gained some of the momentum on their ensuing possession. However, tight end Jared Cook lost a fumble in Indianapolis territory after a 27-yard reception.
The Titans again threatened with Hasselbeck at the helm, only to come up empty. First, a 49-yard touchdown reception by Johnson was called back after a replay challenge revealed that he was down by contact after a five-yard gain. Then, linebacker Pat Angerer picked off a pass intended for Nate Washington in the end zone. It was the last pass Hasselbeck would attempt.
Locker entered in relief with 6:13 on the clock and promptly directed the Titans' first and only touchdown drive. Johnson notched the Titans' longest play of the game with a 35-yard run, and Locker and Washington connected for a seven-yard touchdown.
The Titans were within a touchdown, but on the next play from scrimmage, Brown helped seal the outcome with his 80-yarder.