APSU Sports: Austin Peay Baseball

Clarksville, TN – Eleven games against six teams that qualified for the 2012 NCAA Baseball Championship highlight the Austin Peay State University baseball schedule, released Tuesday, by head coach Gary McClure.
Austin Peay, which finished as the Eugene Regional runner up in last season's NCAA tournament, will face six NCAA participants this season with four slated to visit Clarksville.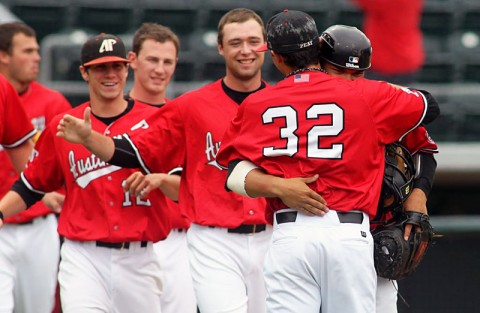 The Governors will play Indiana State in a home-and-home series, host Michigan State in a three-game series and host Creighton as part of the 2013 Riverview Inn Classic. APSU also will visit both Mississippi State and Kentucky in a return of Southeastern Conference opponents to its schedule. In addition, the Govs will host Belmont, the newest member of the Ohio Valley Conference series, in a three-game series.
"Scheduling is done so far in advance nowadays, so you never really know for sure how your competition will be from year to year," said McClure. "With that said, I like how it has worked out this year that we will play 11 games against six teams that made the NCAA tournament last season.  We look forward to the challenge, but have a lot of work to do between now and then."
The Govs will play 33 games at Raymond C. Hand Park in 2013, including 15 of their first 17 contests. The campaign opens with a three-game series against Iowa, February 15th-17th. Austin Peay also will host Illinois State (February 22nd-24th) and Michigan State (March 1st-3rd) in three-game weekend series at home.
The following weekend Austin Peay will host 2013 Riverview Inn Classic, March 8th-10th, which will bring Creighton, Milwaukee and UALR to Raymond C. Hand Park for a round-robin event. The key matchup will pit Missouri Valley Conference tournament champion Creighton against Austin Peay in a 3:30pm, March 9th contest.
Austin Peay will begin defense of its back-to-back Ohio Valley Conference regular-season titles when it travels to Eastern Illinois, March 15th-17th. The Govs' road OVC slate also features an Easter weekend trip to Murray State (March 28th-30th) as well as excursions to Southeast Missouri (April 12th-14th), Eastern Kentucky (April 26th-28th) and UT Martin (May 10th-12th).
The Govs will open the home portion of their OVC schedule when they host Jacksonville State, March 22nd-24th. APSU's home conference weekends will include Tennessee Tech (April 5th-7th), Belmont (April 19th-21st), Morehead State (May 3rd-5th) and the regular-season finale against SIU Edwardsville (May 16th-18th).
Midweek offerings will provide home-and-home series against Evansville, Indiana State, Lipscomb, Middle Tennessee, Southern Illinois and Western Kentucky. In addition, the Govs will travel to both Mississippi State (March 26th) and Kentucky (April 9th). A late trip to Memphis, May 14th, will wrap up the Govs non-conference slate.
"This year's schedule will be extremely tough, for various reasons," said McClure. "First, when looking ahead to this season we knew it would be a year we would have several talented veteran players returning who had been through some big games. So, it was my hope that we could handle the task of playing a very competitive schedule.
"Secondly, we always try to challenge our team by playing a very strong schedule in hopes that we will be battle tested when our conference season begins."
Following the regular-season finale, the OVC tournament will be hosted May 22nd-26th at Pringles Park in Jackson, Tennessee. It will be the fourth consecutive season the event has been hosted at the home of the Jackson Generals, the AA affiliate of the Seattle Mariners.
"We believe if we can do well against the type of schedule we have this year our RPI has a chance to rise to the level where we can possibly get an at-large bid if needed," McClure said. "More importantly we will have the opportunity to put ourselves in a position for a higher seed should we qualify for the NCAA Tournament again."
Austin Peay returns the bulk of a team that won both the OVC regular-season and tournament titles in 2012, the second consecutive year it swept the league's titles. Among the returnees will be infielder Jordan Hankins, who was a second-team ABCA All-South Region and first-team All-OVC selection. Second-team All-OVC outfielder Cody Hudson also returns. In addition, infielder Reed Harper, outfielder Rolando Gautier and pitcher Kacy Kemmer, each OVC all-tournament picks, return.
Notes
Austin Peay will play eight teams (for a total of 16 games) that finished last season ranked among the Top 100 in the NCAA's final RPI rankings: Kentucky (18), Mississippi State (22), Michigan State (51), Indiana State (54), Illinois State (58), Belmont (67), Memphis (78) and Evansville (85). Austin Peay finished the season ranked 112th RPI.
The Govs schedule posted a combined 737-692 (.515) record last season. The non-conference portion of that slate combined for a 475-389 (.550) record.
2013 Governors Baseball Schedule
Date

Opponent

Location

Time (CT)

Media

2012 Red-White World Series
Fri, Nov 02
RWWS Game 1
Clarksville, Tenn.
5:00 p.m.
Sat, Nov 03
RWWS Game 2
Clarksville, Tenn.
11:00 a.m.
Sun, Nov 04
RWWS Game 3
Clarksville, Tenn.
1:00 p.m.
Wed, Nov 07
RWWS Game 4
Clarksville, Tenn.
4:00 p.m.
Thu, Nov 08
RWWS Game 5
Clarksville, Tenn.
4:00 p.m.
Fri, Feb 15
Iowa
Clarksville, Tenn.
3:00 p.m.
Sat, Feb 16
Iowa
Clarksville, Tenn.
1:00 p.m.
Sun, Feb 17
Iowa
Clarksville, Tenn.
1:00 p.m.
Tue, Feb 19
Middle Tennessee
at Murfreesboro, Tenn.
3:00 p.m.
Fri, Feb 22
Illinois State
Clarksville, Tenn.
3:00 p.m.
Sat, Feb 23
Illinois State
Clarksville, Tenn.
1:00 p.m.
Sun, Feb 24
Illinois State
Clarksville, Tenn.
1:00 p.m.
Tue, Feb 26
Southern Illinois
Clarksville, Tenn.
3:00 p.m.
Wed, Feb 27
Indiana State
Clarksville, Tenn.
3:00 p.m.
Fri, Mar 01
Michigan State
Clarksville, Tenn.
3:00 p.m.
Sat, Mar 02
Michigan State
Clarksville, Tenn.
1:00 p.m.
Sun, Mar 03
Michigan State
Clarksville, Tenn.
1:00 p.m.
Tue, Mar 05
Western Kentucky
at Bowling Green, Ky.
3:00 p.m.
Wed, Mar 06
Western Kentucky
Clarksville, Tenn.
3:00 p.m.

2013 Riverview Inn Classic
Fri, Mar 08
Creighton vs. UALR
Clarksville, Tenn.
12:00 p.m.
Fri, Mar 08
Milwaukee
Clarksville, Tenn.
3:30 p.m.
Sat, Mar 09
Milwaukee vs. UALR
Clarksville, Tenn.
12:00 p.m.
Sat, Mar 09
Creighton
Clarksville, Tenn.
3:30 p.m.
Sun, Mar 10
Creighton vs. Milwaukee
Clarksville, Tenn.
11:00 a.m.
Sun, Mar 10
UALR
Clarksville, Tenn.
2:30 p.m.
Wed, Mar 13
Lipscomb
at Nashville, Tenn.
4:00 p.m.
Fri, Mar 15
Eastern Illinois *
at Charleston, Ill.
3:00 p.m.
GSN
Sat, Mar 16
Eastern Illinois *
at Charleston, Ill.
1:00 p.m.
GSN
Sun, Mar 17
Eastern Illinois *
at Charleston, Ill.
1:00 p.m.
GSN
Wed, Mar 20
Indiana State
at Terre Haute, Ind.
2:00 p.m.
Fri, Mar 22
Jacksonville State *
Clarksville, Tenn.
6:00 p.m.
GSN
Sat, Mar 23
Jacksonville State *
Clarksville, Tenn.
2:00 p.m.
GSN
Sun, Mar 24
Jacksonville State *
Clarksville, Tenn.
1:00 p.m.
GSN
Tue, Mar 26
Mississippi State
at Starkville, Miss.
6:30 p.m.
Thu, Mar 28
Murray State *
at Murray, Ky.
3:00 p.m.
GSN
Fri, Mar 29
Murray State *
at Murray, Ky.
2:00 p.m.
GSN
Sat, Mar 30
Murray State *
at Murray, Ky.
1:00 p.m.
GSN
Tue, Apr 02
Lipscomb
Clarksville, Tenn.
6:00 p.m.
Fri, Apr 05
Tennessee Tech *
Clarksville, Tenn.
6:00 p.m.
GSN
Sat, Apr 06
Tennessee Tech *
Clarksville, Tenn.
2:00 p.m.
GSN
Sun, Apr 07
Tennessee Tech *
Clarksville, Tenn.
1:00 p.m.
GSN
Tue, Apr 09
Kentucky
at Lexington, Ky.
5:30 p.m.
Wed, Apr 10
Southern Illinois
at Carbondale, Ill.
3:00 p.m.
Fri, Apr 12
Southeast Missouri *
at Cape Girardeau, Mo.
5:00 p.m.
GSN
Sat, Apr 13
Southeast Missouri *
at Cape Girardeau, Mo.
2:00 p.m.
GSN
Sun, Apr 14
Southeast Missouri *
at Cape Girardeau, Mo.
1:00 p.m.
GSN

Tue, Apr 16
Evansville
at Evansville, Ind.
6:00 p.m.
Fri, Apr 19
Belmont *
Clarksville, Tenn.
6:00 p.m.
GSN
Sat, Apr 20
Belmont *
Clarksville, Tenn.
2:00 p.m.
GSN
Sun, Apr 21
Belmont *
Clarksville, Tenn.
1:00 p.m.
GSN
Wed, Apr 24
Evansville
Clarksville, Tenn.
6:00 p.m.
Fri, Apr 26
Eastern Kentucky *
at Richmond, Ky.
2:00 p.m.
GSN
Sat, Apr 27
Eastern Kentucky *
at Richmond, Ky.
1:00 p.m.
GSN
Sun, Apr 28
Eastern Kentucky *
at Richmond, Ky.
12:00 p.m.
GSN
Wed, May 01
Middle Tennessee
Clarksville, Tenn.
6:00 p.m.
Fri, May 03
Morehead State *
Clarksville, Tenn.
6:00 p.m.
GSN
Sat, May 04
Morehead State *
Clarksville, Tenn.
2:00 p.m.
GSN
Sun, May 05
Morehead State *
Clarksville, Tenn.
1:00 p.m.
GSN
Fri, May 10
UT Martin *
at Martin, Tenn.
TBA
GSN
Sat, May 11
UT Martin *
at Martin, Tenn.
TBA
GSN
Sun, May 12
UT Martin *
at Martin, Tenn.
TBA
GSN
Tue, May 14
Memphis
at Memphis, Tenn.
6:30 p.m.
Thu, May 16
SIU Edwardsville *
Clarksville, Tenn.
6:00 p.m.
GSN
Fri, May 17
SIU Edwardsville *
Clarksville, Tenn.
6:00 p.m.
GSN
Sat, May 18
SIU Edwardsville *
Clarksville, Tenn.
2:00 p.m.
GSN
2013 Ohio Valley Conference Baseball Championship
Wed, May 22
Opening Rounds
at Jackson, Tenn.
TBA
Thu, May 23 –
Fri, May 24
Tournament Play
at Jackson, Tenn.
TBA
Sat, May 25 –
Sun, May 26
Championship
at Jackson, Tenn.
TBA
2013 NCAA Baseball Championship
Thu, May 30 –
Sun, Jun 02
Regionals
at TBA
TBA
Fri, Jun 07 –
Sun, Jun 09
Super Regionals
at TBA
TBA
Fri, Jun 14 –
Tue, Jun 25
Men's College World Series
at Omaha, Neb.
TBA
* Conference Games