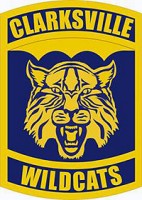 Clarksville, TN – 2012 has shown to be a very successful year for the Clarksville High School Marching Wildcats. With the graduation of 30 seniors, the new freshmen, returning students and staff members have worked and trained extensively this summer.
This fall in marching competitions they were rewarded for their efforts with wins at Montgomery Central Indian Marching Invitational, Northeast High School, West Creek Sound Marching Invitational and The Mid-West Tennessee Marching Band Competition at Waverly Central High School.
On October 27th, 2012 the Clarksville High School Marching Band completed its fall marching competition.
They participated in the US Bands Tennessee State Championship at Tennessee Tech University. They won first place in Class III Open division. They categories they won were Best Music, Best Visual, Best Effect, Best Guard and Best Percussion.
This has been a good year for the band because they have won in excess of 40 trophies for this marching competition season.
This could possibly be the beginning of another successful hear in 2013 because they only have twelve seniors who will be graduating; therefore, they plan to get the freshmen who are coming from Richview Middle School, reload and come back stronger and better next year.
Photo Gallery