Senior Night: APSU Lady Govs Honored Dikki Doyle and Alex Sain
APSU Sports: Austin Peay Volleyball

Clarksville, TN – Junior middle blocker Lauren Henderson had 13 kills and five blocks as Austin Peay State University's volleyball team clipped Ohio Valley Conference foe UT Martin in three sets (25-19, 25-20, 25-12), Saturday, at the Dunn Center.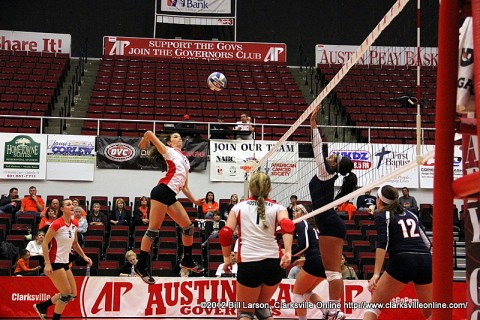 Austin Peay (15-14, 8-5 OVC West) put forth a dominating effort, trailing only after match's opening point. Henderson recorded five kills in Set 1 and six kills in Set 2 to pace the offense. She finished with only one attack error in 22 attempts to post a .545 attack percentage.
UT Martin (10-17, 6-7 OVC West) won the match's opening point then watched Austin Peay piece together a 9-2 run to take control of the opening set. The Lady Govs made the second set a no-doubter, building a 10-point, 17-7 lead they would not relinquish. The Skyhawks rallied to tie the third set at 3-3 only to watch Austin Peay use a 10-2 run to build a 13-5 lead en route to the match win.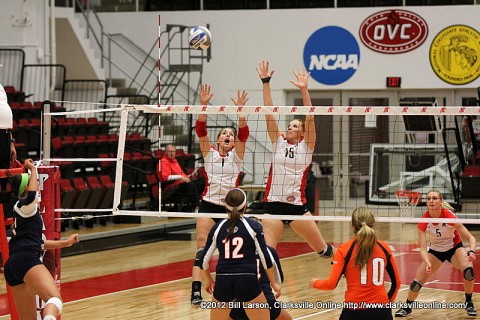 The Lady Govs recorded 36 kills in the win, Henderson's 13-kill outing making up the bulk of the offense. Senior opposite Alex Sain posted eight kills on an errorless night to post a match-best .800 attack percentage. Senior outside hitter Nikki Doyle and sophomore outside hitter Jada Stotts – the Lady Govs leading hitters entering the night – posted just four kills each.
UT Martin finished the night with 32 kills, but was held to a .089 attack percentage as it recorded 23 attack errors. Dallas Zimmerman led the Skyhawks with eight kills.
Austin Peay returns to action with a 4:30pm, Saturday contest against OVC West Division leader Southeast Missouri.
Friday night was also Senior Night as the Lady Govs honored Seniors Nikki Doyle and Alex Sain.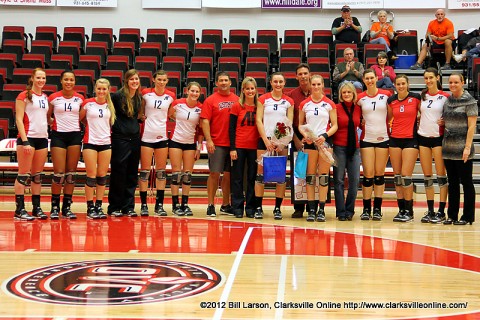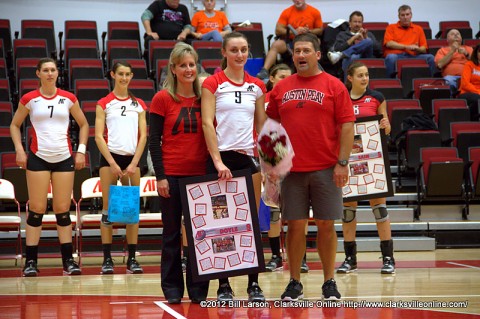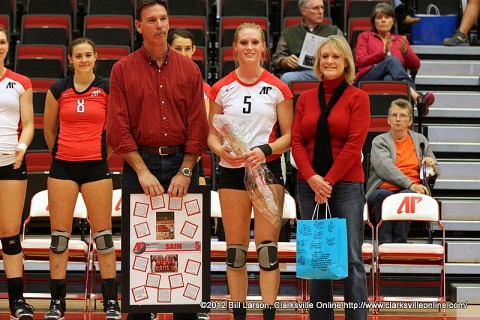 Photo Gallery
Box Score
UT Martin vs Austin Peay
(Nov 2nd, 2012 at Clarksville, TN)
UT Martin
ATTACK
SET
SERVE
SRV
DEF
BLOCK
GEN
##
Player
SP
K
E
TA
PCT
A
SA
SE
RE
DIG
BS
BA
BE
BHE
Points

3

KEATON, Emily

3

5

3

20

.100

0

1

3

2

0

0

0

1

0

6.0

6

HOSKINS, Shelby

3

2

1

6

.167

0

0

0

0

1

0

0

1

0

2.0

11

WHIMPEY, Allie

3

7

4

19

.158

0

0

0

0

0

0

2

0

0

8.0

12

SIMONS, Taylor

3

3

5

13

-.154

0

1

2

0

3

0

0

0

0

4.0

14

CRASK, Amanda

3

1

3

8

-.250

26

1

1

0

3

0

0

0

1

2.0

24

ZIMMERMAN, Dallas

3

8

3

15

.333

0

0

0

0

1

1

2

0

0

10.0

1

HAZELWOOD, Lynsey

3

3

4

11

-.091

1

1

0

0

3

0

0

0

0

4.0

4

BOWLES, Chelsea

3

0

0

0

.000

0

0

0

0

3

0

0

0

0

0.0

5

BEYER, Krista

1

0

0

0

.000

0

0

0

1

0

0

0

0

0

0.0

9

MARTIN, Lucy

2

0

0

0

.000

0

1

1

0

0

0

0

0

0

1.0

10

ELSWICK, Kasey

3

0

0

1

.000

1

0

1

1

14

0

0

0

1

0.0

17

HARTER, Jackie

2

3

0

8

.375

0

0

0

0

0

0

0

0

0

3.0

TEAM

1

Totals

3

32

23

101

.089

28

5

8

5

28

1

4

2

2

40.0

TOTAL TEAM BLOCKS: 3.0
TEAM ATTACK BY SET
Set
K
E
TA
Pct
Sideout
Pct

1

12

5

27

.259

13-25

51%

2

12

10

41

.049

12-24

50%

3

8

8

33

.000

7-25

28%

32-74

43%

SET SCORES
1
2
3
TEAM RECORDS

UT Martin

(0)

19

20

12

10-17, 6-7 OVC

Austin Peay

(3)

25

25

25

15-14, 8-5 OVC
Austin Peay
ATTACK
SET
SERVE
SRV
DEF
BLOCK
GEN
##
Player
SP
K
E
TA
PCT
A
SA
SE
RE
DIG
BS
BA
BE
BHE
Points

1

FIELDS, Cami

3

0

0

0

.000

25

0

1

0

6

0

2

1

0

1.0

5

SAIN, Alex

3

8

0

10

.800

1

2

0

0

7

0

2

0

0

11.0

9

DOYLE, Nikki

3

4

5

18

-.056

0

2

1

1

4

0

1

1

0

6.5

12

HENDERSON, Lauren

3

13

1

22

.545

2

0

1

0

3

1

4

0

0

16.0

14

STOTTS, Jada

3

4

0

14

.286

1

0

1

2

5

0

1

0

0

4.5

15

PLYBON, Hillary

3

7

2

14

.357

2

1

0

0

2

1

2

0

0

10.0

3

ADAMS, April

1

0

0

0

.000

0

0

0

0

0

0

0

0

0

0.0

8

LANDON, Liz

3

0

0

0

.000

0

0

0

1

11

0

0

0

0

0.0

TEAM

1

Totals

3

36

8

78

.359

31

5

4

5

38

2

12

2

0

49.0

TOTAL TEAM BLOCKS: 8.0
TEAM ATTACK BY SET
Set
K
E
TA
Pct
Sideout
Pct

1

13

2

25

.440

13-19

68%

2

13

4

33

.273

13-21

61%

3

10

2

20

.400

7-12

58%

33-52

63%

Site: Clarksville, TN (Dunn Center)
Date: Nov 2nd, 2012 Attend: 209 Time: 1:08
Referees: John Hunley, James Lawson


| | | | | |
| --- | --- | --- | --- | --- |
| | 1 | 2 | 3 | Total |
| Tie scores | 3 | 1 | 1 | 5 |
| Lead changes | 1 | 0 | 0 | 1 |