Come out and enjoy Trinity Parish's 4th Annual Fall Festival!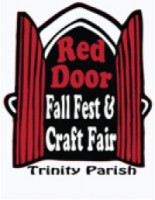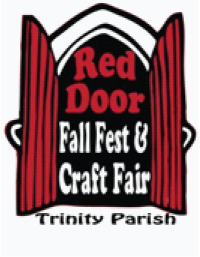 Clarksville, TN – Trinity Episcopal Parish, in downtown Clarksville, is excited to announce their 4th annual Fall Festival and Pumpkin Chunkin' Event will be held on Saturday, November 3rd from 10:00am to 3:00pm at the church located at 317 Franklin Street in Historic Downtown Clarksville.
As always, we will offer many opportunities of fun for the kids, shopping for the adults, music for the senses, and our famous original Brunswick stew!
This year Trinity decided to add a new twist to our event by giving the Clarksville community an opportunity to shop an exquisite collection of fair trade items!
Shop 10,000 Villages – Fair Trade Artists
Ten Thousand Villages is the biggest change to our event this year, and we feel so privileged to be a part of this organization's efforts for the fair trade community. Ten Thousand Villages is an exceptional source for unique handmade products representing the diverse cultures of artisans in Asia, Africa, Latin America and the Middle East. One of the world's largest fair trade organizations and a founding member of the World Fair Trade Organization (WFTO), the company strives to improve the livelihood of tens of thousands of disadvantaged artisans in 38 countries. Items for sale at Trinity Parish's festival will include handmade gifts, home decor, musical instruments, hand loomed textiles, pottery, jewelry, baskets, toys and a variety of nativities. Learn more about Ten Thousand Villages at http://www.www.tenthousandvillages.com
Thistle Farms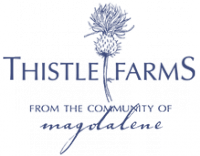 Also returning this year will be the amazing ladies from Thistle Farms. Thistle Farms is the social enterprise that is run by the women of Magdalene. Magdalene is a residential program for women who have survived lives of prostitution, trafficking, addiction and life on the streets. By hand, these women create natural bath and body products that are as good for the earth as they are for the body. Purchases of Thistle Farms products directly benefit the women by whom they were made. By stopping at their booth you will have the pleasure of meeting some of these ladies in person. Learn more about Thistle Farms at www.thistlefarms.org
Pumpkin Chunkin'
Have you even seen a pumpkin flying 40-50 feet up in the air? Want to give it a try? Use our catapult to launch left-over Halloween pumpkins into the sky and then watch as they splat onto our target. Try it more than once until you land a pumpkin in the bull's eye!
Authentic Brunswick Stew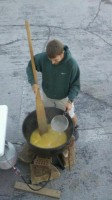 Stewed up for you in a 35+ gallon iron cauldron, the men's group of Trinity come together and cook all night to provide you with our now FAMOUS authentic Brunswick Stew. It is a real southern dating back to the 1700's.
Brunswick stew is most commonly made with chicken, or a combination of several meats, which may include rabbit, squirrel, beef, and pork. Onions, corn, and tomatoes are usually included, and many recipes call for the addition of  lima beans, peas, and/or okra.
It's delicious! So come have a steaming bowl of stew with some cornbread, and take a quart home with you too. We will also offer hot dogs, chips, drinks and delicious bake sale treats.
Cake Walk
We will have over 30 chances to win treats at our cake walk! By a ticket and jump from plate to plate for a chance to win!
Scarecrow Making
Another new addition to this year's festival will be the Scarecrow Making Station. You and your children can make a scarecrow to take home with you. We will provide all the supplies. You are limited only by your imagination.
Obstacle Course and Kids Activities
A huge favorite each year is the Mega-Obstacle Course inflatable. Kids play for hours! Of course, we'll also have a balloon artist, bobbing for apples, 2 crafting tables, face painting, a cake walk and more!
Map
Flier