Clarksville, TN – Clarksville Police have made the first arrest in conjunction with the shooting that occurred on North Second Street on October 21st, 2012. As the investigation continues, more arrests are expected.
Detectives have been working to identify possible suspects in the shooting. They have interviewed several subjects with varying degrees of cooperation. Police also have a video from a physical altercation which occurred right before the two victims were shot. Police have identified the subjects in the video and are now sorting out their degrees of involvement.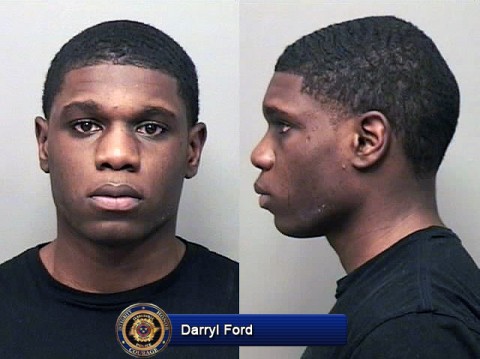 One of the men in the video, Darryl Christopher Ford can be seen with a gun in his possession during the altercation (talking to a male in a red shirt near the end of the video). When interviewed, he admitted to having a gun in his possession, running from the scene, and discarding it in the area of North Second and Marion Street.
Police searched the area, but did not locate the gun.
On November 2nd, 2012, Darryl Christopher Ford was charged with unlawful carrying of a deadly weapon and booked into the Montgomery County Jail.
The video from the confrontation prior to the shooting is below. Please be aware some of the audio verbiage on the video may be offensive.
Anyone with information about the party, fight, or shooting, can contact the lead investigator Detective Nick Newman, 931.648.0656, ext 5340 or can call the TIPSLINE, anonymously, at 931.645.8477.
For more on the story see:
Clarksville Police report confrontation at House Party leaves Two People Shot
Clarksville Police update on shooting along North Second Street
Darryl Ford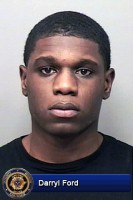 Name: Darryl Christopher Ford (B/M)
DOB: 11/11/90
Given Address: 214 Bradley Court, Clarksville, TN
Arresting Officer: Nick Newman
Booked Into: Montgomery County Jail
Charged With: Unlawful Carrying of a Deadly Weapon
Bond: $25,000.