APSU Sports: Austin Peay Men's Basketball


Rosemont, IL – DePaul turned 18 first-half turnovers into 31 points as it rolled past Austin Peay State University, 98-67, Saturday afternoon in second-round action of the Triple Crown Cancun Challenge, played at Allstate Arena.
Tourney action will now move to the Moon Palace Resort in Cancun for the tourney's final two days of action, beginning Tuesday.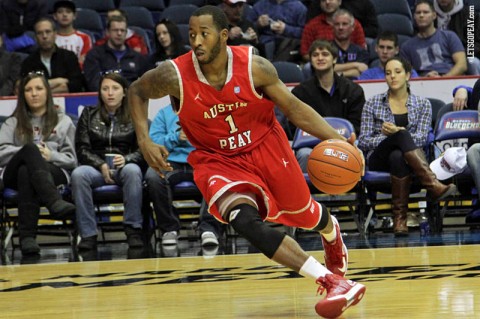 An inauspicious start, Saturday, was a precursor to a contest that saw APSU commit 27 turnovers-the most by a Govs team since they had 29 in a 68-58 win against Tennessee State, January 14th, 1999. The Govs could not get the ball past midcourt on its first three possessions against the DePaul full-court pressure and didn't get their first shot until 1:41 had clicked off the clock.
DePaul was on a mission after being stunned 71-59 by Gardner-Webb, Thursday night, and the Blue Demons took out that frustration on the Governors.  Cleveland Melvin, the Big East's leading returning scorer, finished with 26 points and eight rebounds while his fellow junior wingman Brandon Young had 17 points and five assists.
Despite the Governors struggling start, they actually had the ball down just 10-9 with 14:47 left in the half.  But DePaul, again taking advantage of seven APSU turnovers over the next 3 ½ minutes, then went on a 22-4 run that broke open the game.
APSU trailed 58-30 at halftime and never got closer than 24 in the second half. DePaul recorded 11 of its 16 steals in the first half.
Even the return of point guard Jerome Clyburn could not stem the ball security issues. Clyburn suffered underwent surgery for a torn meniscus, October 31st, and returned to the practice floor, Thursday. Coming off the bench, he finished with four points in 14 minutes.
Senior forward Anthony Campbell led the Govs with 17 points, scoring 13 of them in the final half. His fellow Edwardsville, IL, native Will Triggs added 12 and a team-high eight rebounds. Junior guard Travis Betran added 11 points.
Box Score
Austin Peay vs DePaul
11-17-12 1:00pm at Allstate Arena – Rosemont, IL.
Austin Peay 67
Total
3-point
Rebounds
##
Player
p
fgm-fga
fgm-fga
ftm-fta
off-def
tot
pf
tp
a
to
blk
stl
min

05

HORTON, Chris

f

1-5

0-0

0-1

0-4

4

2

2

0

4

2

3

30

10

TRIGGS, Will

f

2-4

0-0

8-8

2-6

8

2

12

0

6

1

0

26

25

CAMPBELL, Anthony

f

8-13

1-4

0-0

2-3

5

1

17

0

3

0

0

32

04

BETRAN, Travis

g

2-5

1-2

6-6

0-0

0

2

11

3

2

0

0

22

23

LYNCH, AJ

g

2-7

0-2

1-2

1-0

1

0

5

3

3

0

2

26

01

CLYBURN, Jerome

–

1-2

0-1

2-3

0-1

1

0

4

1

2

0

1

14

11

GREER, Thomas

–

0-1

0-1

0-0

0-1

1

3

0

2

1

1

0

7

15

FREEMAN, Chris

–

2-6

0-0

3-5

2-5

7

4

7

0

1

1

0

15

20

ARENTSEN, Corey

–

2-4

2-4

0-0

0-1

1

0

6

1

1

0

1

13

21

HERRING, Preston

–

0-1

0-0

0-0

0-1

1

1

0

0

1

0

0

4

22

LAWRENCE, Herdie

–

1-4

0-2

1-2

1-0

1

0

3

0

2

0

0

6

24

HARMS, Joe

–

0-0

0-0

0-0

0-0

0

0

0

0

0

0

0

2

33

HASSE, Matt

–

0-1

0-0

0-2

1-0

1

0

0

1

0

1

0

3

TM

TEAM

–

–

–

–

1-4

5

–

–

–

1

–

–

–

Totals…………..

–

21-53

4-16

21-29

10-26

36

15

67

11

27

6

7

200

39.6%

25.0%

72.4%

Team summary:
FG
3FG
FT
1st Half:

9-23

1-6

11-14

39.1%

16.7%

78.6%

2nd Half:

12-30

3-10

10-15

40.0%

30.0%

66.7%
DePaul 98
Total
3-point
Rebounds
##
Player
p
fgm-fga
fgm-fga
ftm-fta
off-def
tot
pf
tp
a
to
blk
stl
min

21

CROCKETT, Jamee

f

2-5

0-2

1-2

3-5

8

4

5

2

1

1

4

14

23

KIRK, Donnavan

f

1-4

0-1

0-0

2-0

2

1

2

2

0

2

0

18

32

McKINNEY, Charles

f

2-5

0-0

0-2

1-0

1

2

4

2

1

0

1

19

12

MELVIN, Cleveland

g

11-18

2-2

2-4

5-3

8

2

26

3

2

0

4

23

20

YOUNG, Brandon

g

7-11

1-3

2-4

2-3

5

1

17

5

3

1

2

24

00

CLAHAR, Worrel

–

2-6

0-1

0-0

0-2

2

3

4

3

2

0

0

12

02

McGHEE, Edwind

–

1-4

1-3

2-2

0-3

3

0

5

3

1

0

2

15

03

PRICE, Jodan

–

0-3

0-2

0-0

0-1

1

0

0

0

1

0

1

5

10

ROBERTSON, Derrell

–

3-5

0-0

1-1

1-2

3

3

7

0

2

1

0

18

13

DOLINS, Cory

–

0-0

0-0

0-0

0-0

0

0

0

1

0

0

0

4

15

MORGAN, Moses

–

5-10

4-8

1-2

0-0

0

1

15

2

1

0

0

18

25

McDONALD, Durrell

–

4-5

1-1

0-0

0-2

2

3

9

0

1

0

2

17

30

RYCKBOSCH, Peter

–

1-1

0-0

0-0

0-1

1

1

2

0

0

0

0

4

34

PIRRI, Stuart

–

0-0

0-0

0-0

0-1

1

0

0

0

0

0

0

2

35

CLEMONS, Montray

–

1-1

0-0

0-0

0-1

1

2

2

0

2

0

0

7

TM

TEAM

–

–

–

–

3-1

4

–

–

–

–

–

–

–

Totals…………..

–

40-78

9-23

9-17

17-25

42

23

98

23

17

5

16

200

51.3%

39.1%

52.9%

Team summary:
FG
3FG
FT
1st Half:

25-46

6-14

2-6

54.3%

42.9%

33.3%

2nd Half:

15-32

3-9

7-11

46.9%

33.3%

63.6%
| | | | | |
| --- | --- | --- | --- | --- |
| Score by Periods | 1st | 2nd | Total | |
| Austin Peay | 30 | 37 | 67 | Record: (1-2) |
| DePaul | 58 | 40 | 98 | Record: (2-1) |
Officials: James Breeding, Jim Burr, Bo Boroski
Technical fouls: Austin Peay-None. DePaul-None.
Attendance: 7398
Cancun Challenge: Game 2