APSU Sports: Austin Peay Football

Clarksville, TN – After racing out to an early 31-0 lead, Austin Peay's football team survived a furious Tennessee Tech comeback to hang on for a 38-31 Ohio Valley Conference victory on Senior Day.
The victory gives Austin Peay (2-9, 1-7 OVC) its first Ohio Valley Conference win in 2012, as well as a victory in Sgt. York Trophy contests every season since the award's inception in 2007. Tennessee Tech falls to 3-8 (1-7 OVC). Austin Peay's 38-point outburst is the Govs largest scoring output in 46 meetings with the Golden Eagles.
"We knew they would make a run at us," said head coach Rick Christophel. "We caught some breaks and capitalized. We had a good game plan and our guys made some plays."
Austin Peay used some trickery to get on the board first. Terrence Oliver took a hand-off from Jake Ryan, who lateralled back to Ryan, who fired downfield to Jamaar Embry for a 38-yard score. It's the second time this season Ryan and Embry have hooked up on a deep touchdown on a trick play; the duo scored on a double lateral pass against Southeast Missouri, October 27th.
After a missed field goal attempt negated a long Tennessee Tech drive, Ryan led the Govs on a 14-play, 80-yard drive that ate up more than six minutes of clock and culminated with a 16-yard touchdown run by sophomore Ean Pemberton.
Following a Tennessee Tech three-and-out, Ryan marched the Govs down the field again. An eight-play, 78-yard drive ended with a two-yard toss from Ryan to senior Devin Stark. The score was Stark's seventh in 2012 and his 17th career touchdown.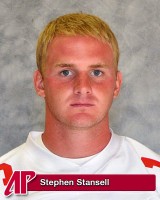 A Stephen Stansell field goal and a second touchdown pass to Stark, this one from 14 yards out, gave the Govs a 31-0 halftime lead. It was the first time Austin Peay has scored 30 points in a half against an OVC opponent since November 21st, 2009 against UT Martin.
Austin Peay's defense limited the Tennessee Tech attack in the first half. The Govs forced five three-and-outs in the first half, in addition to recovering a fumble on the opening kick-off. The Govs defense also forced five fumbles on the day, its most since October 7th, 2000 when five fumbles were forced against Dayton.
The Golden Eagles got on the board on the second half's opening drive with an 11-play, 71-yard drive that was punctuated by a one-yard plunge by Doug Page.
Stark hauled in his third touchdown catch of the day – and the ultimate game-winning score – in the third quarter. Following Adam Noble's second forced fumble of the day, Austin Peay took over on the Tennessee Tech 22-yard line. On the first play of the drive, Ryan dropped back and found Stark in the end zone for the third time; in addition to it being Stark's second career three-score game, it marked Ryan's first four-touchdown performance in his Austin Peay career.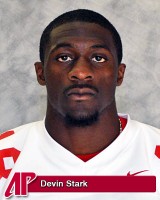 Tennessee Tech would resume its comeback attempt following the Govs score. Da'Rick Rogers caught a six-yard touchdown pass in the third quarter, the first receiving touchdown given up by the Govs since October 13th at Eastern Kentucky.
Following Page's second one-yard touchdown run and a Govs three-and-out, Tennessee Tech brought cut the deficit to 10 on a 20-yard touchdown pass from Darian Stone to Neil Gannaway.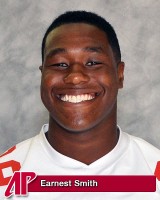 After a 26-yard field goal by Zach Sharp made the score 38-31, Tennessee Tech would attempt an onside kick. The high bounce hit off Daryl Clack's hands and was recovered by Jamel Cook, giving the Golden Eagles a chance to drive for the game-tying touchdown.
But two Golden Eagle penalties and a huge sack by Earnest Smith, his season's fourth, forced Tennessee Tech into fourth-and-32, and Stone's pass to a double-covered Rogers fell incomplete and the Govs survived for their second victory this season.
"We made some plays and defensively we are starting to get there," said Christophel. "We were running into the ball better, we made some plays, we had some turnovers today, and that's what it's all about. I think we are improving towards the end of the season. If our kids will get in the weight room in the offseason, stay in school, and do the things that we are supposed to do I think we'll just keep coming on."
Photo Gallery
Box Score
Tennessee Tech (3-8,1-7) vs. Austin Peay (2-9,1-7)
Date: Nov 17th, 2012 • Site: Clarksville, TN • Stadium: Governors Stadium • Attendance: 3738
| | | | | | |
| --- | --- | --- | --- | --- | --- |
| Score by Quarters | 1 | 2 | 3 | 4 | Score |
| Tennessee Tech | 0 | 0 | 14 | 17 | 31 |
| Austin Peay | 14 | 17 | 7 | 0 | 38 |
SCORING SUMMARY
TTU -APSU

1st

12:30

APSU

EMBRY, Jamaar 38 yd pass from RYAN, Jake (STANSELL, Steph kick)

2 plays, 42 yards, TOP 0:41

0 – 7

01:55

APSU

PEMBERTON, Ean 16 yd run (STANSELL, Steph kick)

14 plays, 80 yards, TOP 6:17

0 – 14

2nd

08:10

APSU

STARK, Devin 2 yd pass from RYAN, Jake (STANSELL, Steph kick)

8 plays, 78 yards, TOP 3:22

0 – 21

04:52

APSU

STANSELL, Steph 43 yd field goal

5 plays, 44 yards, TOP 1:53

0 – 24

00:55

APSU

STARK, Devin 14 yd pass from RYAN, Jake (STANSELL, Steph kick)

8 plays, 78 yards, TOP 2:07

0 – 31

3rd

09:45

TTU

PAGE, Doug 1 yd run (SHARP, Zach kick)

11 plays, 71 yards, TOP 3:32

7 – 31

06:54

APSU

STARK, Devin 23 yd pass from RYAN, Jake (STANSELL, Steph kick)

1 play, 23 yards, TOP 0:07

7 – 38

02:50

TTU

ROGERS, Da'Rick 6 yd pass from STONE, Darian (SHARP, Zach kick)

10 plays, 58 yards, TOP 3:58

14 – 38

4th

12:56

TTU

PAGE, Doug 1 yd run (SHARP, Zach kick)

10 plays, 84 yards, TOP 3:12

21 – 38

06:27

TTU

GANNAWAY, Neil 20 yd pass from STONE, Darian (SHARP, Zach kick)

9 plays, 52 yards, TOP 3:21

28 – 38

02:12

TTU

SHARP, Zach 26 yd field goal

12 plays, 38 yards, TOP 2:11

31 – 38
Kickoff time: 11:08am • End of Game: 2:30 • Total elapsed time: 3:22 Referee: Ken Switzer • Umpire: Thomas Floyd • Linesman: Chris Flatt • Line judge: Phillip DeWitt • Back judge: Tom Hahs • Field judge: Rod Whittier • Side judge: Tim Fetsch • Scorer: APSU Stat Crew • Temperature: 51 • Wind: Calm • Weather: Clear