Game 1: Opponent: UTSA | Friday, Nov. 23rd, 2012 | 7:00pm (CT)
Game 2: Opponent: William & Mary |Saturday, Nov. 24th, 2012 | 7:00pm (CT)
Location: San Antonio, Texas | Arena: Convocation Center (4,080)

Clarksville, TN – Austin Peay women's basketball team begins a three-game road trip when it plays in the UTSA Thanksgiving Classic, Friday and Saturday. The Lady Govs will meet host UTSA in a 7:00pm, Friday contest at the Convocation Center in the first-ever meeting between the two schools.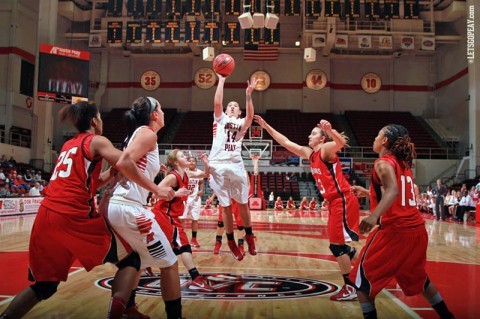 Austin Peay will follow that affair with a 7:00pm, Saturday contest against William & Mary.
The Lady Govs and Tribe have met one time previous, William & Mary winning a meeting at the 1990-91 season-opening Warrior Fest Tournament at Marquette.
Lady Govs Notably vs. Binghamton, Sunday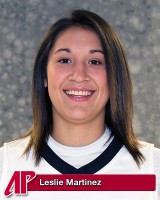 Austin Peay trailed by 10 points at halftime after making two field goals, both by Kaitlyn Hill, in the final 10:46 of the period. The Lady Govs scored 50 points in the second half, its first 50-point half since February 25th, 2012, to rally for its season's first victory.
After averaging 26 turnovers in its first two games, Austin Peay committed only 12 miscues (three in the second half) against Binghamton. The Lady Govs converted 22-of-33 at the free-throw line, it was their most free-throw attempts since attempting 32 against Southeast Missouri (February 25th, 2012).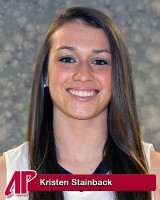 Senior Leslie Martinez led Austin Peay in scoring (20 points) for the second consecutive game, the first two times she has been the team's scoring leader in her career. Kaitlyn Hill just missed her season's first double-double, finishing with 14 points and nine rebounds.
Sophomore Kristen Stainback and freshman Alexis Hardaway each had 10 points. Senior Meghan Bussabarger was injured in the game's opening minutes and did not return due to an upper body injury.
Lady Govs Season To Date
Austin Peay opened with losses at UAB (54-72) and against then No. 8 Louisville (52-90) before its come-from-behind victory against Binghamton (71-67), Sunday. The Lady Govs are shooting a respectable 38.3 percent from the field this season, but are allowing opponents to shoot a gaudy 48.6 percent.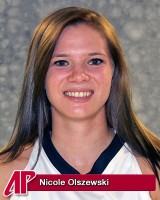 Nine APSU players have played in all three contests and head coach Carrie Daniels has used the same starting lineup in each game. A couple of Lady Govs have been dinged-up in the early going, junior Nicole Olszewski missing a majority of the UAB contest after suffering an upper-body injury while senior Meghan Bussabarger played only two minutes against Binghamton before also leaving with an upper-body injury.
Senior Leslie Martinez has been APSU's leading scorer the last two games and is averaging at team-best 15.7 points per game. Senior Kaitlyn Hill is averaging 8.3 points and 8.0 rebounds per game.
Roadrunners Report
UTSA has opened its season with a 3-1 record and brings a three-game home win streak into Friday's matchup with Austin Peay. The Roadrunners return home after suffering a 50-36 loss at Wichita State, UTSA shot just 21.7 percent (10-of-46) from the floor and were out-rebounded, 46-28, in their first road game.
UTSA began the season with home wins against Texas-Pan America (68-34), Concordia (88-29) and Texas A&M-Corpus Christi (52-40). Thirteen UTSA players have played in all four contests this season and nine of those are averaging five or more points per game.
Senior guard Simone Young leads the team with 8.5 points per game and is averaging a team-best 20.8 minutes per game. Freshman forward Akunna Elonu leads the team with 6.0 rebounds per game and is averaging 5.0 points per game.
UTSA was picked to finish 9th in the coaches poll and 8th in the media poll of the now 10-team Western Athletic Conference.
Tribe Talk
William & Mary's 1-3 record is deceiving as those three losses are by a total of 15 points, with a two-point loss at Pittsburgh (76-74) the most impressive of its early outings. The Tribe travel to San Antonio following a 58-51 loss at George Washington, Sunday, as it was held to 26.8 percent (15-of-56) shooting from the floor and a 55.2 percent (16-of-29) effort from the free-throw line. Nine W&M players have played in all four contests.
Senior guard Janine Aldridge played in the season's first three games but missed the contest at George Washingon.  Senior forward Emily Correal was a preseason All-Colonial Athletic Conference selection.
Correal enters the game leading William & Mary in both scoring (17.8 ppg) and rebounds (11.3 rpg) and tied a career-high with 27 points at Pittsburgh and grabbed a school-record tying 21 rebounds at East Carolina.
Lady Govs Mid-Season Tournament Notes
Austin Peay will seek to end a streak of futility in early season tournaments. Austin Peay has not won an early season tournament title since claiming the Unilever Lady Tiger Classic hosted by Missouri during the 2002-03 season which is one of only three crowns the program has won all-time.
Under head coach Carrie Daniels, Austin Peay is 2-13 in early-season tourney action with wins against Utah Valley (2011-12) and Texas A&M-Corpus Christi (2007-08).
Lady Govs Add St. Catharine To Schedule
Austin Peay women's basketball team has added St. Catharine College to its 2012-13 schedule in a game to be played at 4:00pm, Sunday, December 9th at the Dunn Center. The game replaces the December 15th contest against Christian Brothers which was cancelled due to a scheduling conflict. Austin Peay season ticket holders who have a ticket for the December 15th contest may use that ticket for the December 9th game.
Freshman Trio Eating Up Minutes Early
The freshman trio of Tiasha Gray (18.7 mpg), Jennifer Nwokocha (15.3 mpg) and Alexis Hardaway (23.7 mpg) have found themselves heavily involved in the Lady Govs first three contests, combining for 173 of the team's 600 minutes (28.8 percent). Their inexperience has shown in the early going, as they have combined to score 39 points and grab 20 rebounds.
Looking A Gift Horse In The Mouth
Austin Peay was a frequent visitor to the free-throw line against Binghamton, attempting a season-high 32 free throws and converting 22 (68.8 percent). That outing moved APSU to 62 free-throw attempts this season, and they improved to 61.3 percent overall. However, that percentage ranks 10th among OVC teams after two weeks.