Clarksville, TN – On November, 21st around 5:08am, Clarksville Police were called to 1594 Vista Lane, apartment #3 in reference to a 15 year old male who had been shot in the head.
When officers arrived on scene, they found the 15 year old inside of the residence with a gunshot wound to the head.  The 15 year old was conscious and breathing and was taken by Lifeflight to Vanderbilt University Medical Center.
Brian Smith, the brother of the victim, told responding officers, he was walking up the street, heard a gunshot, saw two black males running, and provided a partial clothing description. The area around the residence was cordoned off and Detectives Nick Newman, Tim Anderson, and Eric Ewing arrived and took over the investigation.
The detectives quickly determined the initial suspect information provided by Smith was false and misleading.
Once detectives were able to work their way through the shroud of deception, their investigation revealed there were several people inside of the residence and Brian Smith had been handling a firearm, pointed it at his brother's head and discharged the firearm, shooting the 15 year old in the head.
Smith later admitted to shooting his brother and telling somebody to get rid of the gun. There were three firearms located in the interior and exterior areas of the residence.
The 15 year old male passed away from his injuries around 7:00pm. There has been a Criminal Homicide warrant served on Brian Holden Smith. He is being held without bond.
The investigation is ongoing. The lead investigator is Detective Eric Ewing, 931.648.0656, EXT 5447. Tips can be call in Anonymously, 931.645.8477.
Brian Smith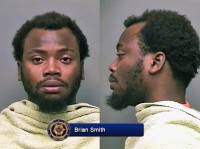 Name: Brian Holden Smith (B/M)
DOB: 9/17/89
Given Address: 1594 Vista Lane, Clarksville, TN
Arresting Officer: Eric Ewing
Charged With: Criminal Homicide, Reckless Endangerment (Felony) and Tampering with Evidence
Booked Into: Montgomery County Jail
Bond: Held Without Bond
Photo Gallery