Nashville, TN – When the weather outside is frightful, a coffee cake warm from the oven will be a delight for family and friends.
Perfect for a breakfast or brunch, a moist coffee cake is also nice in the afternoon with tea or coffee or for a late night treat.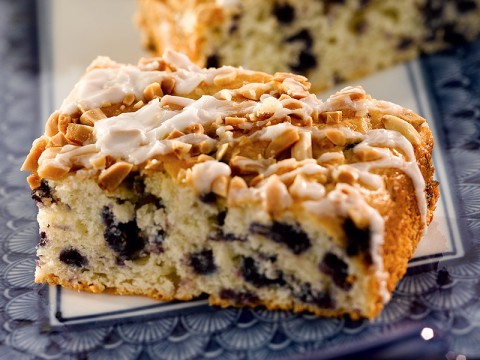 "Made with our Martha White® Blueberry Muffin Mix, Almond Blueberry Coffeecake is quick and easy enough to stir up for unexpected guests," suggests the Martha White® baking expert, Linda Carman. "And the cake is so moist and delicious, they will never know you didn't make it from scratch." Just keep the ingredients on hand and you'll be ready for any little holiday emergencies."
Blueberry Almond Coffee Cake
Crisco® Original No-Stick Cooking Spray
Cake
1/2 cup slivered blanched almonds
1 cup sour cream
1/2 cup milk
2 tablespoons sugar
2 (7-oz.) pkgs. Martha White® Blueberry Muffin Mix
Glaze
1 cup confectioners' sugar
2 tablespoons milk
1/4 teaspoon almond extract
Directions
1. Heat oven to 350° F. Spray an 8-inch square pan with no-stick cooking spray. Spread almonds in a single layer on ungreased cookie sheet. Bake for 5 to 7 minutes or until light golden brown. Cool 15 minutes. Chop almonds. Set aside.
2. Combine sour cream, 1/2 cup milk and sugar in large bowl; mix well. Add muffin mix; stir to blend Spread batter in prepared pan. Sprinkle with almonds.
3. Bake for 35 to 40 minutes or until golden brown and cake begins to pull away from sides of pan.
4. Meanwhile, combine all glaze ingredients in small bowl; blend until smooth.
5. Remove coffee cake from oven. Drizzle glaze over hot cake. Cool 10 to 15 minutes before serving.
8 servings
---
Crisco is a registered trademark of The J.M. Smucker Company.