APSU Sports: Austin Peay Men's Basketball

Clarksville, TN – Senior Anthony Campbell scored 20 points, including his career's 1000th, to lead Austin Peay State University to a 108-53 victory against Berea College in non-conference basketball action, Wednesday night, in Dave Aaron Arena.
The victory evened APSU's record at 3-3 while Berea, a NAIA member, fell to 6-3.
The 1000-point total is significant for Campbell, a fifth-year senior. Reaching that milestone seemed a foregone conclusion after his sophomore season when he stood at 739 points. But the Edwardsville, IL native was limited to 10 games in each of the last two seasons after suffering a torn anterior cruciate ligament in his left knee in each campaign.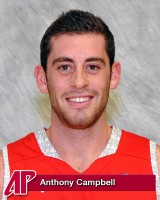 His 1,000th point came at the free-throw line with 17:01 left in the second half after Berea College was called for a technical foul. He scored two more buckets, including his season's first dunk, before departing with more than 10 minutes remaining in the game.
He turned it over to his young Illinois protégé, freshman guard Corey Arenston, who also finished with 20 points, all in the second half. Arentsen, in fact, hit all seven second-half shot attempts, including six straight three pointers at one point. Arentsen's six three pointers were the most by a Gov since TyShwan Edmondson had seven against Tennessee State, January 15th, 2011.
The Governors, in fact, placed five players in double figures. In addition to Campbell and Arentsen, junior Travis Betran added 16 and center Chris Horton 15, including a reverse slam on a lob from fellow freshman AJ Lynch. Will Triggs snapped a recent scoring slump with 11 points.
Lynch ended the game with nine assists, the most assists by a Gov since Caleb Brown had 10 against Chattanooga, January 3rd, 2011.
Koty Riley led Berea with 13 points while Deon Banks added 12.
The Governors will take on Fairfield this Saturday, December 1st at 7:30pm at the Dunn Center in Clarksville, TN.
Photo Gallery
Box Score
Berea vs Austin Peay
11/28/12 7:00pm at Clarksville,TN (Dunn Center)
Berea 53
Total
3-point
Rebounds
##
Player
p
fgm-fga
fgm-fga
ftm-fta
off-def
tot
pf
tp
a
to
blk
stl
min

30

MADDOX, Trent

f

1-9

1-4

2-2

1-6

7

2

5

1

0

0

2

25

40

WEBSTER, Tevin

f

2-6

0-0

2-4

2-4

6

2

6

0

3

1

1

22

44

RILEY, Koty

f

6-13

1-1

0-0

0-2

2

0

13

1

2

0

0

21

05

PONDER, Aaron

g

1-6

0-4

0-0

0-3

3

2

2

0

0

0

1

21

20

HAYDEN, Rashad

g

1-4

0-2

0-0

0-1

1

0

2

1

1

0

0

16

02

CARLTON, Bryce

–

0-5

0-4

0-0

0-0

0

0

0

1

3

0

1

19

03

SCHNELLENBERGER, Rya

–

0-2

0-2

0-0

0-0

0

1

0

1

0

0

0

13

04

BENNETT, Lathan

–

0-1

0-1

0-0

0-1

1

1

0

1

2

0

2

12

14

GARMON, Dominique

–

4-6

1-3

2-3

3-1

4

2

11

1

1

0

0

17

33

HUFF, Tyler

–

1-2

0-0

0-0

1-2

3

4

2

1

0

0

1

15

34

BANKS, Deon

–

5-10

0-0

2-2

2-0

2

3

12

0

6

0

3

19

TM

TEAM

–

–

–

–

0-1

1

–

–

–

–

–

–

–

Totals…………..

–

21-64

3-21

8-11

9-21

30

17

53

8

18

1

11

200

32.8%

14.3%

72.7%

Team summary:
FG
3FG
FT
1st Half:

10-37

1-12

2-4

27.0%

8.3%

50.0%

2nd Half:

11-27

2-9

6-7

40.7%

22.2%

85.7%
Austin Peay 108
Total
3-point
Rebounds
##
Player
p
fgm-fga
fgm-fga
ftm-fta
off-def
tot
pf
tp
a
to
blk
stl
min

10

TRIGGS, Will

f

5-9

0-0

1-2

3-3

6

1

11

1

1

2

0

19

25

CAMPBELL, Anthony

f

7-14

2-6

4-4

3-6

9

0

20

0

0

0

0

19

05

HORTON, Chris

c

6-9

0-0

3-3

4-2

6

2

15

1

3

2

3

16

04

BETRAN, Travis

g

5-11

3-6

3-3

0-2

2

1

16

3

3

1

2

23

23

LYNCH, AJ

g

3-4

1-2

0-2

1-3

4

1

7

9

1

0

1

20

01

CLYBURN, Jerome

–

0-1

0-1

0-0

0-2

2

0

0

0

0

0

0

5

03

COVINGTON, Kevin

–

0-0

0-0

0-0

0-0

0

0

0

0

1

0

0

6

11

GREER, Thomas

–

1-3

0-2

1-2

0-4

4

1

3

2

0

0

0

16

15

FREEMAN, Chris

–

1-1

0-0

5-7

0-6

6

1

7

0

0

1

1

17

20

ARENTSEN, Corey

–

7-9

6-8

0-0

0-2

2

0

20

1

0

0

0

22

21

HERRING, Preston

–

0-1

0-0

0-0

0-2

2

0

0

0

1

0

0

11

22

LAWRENCE, Herdie

–

0-1

0-1

2-2

0-1

1

1

2

3

5

1

1

10

24

HARMS, Joe

–

2-2

0-0

1-2

1-1

2

1

5

0

0

0

1

8

33

HASSE, Matt

–

1-2

0-0

0-0

2-0

2

1

2

4

1

0

0

8

TM

TEAM

–

–

–

–

0-1

1

–

–

–

–

–

–

–

Totals…………..

–

38-67

12-26

20-27

14-35

49

10

108

24

16

7

9

200

56.7%

46.2%

74.1%

Team summary:
FG
3FG
FT
1st Half:

17-39

2-11

9-13

43.6%

18.2%

69.2%

2nd Half:

21-28

10-15

11-14

75.0%

66.7%

78.6%
| | | | | |
| --- | --- | --- | --- | --- |
| Score by Periods | 1st | 2nd | Total | |
| Berea | 23 | 30 | 53 | Record: (6-3) |
| Austin Peay | 45 | 63 | 108 | Record: (3-3) |
Officials: Steve Pyatt (R), Ford Branch Jr., Keith Bennett
Technical fouls: Berea-BANKS, Deon; BENNETT, Lathan. Austin Peay-None.
Attendance: 2023
Copies in a Flash Player of the Game: Anthony Campbell
First time over 100 points since Dec. 28,2010 (Brescia)
Anthony Campbell scored his 1000th career point