Clarksville, TN – At the recent Greater Nashville Regional Council meeting, Mayor Kim McMillan was presented with The Hank Thompson Award.
The award was created in honor of R. J. "Hank" Thompson (former Sumner County Executive, Hendersonville Mayor and two-time Greater Nashville Regional Council President) and is presented to an outstanding individual in the region to recognize personal and political integrity.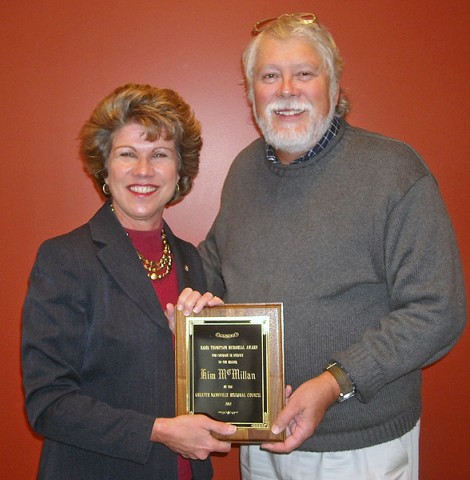 Sam Edwards, Executive Director/Chief Legal Counsel of the GNRC, presented the award to the Mayor.
"I am very honored and humbled to be presented with this award," said Mayor McMillan. "I have said many times that I am very lucky to have a job that I love and I know that Clarksville is the very best place to live, work and raise a family. I am committed to the Clarksville community and I'm excited about our future. Getting an award for doing something that I enjoy so much is just icing on the cake."
The Greater Nashville Regional Council is a regional organization of the 13 counties and 52 cities of the Greater Nashville Region of Middle Tennessee offering a variety of programming, products and services, both on the municipal and regional level, to our member counties.