Austin Peay Lady Govs vs. Middle Tennessee
Saturday, December 4th, 2012 | 11:00am (CT)
Murfreesboro, TN | Murphy Center (11,520)

Clarksville, TN – Austin Peay women's basketball team will rise bright and early for an 11:00am, Tuesday contest against in-state opponent Middle Tennessee at the Murphy Center.
The contest is part of Murfreesboro City Schools Education Day, with parts of 12 city schools in attendance.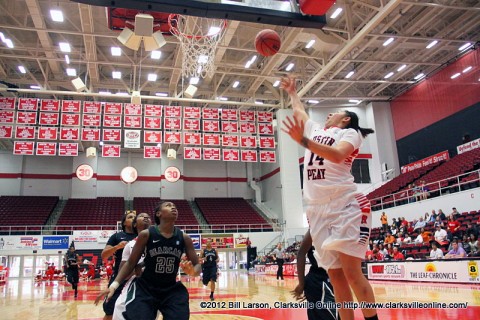 In its last outing, Austin Peay ended a three-game losing streak with a 79-66 victory against Ball State. However, the Lady Govs have not won away from the Dunn Center this season (0-4).
Middle Tennessee dropped a 63-56 decision at South Dakota State, Saturday, and brings a two-game losing streak into Tuesday's contest.
The Blue Raiders are 2-0 at the Murphy Center this season.
APSU Lady Govs Season To Date
Austin Peay's two wins have both come in the friendly confines of the Dunn Center as it has struggled away from home this season. The Lady Govs haven't shot the ball well this season, making just 38.2 percent of their shots during the season, but have topped 40 percent in a game four times.
Rebounding also has been a concern in the early going, with the team racking up a minus-11.4 rebounding margin. Nine APSU players have played in every contests. For the second consecutive game, Austin Peay head coach Carrie Daniels made a change to the starting lineup, inserting freshman Tiasha Gray for senior Leslie Martinez against Ball State.
Austin Peay has won the turnover battle in four of its seven games and owns a plus-2.1 turnover margin… seven players are averaging five points per game, with two players averaging just over 10 points per game (Leslie Martinez and Meghan Bussabarger at 10.6 and 10.1 points per game, respectively).
Blue Raiders Bugle
After opening the season with consecutive home games, the Blue Raiders return home after completing a six-game road trip. Middle Tennessee reached the semifinal round of the Preseason Women's NIT, defeating Kennesaw State and Memphis at home before losing in overtime at Iowa. That overtime contest was one of three (1-2 record) MTSU has played this season, including at nationally-ranked Tennessee where they lost an 88-81 decision.
Middle Tennessee again features a high-pressure defense that has forced opponents into 23.4 turnovers per game. The Blue Raiders also have been a three-headed monster offensively with junior forward Ebony Rowe, senior guard Kortni Jones and senior forward Icelyn Elie each averaging 15-plus points this season.
Rowe has been the dominant presence for Middle Tennessee averaging 20.1 points and 10.0 rebounds per game this season. Jones leads the team with 18 three-pointers and 38 assists this season and is averaging 15.6 points per game. Elie is the complement to Rowe in the post, averaging 15.6 points and 6.9 rebounds per game.
An Austin Peay Win Would
Be its second straight win… end a six-game losing streak to Middle Tennessee (last win 12/8/2005)… end a four-game losing streak at the Murphy Center (last win 1/6/2003)… end its four-game losing streak in true road games… be its first win away from the Dunn Center this season (1-4)… be Daniels' first head coaching win against MTSU… improve Daniels' record to 75-121 overall… make the Lady Govs 428-594 overall since 1976-77.
An Austin Peay Loss Would
Be its fifth consecutive loss in true road games dating back to last season… make it 0-5 away from the Dunn Center this season… be its seventh-straight loss to Middle Tennessee… be its fifth consecutive loss at the Murphy Center… make Daniels' 0-7 against MTSU… drop Daniels' record to 74-122 overall… make the Lady Govs 427-595 overall since 1976-77.
Freshman Trio Eating Up Minutes Early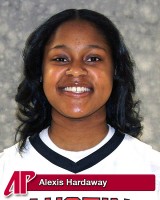 The freshman trio of Tiasha Gray (20.6 mpg), Jennifer Nwokocha (14.0 mpg) and Alexis Hardaway (22.4 mpg) have found themselves heavily involved this season, combining for 399 minutes (28.5 percent of the team's minutes). The trio also have posted five of Austin Peay's 18 double-digit scoring outings this season.
Most recently, Gray reached the territory for a second-consecutive game with an 11-point effort against Ball State while Nwokocha chipped home 10 points and grabbed six rebounds.
Charity Stripe
After opening the season making just 16 of its first 30 free throws (53.3 percent), Austin Peay has made its opponents pay in the more recent stretch of games, converting 74-of-105 (70.5 percent) during that span. The burst has helped the Lady Govs push their season free-throw percentage to 66.7 percent, but still ranks ninth among OVC teams.
The Starting Five
Head coach Carrie Daniels opened the 2012-13 campaign by putting forth the same starting five in five consecutive games. However, the performances by her freshmen have caused Daniels to do some juggling in Austin Peay's last two outings.
The Starting Five Used By Daniels This Season
Starting Lineups
Stainback, N. Olszewski, Martinez, Bussabarger, Hill (1-4)
Stainback, N. Olszewski, Martinez, Nwokocha, Bussabarger (0-1)
Gray, Stainback, N. Olszewski, Nwokocha, Bussabarger (1-0)
Game Notes
Radio: Governors Sports Network (David Loos, play-by-play)
Live Stats: www.GoBlueRaiders.com
Live Audio: www.LetsGoPeay.com
ipTV: www.GoBlueRaiders.com
Head Coaches: Austin Peay – Carrie Daniels (Austin Peay, 1996) is 74-121 (.379) in her seventh season as a head coach at Austin Peay. Middle Tennessee – Rick Insell (Middle Tennessee, 1977) is 178-57 (.757) in his eighth season at the school and as a head coach.
Series: MTSU leads, 56-9 (MTSU leads, 28-3 in Murfreesboro) | Streak: MTSU, six wins | Daniels vs. MTSU: 0-6
Notes and Notables From Last Outing
APSU Lady Govs vs. Ball State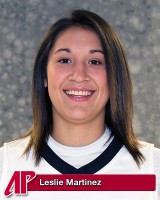 Senior Leslie Martinez recorded the Lady Govs first double-double, finishing with 11 points and 10 rebounds while coming off the bench for the first time in 2012-13. Senior Meghan Bussabarger scored 20 points in a game for the second time this season. Freshman Jennifer Nwokocha made all four of her field goals to finish with 10 points and six rebounds in 16 minutes.
Making her first collegiate start, freshman Tiasha Gray scored 11 points and finished with three assists and three steals. Junior Nicole Olszewski tied her career high with seven rebounds and also had eight points and a team-best four assists. With Gray in the starting lineup for Martinez, Austin Peay fielded its third different starting lineup this season.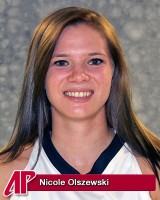 Austin Peay led for the first time at the half, owning a 32-21 advantage over Ball State. The Lady Govs won a rebounding battle for the first time in 2012-13, posting a 41-29 advantage against the Cardinals. Austin Peay was credited with a season-high 18 assists as eight players recorded at least one assist.
The Lady Govs lost the turnover battle against Ball State, 23-22, ending a streak of four consecutive games where they had won the turnover margin.
Next Game
The Austin Peay Lady Govs will be back in Clarksville, TN,  Sunday, December 9th to take on St. Catharine College. Tip off is 4:00pm at the Dunn Center.