Austin Peay State University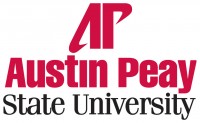 Clarksville, TN – Late last year, a group of Austin Peay State University geosciences students hiked through the woods in rural North Carolina, conducting field research.
They were looking for unusual rock outcroppings, and after each discovery, the students painstakingly scribbled down the longitudinal and latitudinal coordinates of the rocks into their notebooks.
That is, except for APSU student Maurice Testa. He simply pulled out his smart phone and quickly went to work.
"On my phone there's an app that lets you go out and basically calculate different types of rock types, and you can just calculate it and mark it and put it on a map."
If this were simply a tale about the wonders of technology, that's how Testa's story would end. But it's not that type of story. Testa learned this himself when he went back to his computer and downloaded the information he recorded.
"I looked at the map, and I had points showing up on a highway," he said. "I wasn't even near a highway. So that app was basically useless."
Testa, at the time, was taking a class on Global Positioning Systems (GPS), taught by APSU GIS Center Manager Mike Wilson. It was during that class that he realized a larger problem existed for scientists and researchers – how accurate are these GPS devices? So he and a group of three other APSU students – Patrick Robbins, James Martin and Eric Whitaker – set out on their own to conduct an independently-funded research project.
"We're comparing the accuracy of GPS enabled devices – smart phones, tablets, things of that nature," Testa said. "The one thing we noticed is there are a lot of applications out there that let you do scientific work, collecting data, using their GPS. But when we used them, they're really inaccurate."
The students went around campus, testing a few devices by logging in coordinates for buildings such as the Sundquist Science Complex. Then they met up with three APSU faculty members – Dr. Leong Lee, assistant professor of computer science; Dr. Greg Ridenour, professor of geography; and Dr. Matt Jones, associate professor of mathematics – who were working on a related project for the GIS Center, looking for better ways to measure accuracy and precision.
The professors helped the students develop a more scientific study, prompting them to approach Wilson about expanding their project. Wilson let them borrow 13 of the GIS Center's GPS enabled devices.
"This all started because they're self motivated," Wilson said. "It started off as a class assignment in my GPS class. Unbeknownst to me, they grew it into a whole big thing."
With the devices in hand, the students chipped in for gas, squeezed into a car and traveled north to the Land Between The Lakes National Recreational Area. They picked that location because it lacked cell reception.
"A lot of devices will use the GPS chip to bounce off satellites and triangulate off cell phone towers," Testa said. "Since there's no cell phone reception, the device is required to work off just the GPS chip, just like in real field work."
The students then got back into the car and headed south to test the devices where there is cell phone reception. They ended up in Nashville, where cell phone reception is disrupted by obstacles such as tall buildings. After taking GPS coordinates at these sites, they returned to APSU to analyze the data.
"The iPhone was one of the worst ones we checked," Testa said. "It has an accuracy of 46 meters off each point. If somebody is going out there and collecting 20 or 30 points of data, if each one is 40 meters off, they might as well just delete the whole thing."
The students used their findings to create a poster, and earlier this semester, they presented their work at the Geological Society of America's national conference in Charlotte, NC.
"We got a lot of good feedback," Testa said. "We got quite a few universities to send us emails saying they wanted copies of our poster or copies of our data to either build off of or to use as a reference when buying devices. A lot of people are coming across the same problems."
Testa and his fellow students plan to continue their work, expanding their study to include the accuracy of GPS data in residential neighborhoods. This could prove beneficial to first responders and other disaster relief agencies, which rely on accurate GPS coordinates to respond to emergencies. The goal is to eventually develop a website which breaks down the best GPS devices for the type of work needed.
"First responders want to know what's the most accurate unit that is the least expensive to buy – a $600.00 iPad or $200.00 GPS unit," Wilson said.
For more information on this project, contact the APSU GIS Center at 931.221.7500.