APSU Sports: Austin Peay Men's Basketball

Clarksville, TN – Freshman center Chris Horton scored 21 points on 10-of-12 shooting, grabbed 11 rebounds and blocked five shots to lead Austin Peay State University to an 88-63 victory against stubborn Oakland City, Wednesday night, in non-conference basketball action in Dave Aaron Arena.
The victory evens Austin Peay's record at 4-4 while Oakland City falls to 4-2.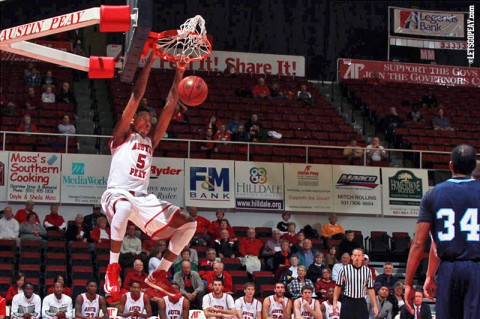 Horton scored 20 points for the first time in his young career, making his first six floor shots. The Decatur, GA, native had a double-double (13 points, 10 rebounds) by halftime-it was his second career double-double. With starting forwards Will Triggs and Anthony Campbell limited to a combined 13 minutes due to first-half foul trouble, Horton's first-half efforts were necessary.
In addition, junior guard Travis Betran also reached first-half double figures with 10 points. He finished with 18 points, his sixth straight double-figure scoring contest.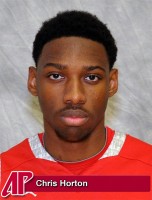 The Governors took control late in the first half as Oakland City consistently kept the deficit within a working margin for much of the first half. In fact, when Mitch Stahl hit a three-pointer with 4:53 left, the Govs' lead was down to three.
But Austin Peay ended the half on an 11-2 run-all scored by APSU freshmen-ignited by Preston Herring's first college three pointer.  Horton followed with a conventional three-point play before AJ Lynch followed with his own three pointer. Lynch ended the run with a lane floater. As a result, APSU took a 46-34 lead into intermission.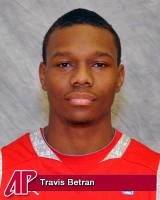 Oakland City could not get closer than 10 points in the final half, that occurring in the half's early stages. With Horton, Campbell and Betran each tallying eight second-half points, the Governors pulled away, despite shooting only 40 percent (14 of 35) in the final half.
APSU defense, however, allowed Oakland City just 12 of 33 shooting (36.4 percent) in the second half. The Govs also out-rebounded Oakland City by 30-19 in the final half for a 48-27 overall margin.
In addition to Horton and Betran, Campbell finished with 13 points and tied Lynch for assists with four. Chris Freeman added 10 points.
Cameron LeFear and Stahl, both who gave APSU fits much of the night, finished with 22 and 19 points, respectively for the Mighty Oaks.
The Governors take on the Memphis Tigers Saturday, December 8th at the FedExForum in Memphis, TN. Tipoff is at 12:00pm.
Postgame Notes
First half leading scorers: AP – Chris Horton, 13 points Oakland City – Cameron LeFear, 12 points
APSU goes 3-0 against Oakland City all time
Freshman Chris Horton tallied 21 points, 11 rebounds (his second career double-double) and a career-high five blocks.
It was Horton's first career 20-point game and the first time in his career he has led the Govs in scoring.
Anthony Campbell tied Jermaine Savage for 10th place all-time in made three-pointers with 133.
With 10 points, sophomore Chris Freeman scored in double figures for the first time since he scored 11 points against Western Carolina, November 20th.
Freshman Preston Herring had a career-high seven points.
Sophomore Herdie Lawrence had a season high 3 steals.
As a team, the Govs shot 87.5 percent (14-of-16) from the free throw line, a season-high.
Austin Peay outscored Oakland City 42-18 on points in the paint.
As a team, the Govs had a season-high 10 blocked shots.
Austin Peays nine team turnovers were a season-low.
Leading Scorers for the game : Oakland City- LaFear 22 points APSU- Horton 21 points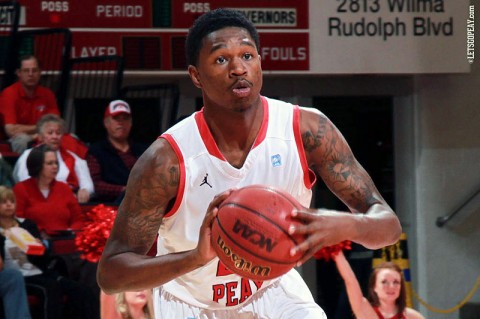 Box Score
Oakland City vs Austin Peay
12/5/12 7:00pm at Clarksville, TN (Dunn Center)
Oakland City 63
Total
3-point
Rebounds
##
Player
p
fgm-fga
fgm-fga
ftm-fta
off-def
tot
pf
tp
a
to
blk
stl
min

34

SMITH, Trevor

f

4-7

1-1

2-2

0-4

4

3

11

3

1

0

0

27

53

MORTON, Brandon

f

2-9

0-0

0-0

0-3

3

4

4

1

1

4

0

30

25

BELL, Tommie

g

0-1

0-1

0-0

0-0

0

0

0

1

0

0

0

6

30

STAHL, Mitch

g

7-16

3-3

2-3

1-1

2

3

19

1

1

2

0

38

32

LEFEAR, Cameron

g

8-13

3-5

3-4

1-2

3

2

22

2

4

2

3

35

10

SIMMONS, Jordan

–

0-1

0-0

0-0

0-0

0

0

0

0

1

0

0

3

14

WITTMER, Kendall

–

2-8

1-4

0-0

1-2

3

2

5

3

2

0

0

31

24

KNEPP, Ethan

–

0-0

0-0

0-0

0-0

0

0

0

0

0

0

0

1

40

NEWTON, Billy

–

0-1

0-0

0-0

0-2

2

0

0

0

0

0

0

7

42

HAYES, Broch

–

0-2

0-2

0-0

0-0

0

0

0

1

0

0

0

6

45

DULIN, Byron

–

0-1

0-0

0-0

0-2

2

1

0

0

0

0

1

10

52

FALODUN, Oscar

–

1-2

0-0

0-0

1-0

1

1

2

0

1

0

0

6

TM

TEAM

–

–

–

–

5-2

7

–

–

–

1

–

–

–

Totals…………..

–

24-61

8-16

7-9

9-18

27

16

63

12

12

8

4

200

39.3%

50.0%

77.8%

Team summary:
FG
3FG
FT
1st Half:

12-28

4-8

6-7

42.9%

50.0%

85.7%

2nd Half:

12-33

4-8

1-2

36.4%

50.0%

50.0%
Austin Peay 88
Total
3-point
Rebounds
##
Player
p
fgm-fga
fgm-fga
ftm-fta
off-def
tot
pf
tp
a
to
blk
stl
min

10

TRIGGS, Will

f

2-6

0-0

5-6

3-2

5

2

9

2

0

0

0

19

25

CAMPBELL, Anthony

f

4-9

2-6

3-3

1-4

5

2

13

4

2

0

0

21

05

HORTON, Chris

c

10-12

0-0

1-1

6-5

11

1

21

1

0

5

1

24

04

BETRAN, Travis

g

7-12

3-6

1-2

2-3

5

2

18

2

1

2

2

28

22

LAWRENCE, Herdie

g

0-4

0-2

0-0

0-3

3

4

0

3

1

0

3

23

03

COVINGTON, Kevin

–

0-1

0-0

0-0

0-0

0

0

0

0

0

0

0

2

11

GREER, Thomas

–

0-1

0-0

0-0

0-2

2

0

0

2

0

0

0

9

15

FREEMAN, Chris

–

4-6

0-0

2-2

2-2

4

0

10

1

0

2

0

15

20

ARENTSEN, Corey

–

2-7

1-5

0-0

0-3

3

0

5

0

1

0

0

18

21

HERRING, Preston

–

2-5

1-1

2-2

3-0

3

2

7

1

2

1

0

17

23

LYNCH, AJ

–

2-7

1-3

0-0

2-1

3

2

5

4

2

0

0

20

24

HARMS, Joe

–

0-0

0-0

0-0

0-0

0

0

0

0

0

0

0

2

33

HASSE, Matt

–

0-0

0-0

0-0

0-2

2

0

0

0

0

0

0

2

TM

TEAM

–

–

–

–

0-2

2

–

–

–

–

–

–

–

Totals…………..

–

33-70

8-23

14-16

19-29

48

15

88

20

9

10

6

200

47.1%

34.8%

87.5%

Team summary:
FG
3FG
FT
1st Half:

19-35

5-13

3-3

54.3%

38.5%

100 %

2nd Half:

14-35

3-10

11-13

40.0%

30.0%

84.6%
| | | | | |
| --- | --- | --- | --- | --- |
| Score by Periods | 1st | 2nd | Total | |
| Oakland City | 34 | 29 | 63 | Record: (4-2) |
| Austin Peay | 46 | 42 | 88 | Record: (4-4) |
Officials: Jess Smith(R), Todd Austin, Tyler Kumpf
Technical fouls: Oakland City-None. Austin Peay-None.
Attendance: 2012
Copies in a Flash Player of the Game: Chris Horton