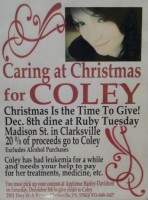 Clarksville TN – It's the season for giving, and there's no better gift, than the gift of life.  One Clarksville girl understands that all too well.  Coley Moore, a server at Ruby Tuesday, was diagnosed with the disease earlier this year and is in need of financial assistance to help pay medical bills brought on by the illness.
This Saturday, December 8th, when you dine at the Madison Street Ruby Tuesday, twenty percent of all non-alcoholic proceeds will go to Coley.  Coupons are available at Appleton Harley-Davidson on the 41-a bypass, and at Ruby Tuesday the day of the event.  The coupons are necessary to give Coley credit.
"I just want to pay it forward, and help others, especially my church that's been so supportive during this time" said Coley.  "I want a good turnout because so many people have been supportive of me, it would be good to see them all."
Coley will be at Ruby Tuesday beginning at noon.  The public is invited.  For more information call 931.648.1607.