APSU Sports: Austin Peay Men's Basketball

Memphis, TN – Expectations sometime are hard to live up to, especially at season's start.
Teeth were gnashing, the talk show phone lines were lighting up after Memphis, a preseason Top 20 team, got off to a 2-2 start.
But with highly-touted guard Geron Johnson now five games past an NCAA-imposed three-game suspension and prep All-American forward Shaq Goodwin now more accustomed to the college game, the Tigers now seem back on track…heartbeats are a little rapid.
Amidst a seven-game homestand, Memphis has amassed a three-game winning streak. Most impressive was a Wednesday, 84-58, victory against Ohio, an NCAA tourney last spring that returns all five starters.
Sophomore forward Adonis Thomas leads the way, averaging 12 ppg, while guard Joe Jackson is at 10.4 ppg. The Tigers have three other players averaging better than 9.0 ppg.
Memphis will seeking its 150th victory in the FedExForum, Saturday, while APSU head coach Dave Loos is looking for his 450th coaching victory.
Austin Peay, 4-4 on the season, is coming off an 88-53 home win against Oakland, a game that saw the Govs pull away right before halftime.
Fastbreak
Austin Peay head coach Dave Loos is a 1970 Memphis alum and the former basketball and baseball standout was inducted into M-Club (Memphis Athletic Hall of Fame) in 2002.
After playing three straight home games, Austin Peay now will be on the road to play two straight–at Memphis, this Saturday, and Arkansas State, December 16th.
In virtually all preseason publications, Memphis is picked to win the 2012-13 Conference-USA title.
Memphis forward Tarik Black was named Preseason C-USA first-team while a trio of teammates, guards Chris Crawford and Joe Jackson along with forward Adonis Thomas were named second team.
Memphis is 31-4 at the FedEx Forum under fourth-year coach Josh Pastner.
Austin Peay freshman Shaq Goodwin and APSU freshman Chris Horton, both Atlanta area natives, played against each other in AAU basketball for four years. They also squared off in high school last season. Horton is coming off a 21-point game against Oakland City while Goodwin had a 20-point outing versus Ohio.
Memphis played the season's first three games this season without juco transfer guard Gerron Johnson, who served an NCAA-imposed suspension. Johnson had 21 points on 8-of-11 field-goal attempts against Ohio.
What You Should Know
The Series: This is the 22nd meeting between Austin Peay, a member of the Ohio Valley Conference, and Memphis, a member of Conference USA. The Governors trail the series, 4-17, including last season's 91-60 loss in the FedEx Forum. The Govs last win in the series came in 2002-03, an 81-80 overtime decision in assistant coach Corey Gipson's first game with the Governors.
Deeper Meanings
What A Win Would Mean: The Govs would move back over the .500 mark at 5-4…they would go to 2-1 in December…the Govs would gain their first road victory… they would go to 5-17 all-time against Memphis…head coach Dave Loos would go to 2-7 against his alma mater…it would give Loos a 1-2 mark against Memphis coach Josh Pastner..it would improve APSU to 19-26 against current C-USA members…it would be Loos' 450th career victory.
What A Loss Would Mean: The Govs would drop one game under the .500 mark at 4-5…it would make the Govs 0-3 on the road this season… the Govs would fall to 1-2 in December… it would be their 27th all-time loss against current  C-USA members it would be Dave Loos' 315th APSU loss and 368th all-time.
Finding Comfort Zone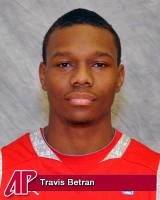 Junior guard Travis Betran, who joined the Govs as school started, is starting to find his comfort zone. The Harlem native has scored in double figures in each of the past six games. However, in the last five games the Kilgore College transfer is averaging 18.2 ppg and has connected on no less than three three-point field goals in those contests.
He is shooting 51 percent from the floor in those games, including 50 percent from three-point range.
Freshman Chords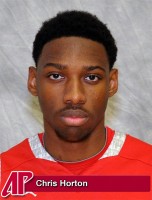 Freshman center Chris Horton has progressively improved since season's start and the three-time OVC Freshman of the Week enjoyed his season's best performance against Oakland City.
The Decatur, GA, native recorded his season's second double-double with 21 points and 11 rebounds. The 21 points, on 10-of-12 shooting, represented a season high as did the 11 rebounds. He also had a season-best five blocked shots.
Free Credit Report
After opening the season by shooting 59 percent from the freethrow line against Samford, the Govs steadily improved their work at the charity stripe. They shot a season-best 87.5 percent (14 of 16) against Oakland City. As a result, the Govs have moved above the 70 percent mark as a team for the first time this season, shooting 71.3 percent.
Turnover Downturn
After committing 21 turnovers against Fairfield, the Governors were charged with a season-low nine turnovers against Oakland City.
Hamstrung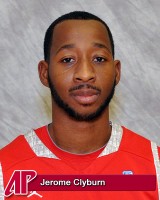 Senior point guard Jerome Clyburn, who has been battling leg issues in the early going, re-injured his right hamstring in the Govs loss to Fairfield and is out indefinitely. He played four minutes against Fairfield before the hamstring created issues. It was his second game back after initially injuring the leg against DePaul, forcing him to miss both Cancun contests.
He has been battling leg problems all fall. The Florida native suffered a torn meniscus and underwent surgery, October 31st. He missed the first two games before returning November 17th to play 14 minutes at DePaul.