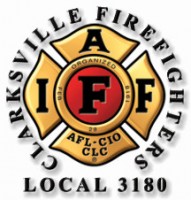 Clarksville TN – The Clarksville Firefighters Association is conducting their annual smoke detector give-away, providing life saving devices to those in need this holiday season. The Firefighters Association is working with Manna Cafe Ministries to reach the most people in need.
They held their first event Thursday night, and will be at the Vacation Motel located in New Providence at 650 Providence Boulevard next Tuesday night December 11th from 5:00pm-6:00pm
"We want to make sure everyone that needs a smoke detector gets one, said David Kirkland, President of the Firefighters Association.  There is no more important device a family can have in their home for fire safety than a working smoke detector.  During the holiday season we tend to see more fires and we want everyone to remember to be safe and extra vigilant this time of year."
The Firefighters purchase the smoke detectors with proceeds from their concert series each year.  They also work with Lowes Home Improvements for discounts on the devices, to give away as many as possible. Manna Cafe works with the homeless and less fortunate in Clarksville and is an ideal conduit to the most people in need.
The giveaway also touches the very firefighters who provide them. Seth Bonecutter was overcome with emotion at the people he was able to help. "Manna Cafe is one of the best organizations I've ever been around. I couldn't believe how many people came out tonight and didn't have a smoke detector in their home. The people I met tonight just moved me in a special way.  I want to do more for the people that Manna Cafe serves. We see fires all the time, and a lot of people either don't have a detector, or it doesn't work.  I think that's inexcusable," said Bonecutter.
If you're interested in helping the Firefighters this holiday season, stop by any Clarksville Fire Rescue location for more details.  You can also contact Manna Cafe Ministries to help.